The Brits Love Me
May 1, 2009 | Hot Damn
Robert Appleton, British science fiction writer, is the owner of Mercurial Times, and has done an unrequested review of FRENCH KISS. Stepping out of his usual reading realm, below is a snippet of what Robert had to say.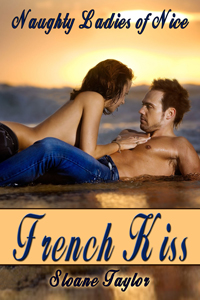 Contemporary Erotic Romance
eBook
15,000 words
Eternal Press
Witty and crackling with sass, French Kiss, the fourth novelette in Sloane Taylor's Naughty Ladies of Nice series, is a standalone sexy short that promises and delivers a good time.
American sass meets provincial French in this lively romance, by turns sweet and sea-salty. I had a great time with this book. I don't normally read erotic romances, but Ms. Taylor's vibrant style isn't exclusive to the sex scenes, as it tends to be for some authors in this genre. Here she imbues the characters, scene setting and dialogue with quirky life all their own. Plus, the lovemaking is seriously hot.
My advice? Kick back and let the fizzy swells of French Kiss wash over you. This is one addictive series. Next up for me, French Twist…
You can read the complete review here.
Mercurial Times is a site that presents Robert's news and views. 2009 is his second year in the rollercoaster world of e-publishing. Be sure to visit his author homepage. The man is a genius.
Sloane Taylor
Sweet as Honey…Hotter than Hell