HOT DAMN!!!!
January 5, 2009 | Hot Damn
This is one beautiful image I'm proud to display on my website.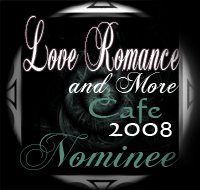 I am honored to announce that two of my books have been nominated in the LRC's Best Of Awards for 2008:
Best Book All Around 2008:
Teddi Turns On Aspen Mountain Press
Best Contemporary Book 2008:
Lonnie Heats Up Aspen Mountain Press
Voting begins NOON ET at Love Romances Cafe on Jan. 5th and runs till Jan. 17th. Winners are being announced at a special party on Jan. 19th from 7-9 p.m. ET.
All nominees were chosen from the multitude of reviews Love Romances and More has done throughout 2008 (Jan. 1-Dec. 31st, 2008) plus nominations from reviewers themselves for categories.
All the participants would be grateful to you for voting, no matter who you select!
I'll be back later in the week with an author you won't want to miss. Until then…
Happy Writing!
Sloane Taylor
Sweet as Honey…Hotter than Hell