Mistress Bella Made My Day
July 15, 2009 | reviews
I am excited to share another terrific review from Mistress Bella. Below is a snippet, but you can read the complete review HERE.
Naughty Ladies of Nice
Book Three
FRENCH TWIST
Sloane Taylor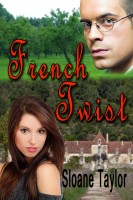 Publisher: Eternal Press
Published date: June 2008
ISBN: 978-1-897559-13-0
Genre/Theme: Contemporary Erotica
Length: 51 pages
I enjoyed this story…as if it needed to be asked. I'm not a person who tries new authors or new genres too easily. But I am happy that I have discovered Sloane Taylor. Her writing style is so smooth and so elegant. She really does have a "voice" all her own and stands out above all others. She knows how to build characters who make a lasting impression and characters you grow to love and you want to see them have their happily ever after story. Her plots are always thick and deep, even in her quick reads, they still have a point, and believe me she gets her point across clearly. If you are looking for a new author or a new book to read than I recommend Sloane Taylor and her series: French Tart, French Delight, French Kiss, and French Twist. You can read them in any order, I didn't find myself lost in any of them. I hope you enjoy them as much as I did.
Rating: 4.5 Smacks
Heat Level: Explicit
Reviewer: Bella Wolfe
Thank you, again, for being so good to me, Mistress Bella!
Sloane Taylor
Sweet as Honey…Hotter than Hell