Grimm is GREAT!
February 1, 2010 | Friends
If you like dangerously sexy suspense and page turners that refuse to let you go, then you won't want to miss NOT WITHOUT RISK, the new release by incomparable author SARAH GRIMM. I had the pleasure of reading this book and fell in love with Sarah's strong creative voice and her gutsy, yet vulnerable characters. Trust me, you will too.
To learn more about Sarah and her other books, catch up with her on her kick-ass website or at her blog Off the Keyboard.
Be sure to read through this post because at the end there's a nice surprise for you. 🙂
NOT WITHOUT RISK
Sarah Grimm
The Wild Rose Press
ISBN: 1-60154-634-3 E-Book $6.25
ISBN: 139781601546340 Paperback $12.99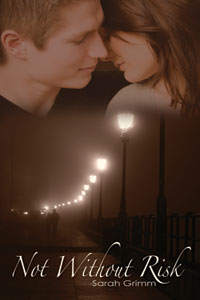 BLURB:
Six agonizing months after a slug collapsed his lung, Sergeant Justin Harrison manages to return to the one place where he shines—the San Diego homicide division. Nothing will stand in the way of proving he is fit for active duty. Especially not the long-legged brunette who just stumbled into his crime scene.
Photographer Paige Conroy spent years hiding from her past. Then a late night telephone call brings it crashing back. An old friend is in town and needs her help. When she arrives at his hotel room four hours later, he's dead. Suddenly, she's the target of a madman, and Paige must turn to Sergeant Harrison for protection.
But who is the bigger threat to her… the faceless assailant she fears will steal her life or the dark-eyed detective she knows could steal her heart?
EXCERPT:
Her hand reached out for him, settled lightly against his left side, just below his sidearm. "What about you, Justin? Do you know, too? Is that what happened to you?"
Her words splintered through him. He swore softly and stepped back, forcing her to drop her hand. "That doesn't matter now."
"I think it does," she persisted, her eyes dark and churning with emotion. "I think it matters a great deal."
What could he say to her that wouldn't add to the fear already churning through her? "Paige, please," he said, attempting to turn the conversation around. "We need to discuss getting you out of here."
"I'm not leaving. I won't be driven from my own home."
"You shouldn't be alone."
She lifted her chin, determined to show him strength even while her hands shook. "I'll be fine."
Frustration wound deeper. He rolled his shoulder where his muscles knotted painfully. "Listen to me-"
"You aren't going to tell me are you?"
Justin set his jaw.
"Why not?"
Because she mattered to him. Because the truth about what happened to him six months ago would hurt her, push her away and he didn't want that. Not when he ached to draw her back into his arms, ached to have the sweet, potent taste of her swimming through his system again.
Too late he realized his silence had the same effect on her. Already, her eyes were going cold and distant as she pulled her emotions tightly under control. Only this time, it wasn't fear she wanted to keep at bay, but him.
The knowledge stung. It didn't matter that by distancing herself from him – emotionally and physically – she was probably doing him a favor. He'd already spent enough time thinking of her when he should have been concentrating on his job. Recalling the scent of her, the feeling of rightness that filled him when he held her in his arms. When he was supposed to be reestablishing his place in the department.
He needed to remember that any further involvement with her would be a colossal mistake. That he couldn't afford the distraction Paige Conroy represented.
Still, the ache in his chest as she withdrew even further took him by surprise.
"Tempting as your offer is," she said quietly, as she eased across the room. "I won't go home with you. I can't sleep with you, Justin. You say it doesn't have to be that way, but you and I both know that's the way it would be." Her arms slid around her middle. Her gaze met his. "You're a risk I can't afford to take."
Now for that surprise – Sarah is offering a free pdf of NOT WITHOUT RISK to one lucky person. All you have to do is add a comment and Sarah will select a random winner. We'll post their name right here tomorrow morning. Good Luck!
I'll be back later this week. Until then…
Happy Writing!
Sloane Taylor
Sweet as Honey…Hotter than Hell
13 Responses to "Grimm is GREAT!"