Forest of Corpses
September 20, 2010 | Friends
P.A. Brown is back with us today, showcasing her latest hot book FOREST OF CORPSES which is the sequel to THE GEOGRAPHY OF MURDER. Both books are gripping suspense with just the right amount of romance. You're sure to enjoy them.
Check out more of P.A. Brown's exciting work on her website.
FOREST OF CORPSES
P.A. Brown
ISBN 978-1-60820-163-1 Print
ISBN 978-1-60820-164-8 E-book
MLR Press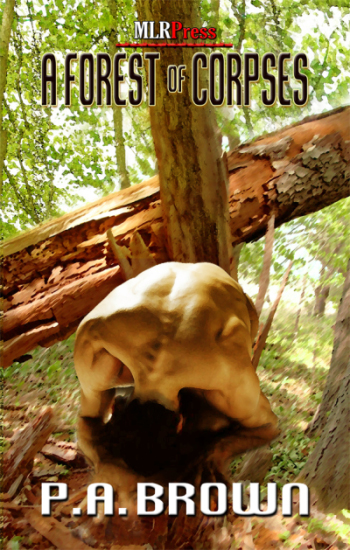 BLURB
Welcome to the Los Padres National Forest. A vacation from hell.
EXCERPT
Spider
Nobody died today.
That's a good day in my books, but I knew it wouldn't last.
Westside had a major hard on for Eastside. War was brewing. Fideo and his WS crew shot up the East Beach, then a week later, on Memorial Day, did the same at a market on Anacapa Street. That time their aim had improved. They dropped two Eastside bangers and a ten-year-old boy out buying milk for his grandmother. Both OGs made it. The kid didn't. Chalk it up to collateral damage from the drug war.
We canvassed the market and caught a couple of witnesses who saw the whole thing. So we nailed Fideo along with two members of his posse, and tossed their cholo butts in jail. Fideo lawyered up with a good uptown legal beagle, but still sat in lockup, no bail. Then another drive-by took out witness one. Suddenly our only remaining witness "made a mistake." The paperwork wasn't dry before the scrotes were back in the hood and the witness was in hiding. Fideo rode with his ese through his hood, crowing how he beat 5-0. His street creds firmly embellished by his latest exploits, he was back, and he was stronger.
And took up his business of dealing drugs, death and taxes without losing a night's sleep.
Miguel, my new partner, snapped his frustration. "How can we stop these people if no one will testify against them?"
I shrugged. "It bites, I agree. But look at it from their side. Hard to testify from a pine box."
"God will take care of them."
"Right." I rolled my eyes, making sure he couldn't see the gesture. "I'm sure Mr. Gillespie's family feel the same way." Gillespie had been witness number one, a businessman leaving a wife and two young kids behind. He told me when I interviewed him the first time he had to talk. That it wasn't right that these men could terrorize a neighborhood and get away with it. What kind of example did that set for his kids? Well, I guess his kids learned a valuable lesson there. But probably not the one their old man wanted to give. We had gone to Gillespie's funeral yesterday, per department regulations. Not surprising, no one from Westside showed or sent their condolences. Not that there was much we could have done if they had. As usual, we had no proof that put any Westside banger anywhere near the vicinity of Gillespie's untimely death. What we had were two bullets from a 9 mil that couldn't be tied to any other crimes. A clean gun for a clean hit.
There was a time when my frustration level would have surpassed Miguel's. Those days are long gone. First thing you learn on the job, leave it at the station. Taking it home with you is the surest way to give yourself high blood pressure and a date with your own duty weapon, or your cardiologist.
There was a time I used to share my world with dead people. The homicides I couldn't solve would follow me home and make me hold them in my memory. The more brutal they were, the more they clung to me, needing closure I couldn't give them.
Then Jason burst into my life, unasked and unlooked for. I hooked him up and tossed his ass in jail for the murder of a man it turned out he'd never met. A lot of people would have flipped me the bird for what I did, but Jason wasn't like that. There wasn't a vengeful bone in his perfect body. Instead, once he was released from jail, we'd gone out to dinner, ended up back at my place with my dick up his ass, and my heart in his hands. I realized then I never wanted to let this guy go. It took me months to be able to admit my feelings to myself, let alone to Jason. Then, I damn near fucked what we had up permanently when my petty jealousy turned me into a dangerous fool. It probably would have served me right if Jay had told me to fuck off when I got up the nerve to follow him to Los Angeles. He didn't, and here we are, two months later, sharing a bed and a bath, and hopefully, a future.
Sometimes my dead people still come around to stalk my dreams, but now there's an anchor to hold onto when I wake up in a cold sweat, with my heart pounding and my mouth dry with unspoken fear; there to whisper soothing words, not press me for explanations I was loathe to give anyone. Even for Jason I didn't show weakness.
He gave me back my life. So why can't I give him the one thing he wants? Because I'm a fucking coward who's afraid of losing control again? Afraid? Fuck that. Alexander Spider isn't afraid of anything. Or anyone.
The morning after Gillespie's funeral I got up before Jason. Dressing after my shower, I stood over our bed, studying him while I buttoned my shirt. Sometime during the night he had kicked his covers off exposing his delicious butt, and all I had to do was reach out and stroke the peach soft skin. I knew my touch would instantly wake him up, and I had no trouble imagining those sleepy eyes falling on me and that slow, sexy smile he only gave to me. We'd both been too tired last night to do anything but fall into bed. There was nothing sleepy about my body now. My dick pressed painfully against my briefs and I shifted, trying to ease the sudden constriction.
I'll be back Wednesday with more suspense by the uber talented Dorien Grey. Be sure to stop by. Until then…
Happy Writing!
Sloane Taylor
Sweet as Honey…Hotter than Hell