STRAWBERRY GOODNESS
March 15, 2023 | Author Friend Promo, Cooking
From Vonnie Hughes
It's my pleasure to share a muffin recipe that will become a breakfast favorite with your family. Use room temperature ingredients for best results as they blend into the batter easily and produce amazing muffins and makes your life easier!
If you prefer not to use butter, then an equal amount of vegetable oil or applesauce works. You can also swap out sour cream for plain unsweetened Greek yogurt. Fresh strawberries are perfect in this recipe, but frozen berries can also be used. Thaw and drain the strawberries before adding them to the muffin mix. If your frozen strawberries are whole, dice them first.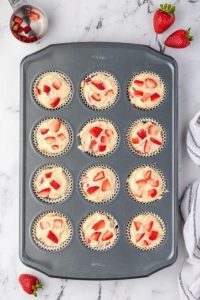 Strawberry Sour Cream Muffins
2 cups flour
2 tsp. baking powder
½ tsp. baking soda
½ tsp. salt
2 ¼ cups fresh strawberries
1 cup sugar
1 stick unsalted butter
2 lg. eggs
1 tbsp. vanilla extract¾ cup sour cream
Preheat oven to 375° F.
Wash berries and remove stems. Dice the strawberries into bitesize pieces.
Insert paper liners into a muffin pan or mist the pan with baking spray.
Combine flour through salt in a medium size bowl. Fold in strawberries and set it aside.
In a different bowl, cream butter and sugar together using a hand or stand mixer. Once the mixture is light and fluffy, beat in eggs, vanilla, and sour cream.
Thoroughly fold in the flour mixture to create a batter.
Spoon the batter into the muffin cups to the top.
Bake muffins 20 – 25 minutes or until a toothpick inserted in the center of a muffin comes out clean.
Cool for 5 minutes in the baking pan. Then remove them to a wire rack to finish cooling completely.
Store your strawberry muffins in an airtight container. They will stay fresh at room temperature for 3 days and can also be stored in the refrigerator for up to 1 week.
Here is a little from my romantic suspense set in New Zealand where a young woman who witnesses the aftermath of a crime is sent to a supposedly safe house.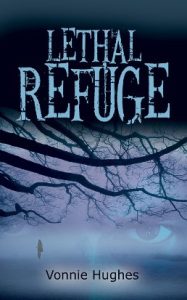 Inching along the wall, Célie reached the window. She held on to the door jamb, a little island of security in a sea of fear. Then she stretched across and peered out. A featureless face stared back at her.
She screamed and jumped back, bashing her elbow on the laundry tub.
Peaches lumbered to his feet, shaky and confused.
The face was still there. No eyes. No mouth. No nose.
Peaches staggered over to the door and snuffled.
Mesmerized, Célie kept staring at that distorted face as she backed into a corner.
Then the face moved, and a hand spread across the glass. The forefinger and thumb rubbed together.
Flashes of memory seared her mind.
She gasped, remembering that fearful morning when she'd discovered poor Occy's disemboweled body. Stunned, struggling not to vomit, she'd been hovering over what was left of Occy when she sensed she was being watched. For a few precious seconds she had stared back at the creepy figure silhouetted in the early morning gloom watching her—just watching her.
Then he'd rubbed his thumb and forefinger together covetously, as if he were contemplating the best way to eat her alive.
And she'd bolted.
And done her best to bury those memories.
Whoever that monster had been, he was outside the window right now.
Vonnie Hughes is a multi-published author in both Regency books and contemporary suspense. She loves the intricacies of the social rules of the Regency period and the far-ranging consequences of the Napoleonic Code. And with suspense she has free rein to explore forensic matters and the strong convolutions of the human mind. Like many writers, some days she hates the whole process, but somehow she just cannot let it go.
Vonnie was born in New Zealand, but she and her husband now live happily in Australia. If you visit Hamilton Gardens in New Zealand be sure to stroll through the Japanese Garden. These is a bronze plaque engraved with a haiku describing the peacefulness of that environment. The poem was written by Vonnie.
All of Vonnie's books are available at The Wild Rose Press and Amazon.
Learn more about Vonnie Hughes on her website and blog. Stay connected on Facebook and Goodreads.
Leave a Reply