Archive for the 'Family' Category
April 22, 2020 | Cooking, Family
My sister-in-law Carol is a warmhearted woman who is happy to help out and ready to contribute her delicious recipes to parties. She is the appetizer queen in my book. This is a hearty treat that leaves you wanting these delicious Ham & Swiss Cheese Sliders at every gathering. And lunch, too.
Auntie Carol's Special Sliders
¾ cup butter, melted
1 tbsp. Dijon mustard
1 tsp. Worcestershire sauce
1 tbsp. brown sugar
2 tsp. dried minced onion
1 tbsp. poppy seeds, optional
1 lb. ham, sliced thin
1 lb. Swiss cheese, sliced thin
24 mini Hawaiian rolls
Preheat oven to 350° F.
Mix butter, mustard, Worcestershire, sugar, onion, and poppy seeds together in a small bowl. Set aside.
Lay a sheet of parchment paper on a cookie sheet. This helps the roll bottoms not to burn. You can also use cooking spray on aluminum foil for baking the sliders. Line up bottom half of rolls on paper/foil.
Spread half the ham evenly amongst the rolls. Cover with Swiss cheese slices. Top off with the rest of the ham. Place roll tops onto each sandwich.
Stir mustard mixture well and then evenly pour or spoon the dressing over the rolls.
Bake until rolls are lightly browned and cheese is melted, about 20 minutes. Watch carefully as they can burn quickly.
May 2, 2018 | Family
A quick and tasty meal served over rice is perfect for those super busy days when you don't want to spend a lot of time at the stove. Be sure to cook the rice first and keep warm in a 210° F oven while you make the chicken.
CHICKEN STIR-FRY
¼ cup olive oil
⅓cup honey
⅓cup soy sauce
¼ tsp. freshly ground black pepper
2 gloves garlic, chopped fine
2 boneless and skinless chicken breasts, cut in large chunks
1 medium onion, quartered
1 red pepper, seeded and chopped
Combine all ingredients in a glass or ceramic bowl. Marinate for 4 to 8 hours in the refrigerator.
Remove from the fridge one hour before cooking to bring mixture to room temperature.
Drain chicken and vegetables in a colander. Do no reserve the marinade.
Heat a large frying pan on medium-high. It's ready to use when a sprinkle of water dances across the surface.
Add the chicken and vegetables to the pan. Sauté for 10 to 13 minutes or until the meat is no longer pink.
This dish can also be prepared as SHISH KABOBS on the grill.
Follow the recipe up to the cooking steps.
Soak the skewers in a dish of water for at least 30 minutes before threading the raw ingredients. This stops the skewer from catching on fire.
Preheat your gas grill on medium-high.
Thread the meat and vegetables onto wooden skewers chicken, onion, pepper. Repeat until all your ingredients are used. This recipe will make at least 6 skewers.
Grill 12 – 15 minutes. Be sure to turn often so they don't burn.
May you enjoy all the days of your life filled with laughter and seated around a well laden table!
Sloane
September 16, 2010 | Family
Take a look at these sweet kids. Aren't they the picture of hope and trust?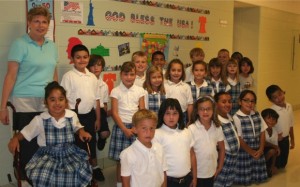 How about encouraging them with a simple act?
These second-graders at Our Lady of Grace School have a goal this school year. They're trying to receive picture postcards from every state in the United States.
If you know someone living in or visiting another state please ask them to mail a postcard with a few facts about that state to:
Our Lady of Grace School Grade 2
3025 Highway Ave.
Highland, IN 46322
Thanks for helping. I'll be back next week. Until then…
Happy Writing!
Sloane Taylor
Sweet as Honey…Hotter than Hell
May 27, 2010 | Family
You are invited to
The Northern Illinois NMF Chapter's 17th Annual Marfan Syndrome Walk-a-thon.
Join us for our Have a Heart Walk-a-thon, Bike or Rollarblade event.
DAY: Sunday June 6th, 2010
TIME: 11:00am Registration Walk begins at 11:30am till ???
LOCATION: TY WARNER PARK in Westmont IL
(see mapsonus.com for directions)
This is a Memorial Walk in memory of those who have passed. Their names will be posted. If you wish to add a name please call or email us.
Please mark your calendars for this great event!!!
All funds raised will be donated to Pediatric Awareness and Education and Support.
Paramount Tall Club of Chicago will host the outing and Marfan raffle. The picnic will be paid for by the Northern Illinois Chapter.
Please let us know if you are able to attend so we order enough food and drink for everyone. R.S.V.P us at our voice mail number 630-415-0044 or e-mail us at: bklein01@sbcglobal.net
T-shirts for all who participate with a minimum donation of $25.00 or more. There will be door prizes and a raffle after registration.
If you are unable to attend, but would still like to make a donation for this important cause, simply print the form below, fill it in, and mail with your check to:
Bruce Klein
President Northern Illinois Marfan Chapter
1328 Court O
Hanover Park, IL 60133-5511
Pledge Sheet
Name_________________________________
Address_______________________________City,State_____
$Amount_____________
Fed. Tax I.D. 501c #52-1265361
We thank you for your support.
Bruce
Please consider any size contribution. This is truly a good cause. There are no salaried CEOs or staff dipping their fingers into the funds. ALL the money is used for Pediatric Awareness and Education and Support.
I'll be back next week. Until then…
Happy Writing!
Sloane Taylor
Sweet as Honey…Hotter than Hell
December 4, 2009 | Family
Sometimes it's hard for a professional writer to find the right works. Today is that time for me.
Studs' 89 year old dad peacefully passed away this past Monday. A devout Catholic, Dave was a man filled with love and humor which he needed while he and his lovely wife Ruth raised their nine children. He loved to sing and for 25 years belonged to a barbershop quartet and chorus, The Singing Men of Note, where he sang lead and bass.
Even though today we must say good-bye, Dave and the kindness he showered on me the few years I knew him has effected my life for the better. His generosity and patience are traits I aspire to.
I'll miss you, young Dave. May you rest well.
Sloane Taylor
April 6, 2009 | Family
If you suspect a friend or relative has Marfan, please contact a clinic for an assessment. It is possible to google for a facility in your community. Should you live in the Chicagoland Area, below is a list of excellent locations who will help you.
Children's Memorial Hospital
2300 Children's Plaza
Chicago, IL 60614-3394
Clinic Coordinator: Bethany Friedman
773-975-8507 Clinic hours: 2nd Friday of the month
____________________
Edward Hospital
801 S. Washington St.
Naperville, IL 60540
Clinic coordinator: Celia Thomas, R.N.
630-527-7180 Clinic hours: 4th Monday of the month
___________________
Loyola University Medical Center
2160 S. First Ave.
Maywood, IL 60153
Clinic coordinator: Sara Cherny
Call for appointment 708-327-9056
___________________
Northwestern University – Feinberg School of Medicine
201 E. Huron St.
Chicago, IL 60611-2968
Clinic coordinator: Amy Ochs, R.N.
Call for appointment 312-695-4965
____________________
University of Chicago Medical Center
5841 S. Maryland Avenue
Chicago, IL 60637
Clinic Coordinator: Lisa Dellefave, MS, CGC
773-702-4310 Clinic hours: 2nd Thursday of the month
Please don't delay. Have your suspicions checked before it's too late. You would be saving a life.
I'll be back tomorrow,
Sloane Taylor
April 3, 2009 | Family
Today we have a guest blogger, Bruce Klein, President Northern Illinois Marfan Chapter. I hope you all read what Bruce has to say. It is life saving.
This is the year of Abraham Lincoln's 200th birthday, which brings on my question;
What do Marfan Patients and Abraham Lincoln Have in Common?
Abe Lincoln was thought to have Marfan syndrome. What is this dreaded disease?
Marfan syndrome is a connective tissue disorder discovered by Dr. Antoine Marfan in 1896 in France when he treated several children with this disorder.
This sometimes inherited condition effects approximately 1 in every 5000 people in the U.S. While only sometimes inherited, it's been proven that 75% of the cases diagnosed are inherited and the other 25% of the cases are a new spontaneous mutation at birth.
Researchers today have learned that this condition is caused by a mutation of certain chromosomes that effect a protein called fibrillin. Fibrillin is the glue that holds our bodies or connective tissue together and is found throughout us from head to toe. Like in most syndromes and diseases there are varying degrees of Marfan syndrome from mild cases to severe and life threatening. Diagnosis of Marfan syndrome is often missed by doctors who do not have experience in treating patients with this disorder. We have 5 established clinics in the Chicagoland area which will be posted in this blog Monday, April 6.
Some symptoms of Marfan syndrome are:
Taller than Average Long Thin Face
Hyper-mobility of All Joints
A Disproportionment of Body, Arm & Leg Length
Long Fingers and Toes
Flat Feet
Eye, Lens Dislocation
Curvature of the Spine
Hernias
Stretch Marks
Chest Deformity (Pectus Excavatum or Carinatum)
Spontaneous Pneumothorax
Heart Murmur & Aortic Artery Dilation (Aneurysms) which can be fatal
If you know someone with 3 or more of these symptoms please tell them about Marfan syndrome and help us save a life.
For more information go to the website for the National Marfan Foundation, www.marfan.org. You can also email or call us at our chapter voice mail number listed above in our letterhead.
How do I know so much about Marfan syndrome? I have it and I am.
Bruce C. Klein, President
Northern Illinois Marfan Chapter
The Northern Illinois NMF Chapter
1328 Court "O"
Hanover Park, IL 60133
630-415-0044 or 1-800-8-MARFAN
email: bklein01@sbcglobal.net
Thank you all for your time. Please return on Monday when Bruce will have more on this life threatening disorder.
Sloane Taylor
November 16, 2007 | Family
Orlando was wonderful. The weather was great and Studs has decided it's the place for us when we retire.
We all had a great time even though the four middle adults tried to kill us with all the activity they planned each day. We spent full days at Universal and Disney, and didn't miss a thing, before we wined and dined around the city.
The four little kids had a ball. They were up for anything at least twice. However, If I hear It's a Small World one more time I swear I'm going to strangle myself. lol
Today I'm over at The Romance Studio blogging. Check it out and feel free to leave feedback.
See you next week. Until then…
Happy Writing!
Sloane
November 3, 2007 | Family
Today is the day! We've been planning this trip for one full year and the time has finally come for the whole fan damily to head for Orlando and Mickey. The four little kids are so excited they couldn't sleep last night. Of course the eight adults had no problem. NOT!
See you all in about ten days. Until then…
Happy Writing,
Sloane
August 14, 2007 | Family
I received an email from Studs' oldest daughter the other day that had me dying. "T" has allowed me to share it with you. I think she needs to write a book. Enjoy!
Hi,
Sorry this is lengthy but I thought I'd share with you my lunch hour experience today at the store that will well go down as enemy number one in the book of every father's worst wallet nightmares come true – The American Girl Place in Chicago.
You know that I don't have a daughter, but I'm lucky enough to have a goddaughter, and her sixth birthday is coming up in a few days. I decide that I'm going to be "Aunt of the year" (as the lady on the AGP hotline told me when I called to make the reservation) and take her to afternoon tea at their cafe. The reservation is set for Sunday. I set out at noon today to get her a Bitty Baby doll so she can start her collection and her parents can kick my ass for how much all the accessories cost that she's going to want to get with Bitty Baby.
So, at noon I run out because, according to our Kronos time software here, I've now officially got less than an hour to get from my building, across the city to the store, make the purchase, and hi-jack a cab back to the office in time to "punch back in". So the race begins….
I literally stole a cab from some poor guy waiting with his suitcase. I didn't realize it until I was already hopping into the cab and well, I figured if I was this rude already, why redeem myself?! I'll just hope he's not an attorney that works in my building and get on with it. The guy shrugged his shoulders at me and I mouthed a sincere "I'm sorry" with batted eyes and we took off. 8 minutes, a maniac cab driver, and one good bout of carsick nausea later, I'm standing in front of the store.
The store is, in a word, unbelievable. Where was this place when I was a kid?! If it did exist, I guarantee you my father made hell and high water sure that I didn't know about it. I was fascinated and dizzy at the same time. There was so much to see. There are 3 floors of purple and pink walls with every doll, accessory, and amenity that goes with the dolls that you can possibly imagine. There are so many things in this store that there is a Concierge when you first walk in to answer any questions or handle any reservations you may want to make. Above her desk was a scheduled sign for the café, their theatre, the doll hospital (yes, a doll hospital) and the doll hair salon. (yes, a doll hair salon) all reservation slots for the rest of the day are sold out. All I can think of is that somewhere in this nation is a real rich lady because no guy ever thought this up.
I get to the floor with the dolls, and start heading for the bitty baby section. The place was a literal madhouse of women and young girls, and every once in awhile you would see a father being drug with a leash around his neck. Trying to keep with my tight schedule, I do a 360 looking for where I need to go, and a clerk walks up to me and asks if this is my first time here. I guess I was looking obvious. She leads me to the section of the Bitty Baby – which ironically was anything but bitty.
I squeeze my way through the crowds and mounds of accessories to get to the dolls. There were several different types of Bitty babies, according to hair color and eye color and skin color seemingly at least ten different combinations. I laugh at this, because I get a great visual of my father coming to pick something out for a possible granddaughter someday, (the only reason he'd ever be caught within even a 5 mile radius of such a store) Not because he's color blind, but because he's just a guy (like any guy) who when faced with a lot of choices tends to break out in hives. If the time ever comes, I'll have to make sure he has a personal shopper with him so he doesn't have a stroke and have to be escorted to the doll hospital's ER.
So, to match her, I grab the blonde haired, blue eyed baby, and being the girl I am, could not resist one accessory, the diaper bag complete with diapers – a onesie, wipes, powder, sippy cup and a "baby toy" The details crack me up and I look around for a minute longer before I realize I could spend a lot of time (and money) here and I better get a move on and get in line. To quote A Christmas Story -"The line for the cashier stretched to Terre Haute and I was at the end of it". Thank God there were three cashiers who were so eager at doing their job that each and every purchase took no less than 15 minutes. Ok, I guess it wasn't that bad, but, the Kronos clock was ticking for me like a dead man walking, I had to get out of there.
I finally get my purchase made, and after some mild sticker shock, I'm back on the trail again to work. Luckily, Lighting McQueen disguised as a cab driver pulled up just in time to give me my second bout of carsickness for the afternoon and in the blink of an eye I was back at my building. Punched in with a minute and a half to spare, I now decide to breathe, and it felt good.
Love, T