Enter the Unique World of Emma Ray Garrett
January 21, 2009 | Friends
"…and I — I took the road less traveled by, and that has made all the difference."
-The Road Not Taken, Robert Frost
The last line from award-winning author Emma Ray Garrett's favorite poem pretty much sums up her life. Her tendency to do her own thing is what her friends and family love best, and least, about her. Chaos is a constant in the Garrett home, which currently houses three intelligent, energetic children, a devoted husband, and a very large, very lazy, white tom-cat.
No matter how busy, Emma Ray writes every day. If she didn't, she says they'd put her in a white coat with buckles. Which is how Emma Ray has completed 15 Paranormal Erotica novels, achieving stellar reviews and a worldwide fan base. Be sure to check her out at either WEBSITE or BLOG.
~~~~~~~~~~~~~~~
I thought I'd make a little introduction for those of you who may not be familiar with me, Emma Ray Garrett, the woman, the mother, the legend…
You know, I like long walks on the beach, candlelit dinners, soft music….
AHHHHHH!!!!
Let's see, I like loud, metal music. And sometimes hard rock, country, techno, house, jazz, blues, oldies – we're talking before the nineteen sixties, peeps- R&B, and classical.
I'll read just about anything. I know, I said that. What I didn't say is that does occasionally include the toilet paper package and the back of the Lysol can. Did you know that Cottonelle is both soft and strong, LOL?
I don't really like little dogs. I know, I'm horrible. It's not that they are bad or anything like that, it's just that if I want something to wind about my legs and get underfoot, I'd rather it hiss and spit and not yip. I love all dogs, but having a small one as the family pet just wouldn't work out. Especially not when my tom-cat weighs in at a hefty twenty-six pounds and is more than three feet long from nose to the base of his tail. That's not the tip, but the part where his tail attaches to his body.
So, we have a Greater Swiss Mountain dog mix. She's cute as a button, fantastic with the kids, and is at least fifteen pounds heavier than the cat. LOL, no worries that I'll accidentally break one of her legs if I trip over her. I'll add a pic of her. The kids named her Daisy and it fits. The cat is Shadow, after the character from "Bear in the Big Blue House", which my oldest girls loved as toddlers.
I love old muscle cars over any of the pregnant rollerskates that are popular nowadays. Despite that, it sure would be nice to have a muscle car with the mentality of a rollerskate – it'd be better for the environment and my pocketbook. Since that's the case, I drive a car that is made to run on ethanol mix, which works out for both my economy and the air I like breathing. I'd still love a hemi with four on the floor, though…
I'm not a morning person, I don't fuss in the mirror, I can talk for hours on the phone or spend it almost completely in silence with someone just sharing breathing time, LOL. I have gray hair, I won't lie, but I do have nice, long, natural fingernails. I'm a bit of a control freak, and I tend to procrastinate when I'm really stressed out… Which of course only increases my stress levels, LMAO!!!
Okay, I can't think of anything else. Lucky you, huh?
~~~~~~~~~~~~~~~
PRET OPS: IDENTITY
Emma Ray Garrett
Changeling Press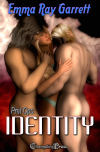 BLURB:
After thirty years on the job, Lucia Malholland's retiring. She loves the Corp, but even a Selkie's biological clock gets to ticking. Lucia's ready to find the man of her dreams. Problem is, there's a man stalking her whose dreams are about to put Lucia's in jeopardy.
After building the newest branch of the Corp, Cyber Operations, John and Cole Marshall are ready for a real test of their new unit's skills. Being called in to track down a stalker turned murderer targeting one of their own sounds right up Cy Ops' alley.
All the danger isn't from cyberspace, as Cole finds out when he meets Lucia for the first time. He's torn between eating her and… eating her. Not good. Add to that John's insistence they renew their prior intimate relationship – and suddenly finding a homicidal human suitor, bent on ripping Lucia's pelt and magic from her, doesn't seem quite so difficult.
~~~~~~~~~~~~~~~
5 Stars! from eCata Romance Sensial Reviews
"Emma Ray Garrett's Pret Ops Series is one of the best erotic paranormals this reviewer has encountered." – Annie
Thanks for taking the time to learn a little about me!
3 Responses to "Enter the Unique World of Emma Ray Garrett"
Sloane Says:


Thanks, Emma Ray for coming out today. I love your wit and your terrific books!

On January 21st, 2009 at 9:17 am
Melissa Bradley Says:


I love, love the Pret Ops books. They are so exciting and unique and very visual. Don't have this one yet, but I look forward to adding it to my collection.

On January 21st, 2009 at 11:52 am
Coffee A Tea Says:


nice blog, reminds me I must get around to adding more content on my own blog, kinda neglected them.

On June 9th, 2010 at 11:08 am