Mistress Bella is DELIGHTED
July 8, 2009 | reviews
I have the great fortune to be reviewed, again, by Mistress Bella. Below is a snippet and the FAB rating of 5!! You can read the complete review HERE
Naughty Ladies of Nice
book two
FRENCH DELIGHTS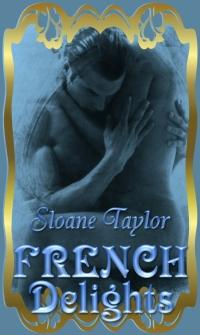 Author: Sloane Taylor
Publisher: Eternal Press
Genre/Theme: Contemporary Erotic
Length: 37 pages
This was a very interesting and enjoyable read for me. Not only did I learn a lot from the characters and the plot, but also I enjoyed what I learned. Lisette and Paul are very compelling and strong characters. They are very attracted to one another, but it's not just sex, there is romance as well. The sex is hotter than hot between these two. I love the fact that Lisette is strong and independent and isn't afraid to explore her sexuality. It's a great read and I can't wait to read the rest of the books in this series.
Rating: 5
Heat Level: Explicit
Other: masturbation
Reviewer: Bella Wolfe
Thank you, Mistress Bella, for another fantastic review! I'll be back Friday. Until then…
Happy Writing!
Sloane Taylor
Sweet as Honey…Hotter than Hell