4.5 Smacks from Mistress Bella
July 3, 2009 | reviews
Surprises come in all shapes and forms. Some are good while others are excellent. The best to me are unsolicited reviews which is exactly what Mistress Bella did and I couldn't be happier. Below is a snippet of what she had to say. You can read the complete review here.
French Twist
by Sloane Taylor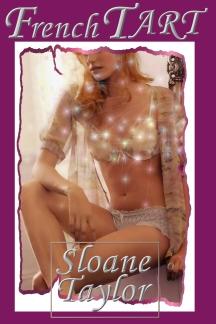 Publisher: Eternal Press
Published date: June 2008
ISBN: 978-1-897559-13-0
Genre/Theme: Contemporary Erotica
Length: 51 pages
I enjoyed this story…as if it needed to be asked. I'm not a person who tries new authors or new genres too easily. But I am happy that I have discovered Sloane Taylor. Her writing style is so smooth and so elegant. She really does have a "voice" all her own and stands out above all others. She knows how to build characters who make a lasting impression and characters you grow to love. Her plots are always thick and deep, even in her quick reads, they still have a point, and believe me she gets her point across clearly.
If you are looking for a new author or a new book to read than I recommend Sloane Taylor and her Naughty Ladies of Nice series: French Tart, French Delight, French Kiss, and French Twist. You can read them in any order, I didn't find myself lost in any of them. I hope you enjoy them as much as I did.
Rating: 4.5 Smacks
Heat Level: Explicit
Reviewer: Bella Wolfe
Thank you, Mistress Bella, you've made me a happy author!
To all my American friends, have a Safe and Happy 4th of July. I'll be back next week. Until then…
Happy Writing!
Sloane Taylor
Sweet as Honey…Hotter than Hell