Coffee Time Loves Me!!
June 29, 2009 | reviews
CZECH MATE
Sloane Taylor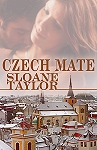 ISBN# 978-1-60272-522-5
Amber Quill Press
E-Book
$5.00
111 pages
Contemporary / Romantic Comedy
Rating: 4 Cups
Sensual heat does more than sizzle in Czech Mate. Once Lacey and Dragan get together, it is an inferno. I could practically feel the sensation going through Lacey when she learns how compassionate and caring Dragan is. Realizing no one has ever been that considerate; her emotions leap, and made this reader share in her experience. Lacey and Petrovic are bold and sassy.
Sloane Taylor creates an interesting story, with heat, that burns with every flip of the page. She instills sharp dialogue that keeps the story flowing at a great pace that is delightful.
Cherokee
Reviewer for Coffee Time Romance & More
You can read the complete review at here.
I'll be back later this week. Until then…
Happy Writing!
Sloane Taylor
Sweet as Honey…Hotter than Hell
TEDDI TURNS ON 2009 EPPIE Finalist – Erotica www.aspenmountainpress.com
2 Responses to "Coffee Time Loves Me!!"
MC Halliday Says:


Congrats on another fantastic review for Czech Mate!!

On June 29th, 2009 at 10:57 am
Sloane Says:


Thanks, MC! I appreciate you stopping by.:)

On July 8th, 2009 at 6:51 am