More from the Queen
March 9, 2010 | Friends
Jan Springer is back today with two more of her delicious books to tempt us, JADE and TYLER'S WOMAN. Below are the yummy covers and stimulating excerpts.
Here's a little more info for you on Jan. She has written more than twenty erotic romances for publishers such as Ellora's Cave, Pocket Books, Total E Bound and more. She is a member of RWA and Passionate Ink. Jan writes full time in Minden Hills, Ontario Canada. Hobbies are kayaking, hiking, gardening, reading and writing.
Now grab your favorite beverage and enjoy!
JADE
Jan Springer
ISBN 9781419924750
Ellora's Cave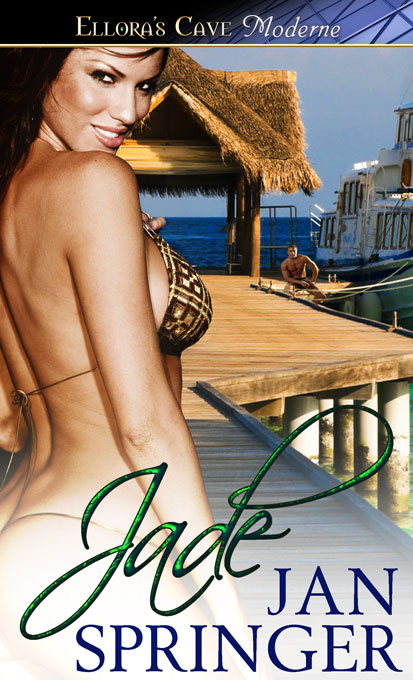 BLURB:
In the land of the rich and famous, people fulfill their deepest sexual desires by calling Kidnap Fantasies Inc., a top-secret kidnapping and fantasy organization.
When Jade Hart's two sisters give her a Kidnap Fantasies Inc. questionnaire, Jade is aroused at the prospect of having sex with a stranger whose only job is to fulfill her every sexual fantasy. Although she knows she's too shy to mail it in, she secretly pours her deepest wishes into the questionnaire. Soon it mysteriously vanishes and Jade's fantasy man appears in the form of a well-hung handyman who gives her an erotic sex-toy-filled Christmas holiday she'll never forget.
EXCERPT:
"Your clit is beautiful and puffy. Your cunt, soaking wet. Just the way I like it. Just the way I need you. You did good, keeping yourself aroused, Jade. You're almost ready for me. But first, I have to prepare you. I'll be back in a minute."
Before she could ask him where he was going, he'd vanished.
A couple of minutes later, he returned holding the bowl of raw vegetables in his hand.
"I saw the way you looked at them during dinner. It gave me some delicious ideas."
"What kind of ideas?" she could barely speak from all the excitement washing over her senses.
He grinned wickedly. "You'll see."
Instincts told her this man was going to do something to her with those vegetables.
Something wicked.
God help her she wanted him to do all sorts of things to her body.
Her senses exploded when he pulled a long thick carrot from the bowl.
Long male fingers stroked the orange object in the same tender way he'd done to it earlier after dinner. The carrot was about half the width of Caydon's cock and about half as long.
"Vegetables are called the poor man's sex toys, Jade. We'll have to use these until I can get us some proper ones."
Poor man's sex toys? Until he can get proper toys? Exactly how long did he plan on staying? How long did he plan on having her tied up here?
The questions sat at the tip of her tongue but she didn't dare ask. To tell the truth she didn't want to know when he planned on leaving her. For now, she just wanted to pretend this man was hers, forever.
"Time to see how much you can take, Jade."
"I can take whatever you dish out, Minnelli," she threw back.
He inhaled sharply at her trembling words. His eyes darkened in the same way they'd done when he'd instructed her to pinch and pull at her nipples until the pleasure-pain had become so unbearable she'd cried out.
"We'll see how much you can take, Jade. Spread your legs wider for me, honey. I'm going to give you something you won't soon forget."
Moisture dripped from her pussy at the husky promise in his voice. The scorching look in his eyes turned her body into a slab of heat and her cunt into a quivering mess. Even her breasts reacted to his intense gaze by tightening, swelling, becoming hard and eager to be caressed.
He leaned over her, the warm head of his rigid cock poked deliciously into her belly button as he grabbed a nearby pillow. Fluffing it up he stuffed it beneath her hips, which allowed him to raise her up higher exposing her fully to him.
"There, that's much more comfortable. This will give me the perfect angle to enter you."
~~~~~~~~~~~~~~~~~~~~~~
TYLER'S WOMAN
Outlaw Lovers
Jan Springer
ISBN 9781419916557
Ellora's Cave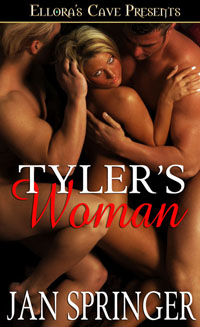 BLURB:
In the near future, a virus has been unleashed, killing a majority of the world's female population, forcing the introduction of the Claiming Law. A law that states men have all the rights and women are sexual property claimable by groups of men.
Laurie Callahan has always experienced red-hot pleasure and passionate love in Tyler Outlaw's arms. But when he's pronounced MIA, presumed dead in the Terrorist Wars, her world is shattered and her heart broken.
For years Tyler Outlaw and his best friend Hunter Brown endured brutal torture and worse in a terrorist prison. Finally free of their hell, they return home intent on seducing Laurie into their erotic-filled fantasies.
Shocked to discover Tyler is alive and he's taken a male lover, Laurie is thrust into a sensual world of sizzling seductions, scorching ménages and the carnal desires that both scarred men crave. But she fears Tyler won't want her when he discovers she's not the same woman he left behind.
Reader Advisory: Contains references to non-consensual sex.
EXCERPT:
"Are you glad Tyler's back?" he suddenly asked.
His question slammed into her like a bolt.
"You'd better close your eyes and sleep, Hunter. You still have a fever."
"You didn't answer my question."
"Of course I'm glad he's back. Haven't I let him—" She stopped herself cold. She'd been about to say hadn't she allowed him to outfit her with a butt plug? With Hunter watching? Hadn't she let him finger-fuck her in the meadow? And just now he'd been between her legs going down on her.
Her cheeks flamed hotter. From behind her Tyler chuckled softly.
Hunter smiled and said, "I'm getting the feeling Tyler has already started reacquainting himself with you. Showing you how glad he is to be back. Let me show you how glad I am to be back, Laura."
She blinked at his words. Tried to disconnect from the magnetic teasing in his eyes, tried to ignore the lust flaring through her. Lust that made her nipples harden and her breath come faster.
"Close your eyes, Laura," he said.
His voice caused turmoil inside her abdomen and she swallowed back the fright edging through her. Why was she reacting so strong to this man? She was supposed to be in lust and love with Tyler not Hunter. And yet she found herself aroused in his presence. Aroused just like when her fantasies of Tyler and Hunter hit. But this wasn't a fantasy, this was reality.
Despite reality though, she found herself closing her eyes when he palmed her clothed left breast. He was cupping her. Cradling her. Testing her weight. And it felt so good.
"Tyler and I have waited a long time for you."
"I…I don't understand," she murmured.
"You are all we talked about in prison. You were our escape from hell. You are our heaven. I know every intimate detail about you. What you like. What you dislike."
She found herself trembling at his words. His touch.
"You'll need some time to get reacquainted with Tyler. I'll give it to you. You'll need time to get used to the idea of my wanting you with every fiber of my being, my entire soul. But don't be frightened. I love you as deeply as Tyler does, although you and I have never been intimate…except for that mind-blowing kiss."
Confusion ripped her back to her senses. He wanted her. He loved her as much as Tyler? Not possible.
She pulled away and stood.
His eyelids were droopy. He looked sexy that way. Too sexy.
She couldn't believe how hot and swollen and aching her left breast felt after he'd touched it for mere seconds.
He smiled. A sexy smile, a knowing look.
"You'll enjoy what we have planned for you, Laura. You'll love it when the butt plug comes out and we come inside of you. We'll make all your sexual fantasies come to life."
Laurie stepped back, shaking her head in denial.
Was that the only reason Tyler had outfitted her with the plug so he could share her with Hunter? He couldn't have changed so much, could he?
"Don't run away from us, Laura. I know you want us as much as we want you. I can see the hunger in your eyes. Just as I saw it in Tyler's in prison. The three of us together, baby. Just as you and he were before the Wars. Just as he and I were during the Wars. You and me and Tyler after."
This was crazy. Had what he'd said in his delirium been true? That he and Tyler were lovers?
And what about her reaction to his touch? Was it due to the X-virus? Or her true feelings?
Disbelief and confusion brought a rush of tears to her eyes. She was about to turn and run from the raw lust shining in Hunter's eyes, away from the need heating her body, when she backed into a solid wall of hard flesh.
Strong hands curled over her shoulders, making her cry out in surprise.
"Easy, Laura. Easy."
Tyler! She'd forgotten he was in the room. How had she so easily forgotten?
Her surprise disintegrated at the feel of his solid erection pressing against the crack of her butt cheeks while he steadied her. He was still turned-on. Turned-on by watching Hunter and her.
~~~~~~~~~~~~~~~~~~~~~~
Those excerpts will certainly perk up your morning. 🙂
I'll be back tomorrow. Until then…
Happy Writing!
Sloane Taylor
Sweet as Honey…Hotter than Hell
4 Responses to "More from the Queen"