The Queen of Hot Sizzles
March 8, 2010 | Friends
Six years ago I had the pleasure of meeting Jan Springer, a writing marvel and terrific person. After reading some of my work, Jan advised me to quit my day job and write full time. It was the best advise I'd ever received. Today, I'd like to introduce you all to this phenomenal author.
Jan Springer grew up in both the city of Oshawa, Ontario Canada and during weekends and summer holidays in the rustic woods of Haliburton Highlands in Northern Ontario's cottage country. As early as the age of three she was fascinated by words. Around the age of twelve she secretly began to write short stories using characters from the television shows she watched.
While sixteen she visited relatives in Europe and picked up a copy of Harlequin's Summer Rainfall by Kerry Allyne. Immediately she became a voracious reader of romance.
As she grew older, writing took a back seat in life and she pursued careers in hairstyling and accounting as well as doing temporary office and factory jobs as well as a few years working on an apple/blueberry farm. Through all her adventurous jobs, the urge to write continued to burn at the back of her mind.
In July of 1997 her writing life began to take focus following a car accident. Suddenly she realized she was wasting her time in not pursuing her true passion. She began with writing courses and studying the way authors write.
In 2000 she became electronically published and self-published and hasn't looked back. Jan now writes for a living and is thankful for every minute she can write. She is a member of Romance Writers of America and Passionate Ink, the erotic romance chapter of RWA. Her hobbies include kayaking, hiking, photography and tending her vegetable and flower gardens. She loves hearing from her readers.
You can learn more about Jan and her thigh squeezing books on her website and on her blog.
SINDERELLA
Jan Springer
ISBN: 9781419905049
Ellora's Cave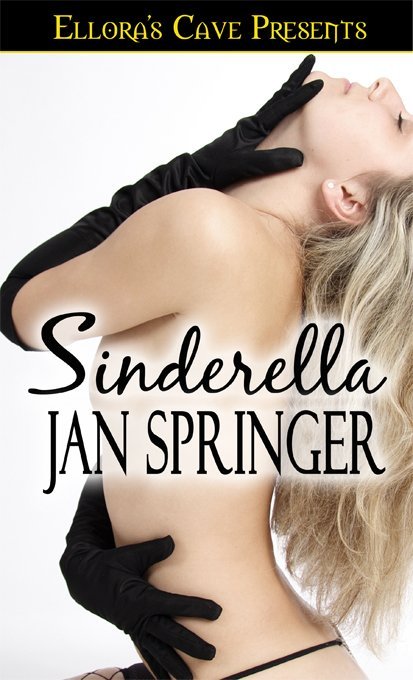 BLURB:
By day she's a dedicated gynecologist.
By night Dr. Ella Cinder escapes reality by secretly performing in her own erotic, adult version of Cinderella, aptly re-titled Sinderella.
When sexy colleague Dr. Roarke Stephenson shows up in the Sinderella audience on the same night her Prince Charming stands her up, Ella seizes the opportunity to have Roarke for one carnal night of hot, blazing sex…in front of an audience.
But at the strike of midnight, Ella knows she must face harsh reality. Roarke can not learn her secret life and they can not be together again. Until then, she plans to make sure he never forgets their night of carnal play.
Dr. Roarke Stephenson is immediately captured by the lusciously curvy actress who hides behind a mask and is known only as Sinderella. For some insane reason she reminds him of his klutzy co-worker Ella. But that's not possible. Ella would never have the nerve to do the wickedly delicious things Sinderella does to him…or would she?
EXCERPT:
Ella's heart raced as she lay bound and naked on the gynecologist's examination table. A fine sheen of perspiration laced her skin. Her hips undulated as Roarke fucked her with the dual vibrator. Sucking sounds of her soaked pussy clutching the sex toy just about drove her mad. Her well-lubed ass burned with pleasure-pain every time he thrust into her and the erotic way the stimulator slid softly over her aching clitoris had her pulling against her bound legs and wrists as she tried to escape the incredible sexual tension.
The rhythmic motions made her body hum, pulse, ache for release.
He'd kept her on the edge of a climax for so long she could barely think straight.
"I've wanted to do this to you since the first day I met you, Ella," his deep voice smoothed over her flushed skin like a jolt of lightning.
"You want more, Ella?"
Excitement flared like a firecracker. Her body trembled.
She could barely see him through the sexual haze. Could hardly see his sparkling, lust-filled green eyes or the sexy smile he reserved only for her.
Oh, God!
She wanted his long, thick cock inside her, not the freaking vibrator!
"I want you," she pleaded hoarsely, and thrashed her head back and forth. She needed to come so bad. Needed release or she would simply go mad with desire.
"Please, Roarke, please make love to me. Please fuck me," she whimpered.
"And so you shall have me, Ella," he said hoarsely. His face twisted with sexual hunger. "You shall have my big cock deep inside your tight little pussy—"
"Good morning, sorry I'm late," Dr. Roarke Stephenson's deep, masculine voice slammed into Dr. Ella Cinder's fantasy like a sensual punch, making her suck in her breath and spill her coffee onto the elaborate oak conference table.
"Christ, Ella! You're such a damn loser!" her stepmother's harsh whisper made her flinch and Ella quickly threw a pile of napkins over the puddle of steaming coffee.
Her face flamed as her two stepsisters, Drs. Wanda and Manda Cinder elbowed each other gleefully and chuckled snidely beside her.
Bitches! Ella thought as she pushed against the bridge of her old black-framed glasses in order to keep them from falling off her nose while she wiped at the steaming coffee. From the corner of her eye she spied the man of her frequent sexual fantasies stroll into the room.
He scowled at her stepmother, obviously overhearing her rude remark, but thankfully, he said nothing. Roarke was still relatively new and she didn't want him getting into trouble on her account.
When he passed by, his delicious male scent slammed into her with such a wicked force her senses spiraled into sexual awareness mode.
Oh, God! He always looked so damned sexy. He wore the traditional white lab coat fully opened, revealing a light green shirt that stretched across his big chest as well as a pair of tight jeans that cradled his awesomely huge bulge. With shoulder-length black hair pulled back in a tight ponytail and a shadowy stubble covering his strong jaw, he looked more like a dangerous bad boy than a prestigious gynecologist.
Jan and I will be back tomorrow with another book to tempt you.:) Until then…
Happy Writing!
Sloane Taylor
Sweet as Honey…Hotter than Hell
One Response to "The Queen of Hot Sizzles"
Jan Springer Says:


Thanks, Sloane!
Ohhhhhhh I love being the Queen of Hot!! 🙂

Hugs!
jan

On March 9th, 2010 at 1:38 pm