A Simple Request
September 16, 2010 | Family
Take a look at these sweet kids. Aren't they the picture of hope and trust?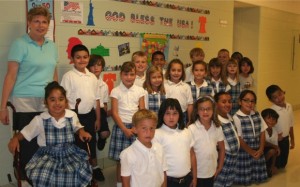 How about encouraging them with a simple act?
These second-graders at Our Lady of Grace School have a goal this school year. They're trying to receive picture postcards from every state in the United States.
If you know someone living in or visiting another state please ask them to mail a postcard with a few facts about that state to:
Our Lady of Grace School Grade 2
3025 Highway Ave.
Highland, IN 46322
Thanks for helping. I'll be back next week. Until then…
Happy Writing!
Sloane Taylor
Sweet as Honey…Hotter than Hell