Devon Falls Sweeps You Away
September 15, 2010 | Friends
through the creative writing style of talented Raine Delight.
If you aren't familiar with our guest author, allow me to share a bit of her life. Raine Delight is a pseudonym of a self professed book lover. After one too many TSTL characters, she decided to test herself and write something a little better. Many drafts later, Devon Falls came together. It was originally to be one book, but somehow ended up to 4 with a 5th and 6th releasing sometime in 2010.
Raine writes Devon Falls, a paranormal contemporary series, for Aspen Mountain Press and is also branching out to other genres as she continues to listen to the voices in her head.
Check out her book pages to see what's happening in her life. Her muse is a male nut who likes to leave her foundering for words while he sips mai tais on the beach; though eventually he takes pity and gets her words flowing and her characters settled down.
Personal notes from Raine: I live with my own boytoy and two kids. I love Johnny Depp movies and enjoy hiking, reading and watching movies with my family.
Below is a teaser from her latest creation which recieved a Recommended Read from Dark Divas Reviews.
HAUNTING MAGIC
Devon Falls Series Book Four
Raine Delight
ISBN: 978-1-60168-250-5
Aspen Mountain Press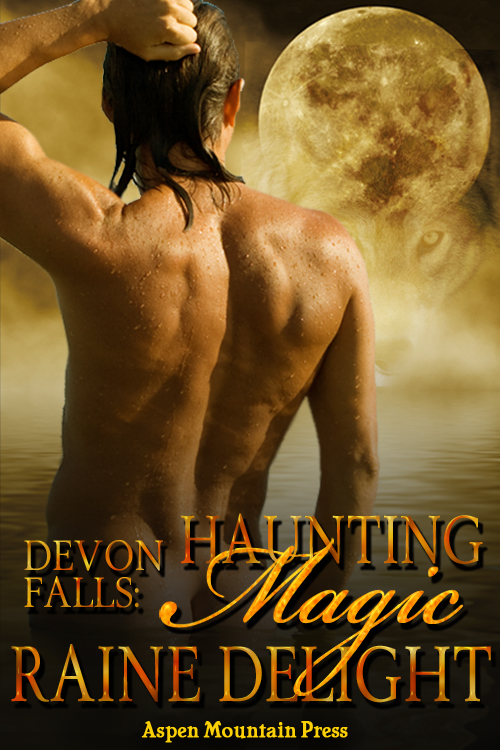 BLURB:
Rodrick Dracon is the twin heir to the Dragon Inn. When he finds himself longing for a mate after being footloose and fancy free, he finds himself drawn to the most obnoxious, brassy woman he has ever met: Jaxon Sinclair. She is the one woman who doesn't melt when he goes by or hangs on his every word. She is just aggravating and down right sexy as sin!
Soon the sparks fly, passion goes into boiling as Halloween approaches. Can a wolf shifter get this woman to heel before the full moon? Or can Jax turn the tables on this ladies man and tame the wolf?
EXCERPT PG-13:
Rodrick Dracon felt like a Mack truck had slammed into him the next day. He had definitely downed one too many beers last night. The pounding in his head worsened when he pried open his eyes. He closed them again and tried to remember what caused him to bring home three women. His inner wolf must have been especially randy. He tried to gather his thoughts and the energy to get a shower but the thought of moving had him determined to stay right where he was.
BANG! BANG!
"What the hell is wrong with you, Rod?" Damien said, as the door flew open and slammed into the frame. "You were due to help Dad out with the barn set up for the Halloween dance an hour ago. He has been looking for you."
"Stop it already, my head feels like it's ready to explode here. I'll call Dad in a few minutes once I'm able to function and apologize, then meet him out at the barn. Isn't Halloween a few weeks away anyways?" Rod asked as he made it to the edge of the bed and whimpered as the pain caused spots to form in front of his eyes.
"Rod, Halloween is only couple of days away and Dad is trying to get the dance floor finished before the festivities. I am helping Alicia bring the refreshments over and setting up. You were to pick up the slack so Dad doesn't have a heart attack doing the work you said you'd help him with." Damien shook his head and looked at his disheveled brother. "Do you even remember the ladies you came home with, Rod?"
Rod tried to remember, but all he kept getting were lots of black places
"Nope."
Damien sighed and sat on his bed. "Rod, this has got to stop. You need your mate and the faster you run from it, the more you are going to hurt as the wolf tries to run free. You know that but you are so hell bent on not getting shackled, as you say, that the wolf inside you wants…no, he needs his mate or he will die trying to find her."
"Well what do you want me to do…audition every woman on the planet, Damien?" Rod retorted as he looked bleary-eyed at his brother. "This whole mate thing is getting on my nerves and, frankly, I am going to have a complex if this keeps up. What is it with happy couples who want others to be just as happy? Are you drinking happy juice or something?"
"No, not audition but not try to sleep with every female that offers herself to you might be a good place to start." Damien said. "Why not trying to court a woman or find one that interests you for more than sex? What about falling in love instead of lust?"
Rod looked up at his brother like he was nuts. "Love? What the hell do I know about love with a woman? Lust, yes. Plenty of that, but love?" Scoffing, Rod tried to remember when he ever felt like being in love. "If it means getting all moony over a woman like I see around here, then kill me now because I swear I will never act like that." With a sigh, Rod implored, "Who am I to fall in love with Damien? Hmmm…with Jax, Dixie, or some nameless woman I've never met? "
Damien shook his head. "It is not so bad, Rod. Love will smack you when you least expect it but stop trying to out run the wolf. You will never win and, truthfully, are you not tired the endless parade of women that seems to go through your revolving door of a bedroom? I am going to start charging admission soon if this keeps up."
"That is all fine for you, Damien. You found your mate again," Rod grumbled and loneliness clawing at his stomach. "I have never been in love; don't believe in destiny or any of that crap either but I have seen love around me so I know it is there. I just don't think it will happen to me."
You can keep pace with Raine Delight in a variety of locations. Here are her links:
Website
Raine's Book Nook Blog
Twitter
Author/Reader Loop
Raine also enjoys hearing from people. Feel free to email her.
Her books are sold at all the popular sites. Here's a list of locations:
Aspen Mountain Press
Fictionwise
All Romance E-books
1Romance E-books
Amazon Kindle
Not only is Raine Delight an excellent writer, she's a whiz in the kitchen. Come back to my site next month for her easy and tasty recipes. On the header bar, click Fun Stuff, then in the drop down What's Cooking. You'll be glad you did!
I'll be back Monday. Until then…
Happy Writing!
Sloane Taylor
Sweet as Honey…Hotter than Hell
4 Responses to "Devon Falls Sweeps You Away"