HOT OFF THE PRESS
September 14, 2010 | New Releases
I'm ecstatic to announce Aspen Mountian Press has just released FRENCH KISS. There will be plenty of celebrating tonight!
The Naughty Ladies of Nice
Book Four
FRENCH KISS
Sloane Taylor
ISBN: 978-1-60168-317-5
Aspen Mountain Press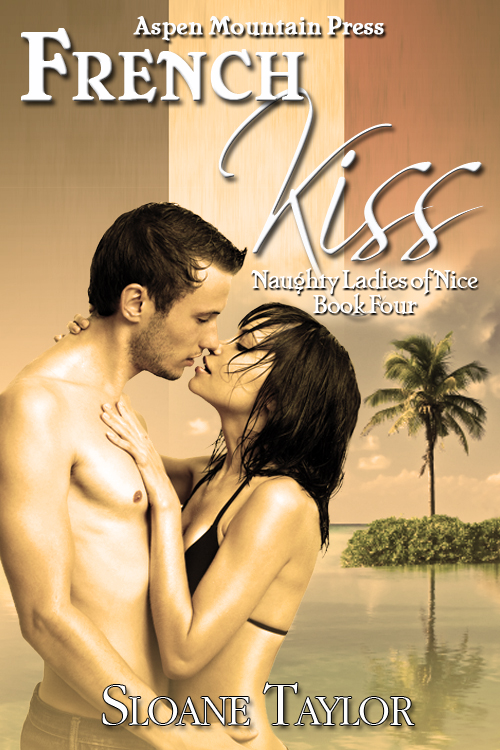 BLURB:
Straight-laced children's author, Rachel Conklin, awakens on a deserted island wrapped in the arms of a sexy pirate. Convinced she's in a dream conjured from the pages of her breakout novel, Rachel casts her inhibitions to the wind. Guilt-free, she seduces the handsome sailor and rides the waves of passion.
Pediatrician Henri Bernier wasn't quite sure what to do with the sexy mermaid he'd pulled from the sea. Then she started kissing him and sent his libido soaring. Now the good doctor is ready to practice anything.
EXCERPT:
His mystery woman wiped mist from the cheval mirror. In the cleared glass, Henri caught her image. He stood in the bathroom doorway, frozen, staring at her through their shared reflection. She smiled at his shocked expression, probably enjoying the fact she had him at a disadvantage.
The bath towel dropped from her fingers, exposing her firm breasts. Her large, dark nipples drew him like a siren to the sea and his dick sprang to life. The desires to lave and suckle her flooded over him while his stiff cock demanded he bend her over and fuck her until he came.
Droplets glistened on the ringlets of her long hair, reflected by the late afternoon sun. Several beads gathered, then made a slow descent down her spine. He stood mesmerized by the rivulet, staring as it glided to the sleek curve of her hip, following it lower until it disappeared between her firm cheeks.
With her good hand, she pulled thick strands of wet hair off her back and draped it over a shoulder, exposing her delicate neck. She held his gaze and bent over at the waist, offering him a seductive view of her pink labia. In slow motion, she drew a pair of red panties up her legs, then did a little hip wiggle and tugged them into place.
The shiny panties caressed her rounded ass cheeks midway on her derrière, accenting the creamy bare skin and framing the lower portion. His hands itched to cup her, squeeze the firm muscles, but his arms were frozen at his sides.
The kissable white flesh rounded above legs that went on forever down to trim ankles and slender feet. He imagined those long limbs circling his waist, better yet, wrapped around his neck as he watched his cock slide in and out of her.
"Magnifique." The word slipped out hoarse as struggled for oxygen.
He walked closer, his movements dreamlike. The honey shampoo aroma filled his lungs when he finally reached her.
"You are beautiful."
"Merci, Henri." A smile twitched her lips.
"Your wrist should be in the sling." He held up the black cloth with his other hand.
"I agree, but there's time for that later."
She leaned into him and reached back for his free hand, hanging limp at his side, then laid it across her bare ribcage. Her smooth skin felt warm against his damp palm.
"I intended to hang it on the handle, but the door popped—"
"Henri, isn't there something else you'd rather do right now than talk?"
His sex-engrossed brain finally registered her words. "Mai oui."
He laid a soft kiss on her shoulder, nipping his way along the side of her neck until he reached the tender area behind her ear lobe. Her nipples pebbled with his gentle touch, encouraging him to explore more of her.
His fingers played across her abdomen, sending prickles of anticipation up his arm as they climbed higher. He cupped her breast, massaging the firm mound until soft moans slipped past her parted lips. The entire time he watched her reflection in the mirror while his thumb made slow, teasing circles around her areola.
She wrapped her warm fingers over his other hand and guided it across her body. The combination of soft skin and firm muscle was the most erotic sensation of his life.
Dieu, how he wanted to dip into her hot pussy, His cock, with drops of pre-cum seeping through the slit, demaded relief.
With shaking fingers, she guided his other hand lower until she stopped at the elastic band on her wet panties. He grazed the fabric across her mound and stopped, then moved his hand to her thigh and edged toward her nub. She wrapped her fingers around his forearm, encouraging him to travel beneath the thin cloth. Anxious to please, he glided his fingers under the damp fabric and into her wet hairs, searching for her clit. After a moment of teasing, he slid first one finger, then a second into her hot, wet channel and watched her expression turn to ecstasy.
"Come for me, ma petit."
Her trembling body tensed. She clutched the basin rim, squeezing her thighs tightly around his hand, grinding her hips against him. Shivers coursed through her. Her whimpers turned to a scream of pleasure as she sprayed hot cum onto him. A unique feeling of joy settled in his heart.
He turned her limp frame in his arms, his fingertips skimming across her tender nipples. She melted against him, pressing her breasts into his chest hairs…
I'll be back tomorrow with Raine Delight. Until then…
Happy Writing!
Sloane Taylor
Sweet as Honey…Hotter than Hell