A PLACE AT THE TABLE
July 7, 2021 | Uncategorized
from Linda Lee Greene, Author & Artist
It was a foregone conclusion that eighteen year old Lee Greene of Peebles, Adams County, Ohio would be drafted, but like so many young couples living everywhere under the specter of World War II, his sweetheart Roma Gaffin and he got married anyway. The date was September 29, 1942. By Christmas of that same year they were pregnant for me. A few weeks before my birth, my father was drafted into the US Navy, with the expectation that following his training he would be shipped to somewhere in the Pacific Theater of the war. My mother stayed on at my grandparent's farm in Peebles, and it was in a bedroom there that I was born, assisted into the world by Old Doc Ellison. My father first laid eyes on me a few weeks later—on the occasion of his return home after receiving an honorable medical discharge from the Navy.
There was little separation in my mind between my parents and my grandparents when I was a kid. Despite the fact that by the time of my toddlerhood, my parents, little brother, and I had settled in Columbus, Ohio, the farm and its inhabitants play central roles in the script of my childhood. We spent every weekend and holiday there, and my brother and I stayed at the farm during every summer until I was an adolescent. One of my most vibrant memories is of Lena, my grandmother, thick around the middle by then, her chestnut hair peppered with white, utilitarian apron tied around her waist, standing before her cook stove. With fresh peaches plucked from trees in the farm's orchard or stash of canned goods in the cellar, and butter churned from the milk of resident cows, in her wood-filled cook stove, lacking the modern convenience of temperature control, my grandmother whipped up peach cobbler to rival any big city bakery. Breads, muffins, cakes, cookies, pies, cobblers—all the baked goods consumed by her large family were the products of her masterful hands. An abundance of her baked goods was the highlight of her high-holiday dinners.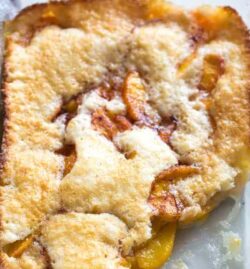 ~LENA'S PEACH COBBLER~
The Peaches
5 peaches, peeled, cored, and sliced*
1 cup sugar
¼ tsp. salt
Add peaches, sugar, and salt to a saucepan. Stir well to combine. Cook on medium heat for just a few minutes—until the sugar is dissolved and juices are drawn from the peaches.
Remove from heat and set aside.
*(If using canned or glass jar peaches in an amount of about 1 quart, skip the above step)
The Batter
6 tbsp. butter
1 cup flour
1 cup sugar
2 tsp. baking powder
¼ tsp. salt
¾ cup milk
Ground cinnamon to taste
Preheat oven to 350° F.
Add butter to a 9 x 13-inch baking dish. Place the pan in the oven while it preheats, to melt butter then remove pan from oven.
Mix flour, sugar, baking powder, and salt together in a medium size bowl. Stir in milk until just combined. Pour mixture over melted butter and smooth to an even layer.
Spoon peaches and juice (or canned/glass jar peaches, if using) over batter. Sprinkle cinnamon generously over the top.
Bake for about 38-40 minutes. Serve warm topped with a scoop of ice cream, if desired.
I didn't inherit my grandmother's prowess in the kitchen but once in a while, I catch a glimpse of myself in a mirror, and I see fleeting fragments of her in me. I did inherit her affinity for storytelling. I hear her colorful depictions of local gossip so clearly in my mind's ear. She was also a prolific writer of delightful and informative letters, the greater number of them penned during the Great Depression and World II. Many of them are transcribed in, and form the spine of, Guardians and Other Angels, my novel of historical fiction, based on the true story of three generations of my family. And of course, my formidable grandmother is a key figure of it.
One review of the novel states: "5 stars…Wonderfully Written! This was a thoroughly enjoyable book. I loved the Americana. [It] reached out and touched my heart, mind and soul. [It] provided tremendous insight into what many American families endured during the first half of the 20th century. It captures you and draws you in. This is most certainly a five-star novel."
Read more on Amazon.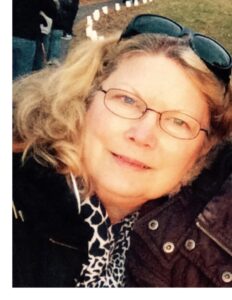 Multi-award-winning author and artist Linda Lee Greene describes her life as a telescope that when trained on her past reveals how each piece of it, whether good or bad or in-between, was necessary in the unfoldment of her fine art and literary paths.
Greene moved from farm-girl to city-girl; dance instructor to wife, mother, and homemaker; divorcee to single-working-mom and adult-college-student; and interior designer to multi-award-winning artist and author, essayist, and blogger. It was decades of challenging life experiences and debilitating, chronic illness that gave birth to her dormant flair for art and writing. Greene was three days shy of her fifty-seventh birthday when her creative spirit took a hold of her.
She found her way to her lonely easel soon thereafter. Since then Greene has accepted commissions and displayed her artwork in shows and galleries in and around the USA. She is also a member of artist and writer associations.
Visit Linda on her blog and join her on Facebook.