My Failed Plant-Based Challenge
January 31, 2022 | Author Friend Promo
By Alicia Joseph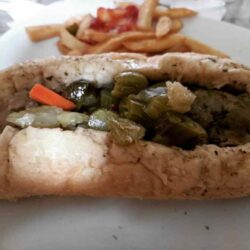 My plan to eat completely plant-based food for thirty days lasted about seventeen days. Though I failed to eat one hundred percent plant-based, doesn't mean I completely gorged myself on junk vegan processed foods, although I did overindulge a little. A while back Buona Beef, a local Chicago based fast food restaurant that specializes in Italian beef, debuted its Italian "beefless" sandwich. 
It tasted just as I remembered how an Italian beef should. Even my omnivore neighbor couldn't taste a difference. Italian beef sandwiches were one of my favorites once upon a time. They were more "Chicago" than hotdogs and deep-dish pizza. But vegan wise. There was nothing comparable to the real thing…until now.
In just weeks I had three of them.  Don't judge! I'm making up for lost time. At least I found the will to steer clear of my favorite vegan ice creams – and there are many. Still, despite my affinity for all things Beyond Burgers and Daiya pizzas, I do have my limits to the amount of delicious vegan processed junk I consume on a regular basis. I enjoy many simple vegan meals that are based around foods that were grown in the ground and not in a lab. Now if those labs grown foods replace animals from being torturously slaughtered, then I'm all for it…with some consumption limitations.
Here are some of the good foods I discovered. My non vegan friends like them, too.
Avocado on toast with giardiniera relish makes a yummy veggie sandwich.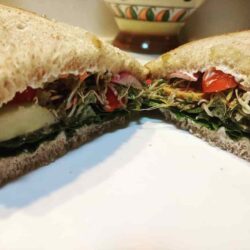 Toasted bread with avocado, sautéed mushrooms, and sliced grape tomatoes.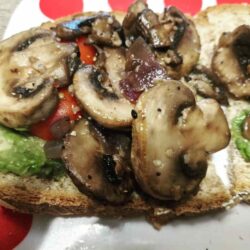 Pasta seasoned with olive oil, black olives, cherry tomatoes, and a sprinkling of basil. 
Although I failed the challenge, I made to myself, one habit that is now permanent is not filling my freezer with all my favorite vegan junk foods – pizzas. Burger, sausages, corn dogs, and ice cream. If it's not in my house, I can't eat it.
Here is a glimpse into one of my books. I hope you enjoy it.
"When a train runs over a penny, the penny changes form, but it can still be a penny if I want it to be. Or I can make it be something else."
Lyssa and her best friend Abbey discover a hideout near the train tracks and spend the summer before sixth grade hanging out and finding freedom from issues at home. Their childhood innocence shatters when the hideout becomes the scene of a tragic death.
As they're about to graduate from high school, Abbey's family life spirals out of control while Lyssa is feeling guilty for deceiving Abbey about her sexuality.
After another tragic loss, Lyssa finds out that a penny on the track is sometimes a huge price to pay for the truth.
Alicia Joseph grew up in Westchester, Illinois. She has many works-in-progress that she hopes to finish soon. Life permitting.
When she is not writing, Alicia enjoys volunteering with animals, rooting for her favorite sports teams, and playing "awesome aunt" to her nine nieces and nephews.
Learn more about Alicia Joseph on her blog. Stay connected on Facebook and Twitter.