Souping Up the Chicken
January 26, 2022 | Cooking
by Helen Carpenter
We're good eggs here in Carpenter Country, and we subscribe to the waste-not philosophy of life. In our kitchen, one cooked chicken results in multiple meals, including delicious homemade chicken soup.
For this soup recipe, we began with a chicken slow cooked in the crockpot. Once the chicken was cooked and the initial chicken-and-vegetable-and-potato meal eaten, we separated the remaining meat from the bones. We used the darker chicken meat in the soup, and the white-meat portions in chicken salad, chicken potpie, and chicken sandwiches.
The we got out our soup pot and put together this stovetop soup. For extra flavor, when we filled the pot with water, we added a few spoonsful of the drippings collected in the crockpot as the chicken cooked.
Note that this recipe works exactly the same if you prefer to roast your chicken in the oven.
Here's our souped-up video. The full recipe follows below.
CHICKEN SOUP CARPENTER STYLE
Chicken trimmings (bones and skin) from fully cooked chicken
Water (enough to cover the trimmings and fill the pot)
2-4 tbsp. pan drippings, depending on the size of your pot
2-4 cups fresh or frozen vegetables of your choice (we used frozen mixed)
1 tbsp. Italian seasoning
2 tsp. garlic salt (or regular salt if you prefer)
2 tsp. minced garlic
Dash black pepper
2 cups shredded chicken meat
Add chicken trimmings to pot.
Add enough water to cover the trimmings and fill the pot.
Add pan drippings.
Simmer on medium heat for 20 minutes.
Remove chicken trimmings from pot with strainer or slotted spoon and skim off any foam from the broth.
Add vegetables, seasonings, and shredded chicken to pot. Add additional water if necessary.
Simmer on medium heat for 20 minutes.
Serve hot with bread or crackers.
TIPS and TRICKS
Add a packet of chicken bouillon with the drippings to punch up the flavor.
For a thinner broth, leave out the vegetables (or cook them until they are very soft) and reduce the amount of shredded chicken. Use the broth in other recipes or serve in mugs.
To make chicken noodle soup, add noodles or pasta of your choice along with the vegetables.
Be creative with the spices. For instance, a dash of curry powder adds a unique flavor.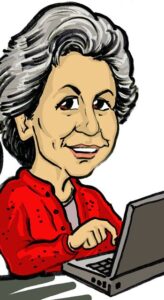 Once upon a time there was a mother/daughter author duo named Helen and Lorri, who wrote as HL Carpenter. The Carpenters worked from their studios in Carpenter Country, a magical place that, like their stories, was unreal but not untrue. Then one day Lorri left her studio to explore the land of What-if, and like others who have lost a loved one the magical place lost much of its magic. But thanks to family, plus an amazing group of wordsmiths named Authors Moving Forward (AMF), the magic is slowly returning.
Helen Carpenter loves liking and sharing blog posts from other authors. She lives in Florida with her husband of many years and appreciates every day, especially those without hurricanes.
Stay connected on her blog and Facebook.