Jennifer Loy Tells All
May 21, 2007 | Interviews
Good Morning Everyone!
We have spunky Jennifer Loy, lovingly known as JLo among her friends and colleagues, front and center all week. Below is the cover for her August release, RODEO DRIVE, from Triskelion Publishing. It so fits this amazing book.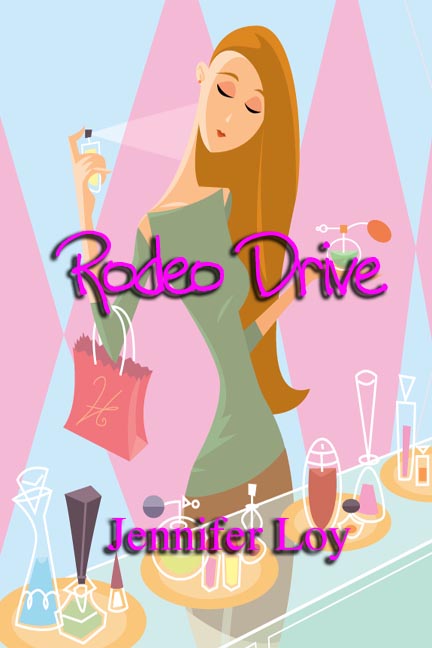 ST: Hi, Jennifer Loy, welcome and thank you for visiting with us this week.
JL: Well thank you for asking me here this week.
ST: Tell us about yourself.
JL: Hmph… I was born and raised in Southern California. Graduated from high school and became a mom. I try to be fun wherever I go. People love to laugh and it's easy for me to make friends that way. There is a serious side to me but I don't like to let her out much.
ST: Your debut novel, RODEO DRIVE, releasing in August, is an exciting hot read. Please tell us about the book.
JL: Here's a blurb on RODEO DRIVE…Starving artist, Lauren Hunter, creates a new business as a Purchase Consultant, a gift saver. Lauren gets calls all day long from desperate, busy, hard-working, or just plain lazy men. Most have procrastinated to the last minute to buy gifts for their wives, mothers, sisters, daughters, even their fiancés. Lauren gets the details of the woman, knows the situation and occasion, buys the gift, and delivers it. She gets a high from shopping, a rush from the lack of time, and finds pleasure in the women's faces when she pretends to be the delivery person as she drops the gift off at their door.
Lauren Hunter's favorite place to shop is of course, Tiffany & Co. on Rodeo Drive, where she meets the sharp-dressed jeweler, Nick Bennett, who quickly has an eye on her. As Lauren and Nick's relationship heats up, two of their old flames return. As the summer temperature rises in Southern California, so does the anticipation of which path Lauren will take. Follow Lauren on her hilarious and surprising adventure.
ST: How did you come up with the story line?
JL: Well let's just say I've been given some pretty lame gifts from men and many of my friends have told me of past gifts that they've received. I'm rolling my eyes. Candy bars for Valentine's Day, a tea pot for an 11th wedding anniversary, a vibrator for a birthday gift, and the topper of all, absolutely NOTHING. What the heck? So I thought of a story line that would save men from the wrath of bad gift giving and sent in Lauren Hunter. I pitched the storyline to my sister and she loved it. My sister wants a job just like this. Who wouldn't? Anyway, so I wrote it and here we are.
ST: And where and can we buy RODEO DRIVE?
JL: You can purchase RODEO DRIVE from www.triskelionpublishing.net as an ebook. It is due to release August 2007.
ST: Thanks, JLo, for spending time with us today. We'll see you again tomorrow morning, Okay?
JL: I'm looking forward to it.
Thank you all for stopping by. Feel free to post and questions or comments. JLo will check back and be happy to answer. Until Tuesday morning,
Happy Writing!
Sloane
5 Responses to "Jennifer Loy Tells All"