All Things Good
August 29, 2008 | Promotion
Aspen Mountain Press not only believes in their authors, but also promotes their work. The ad below will appear in the October issue of Affaire de Coeur, a terrific and honest review magazine that's been in publication for 26 years.
GetCesigned.com created this gorgeous piece. Check out their website for more of their amazing work and terrific pricing. You can't afford not to be Cesigned.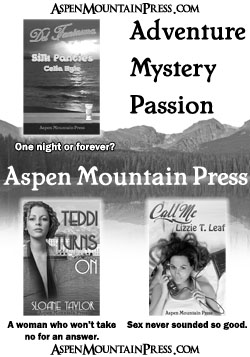 And now for a little blatant bragging!
These are reviews from some of the top sites for TEDDI TURNS ON.
4.5 BLUE RIBBONS from Romance Junkies
Sloane Taylor's TEDDI TURNS ON will have readers wanting to travel to Germany and experience the charm of the country and the intensity of the men for themselves. I was charmed by Teddi's obvious love for her deceased husband and her mixed feelings about moving on without him. David's bold pursuit doesn't give her much of a chance to second guess herself. It was very easy to become absorbed in the plot and the characters' lives. Now I'm dying of curiosity about Teddi's little sister, Lonni. We get snippets about her throughout the story and it looks like she's going to be visiting Germany too. Fingers crossed that we will soon be seeing another of these wonderful heartfelt tales from Ms. Taylor.
Reviewer: Chrissy Dionne
4 STARS from Just Erotic Romance Reviews
The love scenes were sizzling and sensual with the ability to send your pulse sky-rocketing as the romance melts your heart. Most of this superb fairy tale is spun around Teddi being ready for dipping her toes into romance once again. The plot is well-written with delicious complications and a super secondary cast including Teddi's younger sister, Lonnie who adds a young energy to Teddi's tale. The villain evokes a feeling of disgust and you can't help hating him. A terrific beginning to the Magnificent Men of Munich miniseries, Teddi Turns On comes very highly recommended. It'll take you on a tour of Munich without making you leave your home. Ms. Taylor is truly an author to watch out for.
Reviewer: Mahaira Fatima
4 HEARTS from The Romance Studio
Sloane Taylor has written a fascinating book about the growing love of two people who have previously had neither the time nor the inclination to search. There are sub characters that are wonderfully interactive to the couple; however, the basic story centers around the two who find something in each other which was never before present. Ms. Taylor certainly knows how to hold the reader's attention while presenting her obvious alpha male and a not-to-be intimidated female counterpart. I found the entire story captivating and, of course, recommend it highly!
Reviewer: Brenda Talley
High Praise from An Alternative Read
This was a really great read as it explored the tension between two people who are not only strong-minded, but with totally opposite ideas of what constitutes a relationship. A humorous, witty look at a relationship with remarkably serious undertones, sensually explicit sex and simply falling in love. I thoroughly enjoyed this one.
Reviewer: WitchGiggles
I'll be back with another TEDDI TURNS ON excerpt in the morning. Until then…
Happy Reading!
Sloane