It Just Can't Get Better!
October 7, 2008 | Hot Damn
October is a fantastic month for me. A second new release came out today! This one is from Eternal Press.
The Naughty Ladies of Nice
Book Four
FRENCH KISS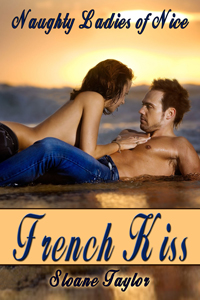 BLURB:
Straight-laced children's author, Rachel Conklin, awakens on a deserted island wrapped in the arms of a sexy pirate. Convinced she's in a dream conjured from the pages of her breakout novel, Rachel casts her inhibitions to the wind and seduces the handsome sailor. Rides the waves of passion
Pediatrician Henri Bernier wasn't quite sure what to do with the sexy mermaid he'd pulled from the sea. Then she started kissing him and sent his libido soaring. Now the good doctor is ready for anything.
EXCERPT:
Warm tingles started in her belly, pooling low in her abdomen, a sensation she'd long missed. His lips were strong, supple, working her own apart. She glided her tongue along the seam of his mouth, loving the salty taste and the rasp of his beard on her bruised face. Moisture filled her panties, making her alive and wanting more. She laced an arm around the broad shoulders leaning over her, curling her fingers in his long, silky hair.
Her nipples puckered more with each stroke as he glided his hand along her spine, continuing lower over the curve of her ass to her thigh. Wet sand greeted her when he smoothly rolled them over. Her legs parted, welcoming her secret pirate. Nope, make that swashbuckler. More romantic.
Shivers raced through her and he held her closer. His body heat, a beautiful thing, shrouded them. Her breasts grew heavier, straining against her shirt, with his solid erection pressing into her. She wiggled closer, needing to feel him inside her.
Indistinguishable sounds filled her ears, forgotten lyrics from an old, sweet love song. She wanted to remember, but not enough to give up her fantasy man and the erotic glow of mystery sex.
Sloane Taylor
Sweet as Honey…Hotter than Hell
TEDDI TURNS ON www.aspenmountainpress.com
FRENCH TWIST www.eternalpress.ca
www.myspace.com/sloanetaylor
2 Responses to "It Just Can't Get Better!"
Yasmine Phoenix Says:


I need an island if there are men on there like this!!

On October 15th, 2008 at 9:08 pm
Sloane Says:


LOL! Kind of a Nicholas Cage think going on, isn't it?

On October 16th, 2008 at 8:21 am