November 11, 2008 | Hot Damn
The Romance Studio thinks my blog is "special and really cool"! That is so terrific! TRS also awarded me with the I LOVE YOUR BLOG AWARD. Thank you, TRS! Below you can see my neat prize.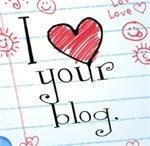 Now, I'm to nominate seven other blogs that are outstanding. After much thought, I decided on:
Thanks again to The Romance Studio for the honor. It was fun!
Sloane Taylor
Sweet as Honey…Hotter than Hell
3 Responses to ""
Jan Springer Says:


Hi Sloane!

Thanks for nominating my blog for the I Love Your Blog Award! You are so sweet!

Hugs,
jan

On November 11th, 2008 at 4:17 pm
Sloane Says:


Hey Jan!

You're welcome. You've got a great blog and I wanted people to know about it.

On November 11th, 2008 at 5:02 pm
Melissa Bradley Says:


Congratulations!! This is a wonderful blog, I just love coming here and reading about what's happening.

On November 18th, 2008 at 12:33 pm