JOINING THE PARTY
December 2, 2008 | Friends
Hi everyone. Happy Tuesday.
First let me say happy birthday to Sloane…though I'm sure I'm early…lol. And I won't ask her how old she is because it's never polite to ask a lady her age. 🙂
Now, my name is TA Chase and I write m/m romances. I've written in several genres, but mostly contemporary. I have books out at Liquid Silver , Samhain, Loose-Id and Aspen Mountain Press.
In fact I have a book coming out today at Samhain and it's my tenth book. Wow. I've been published since 2006 and I don't have any plans to stop anytime soon. Of course, the voices in my head won't let me…lol.
My book being released today is titled Bound by Love and it's a contemporary cowboy story.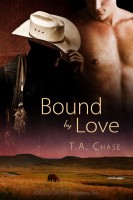 Here's the blurb:
Two cowboys fall in love. It's as simple and as complicated as that.
Tyler Newsome is heading home to the Lazy N, tired of the rodeo and tired of always being his charismatic twin's shadow. It's time he gets a life of his own—and maybe the man he's always dreamed of, too.
Ren Alston's always been attracted to Tyler, but never made a move because of his own mental and emotional baggage. But after years spent taming his demons and gaining control in every aspect of his life, Ren sees the younger man's return as a sign of good things to come.
But first, they have to deal with Tyler's twin, past indiscretions and Ren's brothers. Will these cowboys manage to build a strong foundation of trust and love? Or will their problems be too much for them?
Warning: Explicit manlove. Hot naked cowboys, caramel sauce, spanking, whipping and a new twist on the old fashioned roll in the hay.
And a short excerpt (don't worry..it's safe for work)
Later that night, Ren eased down into his chair and put his feet up on his desk. The study was dark. He didn't feel like turning any lights on. Dialing the phone, he leaned his head back, staring at the shadows on the ceiling.
"Lazy N." A husky, sleep-tinged voice answered.
"Shit. I'm sorry. I didn't think about the time." He wanted to smack his forehead. Idiot. It was after midnight and most normal people were in bed. Of course, when you didn't sleep for days on end, time blended together and became meaningless.
"Ren? Is everything okay?" Tyler's voice perked up.
"Everything's fine, Tyler. I'm going to hang up and call you in the morning." He started to do just that.
"Wait. I'm awake. What did you want to talk about?"
A rustle and a low grunt made Ren imagine Tyler moving in bed.
"I wanted to thank you for delivering the cattle and for taking care of Solace. I hope she didn't give you any problems."
Tyler's warm laugh eased the tension from Ren's body. He closed his eyes, wondering if Tyler's hands would have the same effect.
"Your mare's like my gelding. They have their likes and dislikes. Luckily, she let me sweet-talk her into doing what I wanted."
"It's your voice. God knows, you could talk me into doing anything you wanted."
The quick intake of breath on the other end of the connection clued Ren in on what he said.
"Sorry. Not the best time to say something like that."
"Do you mean it?" Tyler's question was soft and hesitant.
"Yes, but just because I mean it doesn't mean I should blurt it out over the phone like that." He scrubbed his chin and grimaced at the feel of stubble under his fingers.
Tyler agreed. "You're right. You need to say it to my face."
"I will. We have things to discuss, Tyler." Not least of which was the fact that Ren had slept with Tyler's twin brother.
"I know. How about we meet up at the party on Saturday and we'll talk then?"
The younger man's suggestion was reasonable.
"It's a date. Sleep well, darling." He winced as the endearment slipped out.
Tyler sounded pleased. "I hope you get some rest as well, Ren. I'll see you Saturday night."
Ren placed his phone on the desk and sat, absorbing the idea of having a date. And this time it was with the right Newsome brother.
Stop by my blog or website anytime to learn more about my work.
All the best,
TA Chase
THE VANGUARD available from LSB
HOME OF HIS OWN available from LSB
OUT OF BOUNDS available from SAMHAIN
BOUND BY LOVE coming TODAY from SAMHAIN
7 Responses to "JOINING THE PARTY"