CZECH MATE is HOT!
August 5, 2009 | reviews
I'm blown away by another excellent review. Roni from Romance Book Scene reviewed CZECH MATE and gave it their highest count – 5 HEARTS!
Below is a snippet, but you can read the complete review HERE.
CZECH MATE
Sloane Taylor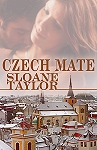 Publisher: Amber Quill Press – Amber Heat
ISBN #: 978-1-60272-522-5
Genre: Contemporary Erotica
E-book
Length: 111 pages
Looking for a good book that will keep you laughing with a heroine who knows how to laugh at herself even when times are down, than Czech Mate is the choice for you. Lacey has a great bold, sense of humor and there were times when I out right laughed out loud through this book. The sex scenes are hot and the couple in the story are perfect for one another. This novella is a wonderful quick read.
Reviewed by Roni
Thank you, Roni, and Romance Book Scene! I'm grateful you enjoy my work.
I'll be back next week. Until then…
Happy Writing!
Sloane Taylor
Sweet as Honey…Hotter than Hell