A Good Neighbor is Easy to Love
September 15, 2009 | Friends
I met Clare London several years back by sheer good luck. Her's was the first m/m book I'd ever read, and I was impressed. Clare's work is tasteful, filled with romance and a strong plot. Not only is my good friend a brilliant writer, she also has a terrific sense of humor.
Clare took the pen name London from the city where she lives, loves, and writes. A lone, brave female in a frenetic, testosterone-fuelled family home, she juggles her writing with the weekly wash, waiting for the far distant day when she can afford to give up her day job as an accountant.
She's written in many genres and across many settings, with novels and short stories published both online and in print. Clare says she likes variety in her writing while friends say she's just fickle, but as long as both theories spawn good fiction, she's happy. Most of her work features male/male romance and drama with a healthy serving of physical passion, as she enjoys both reading and writing about strong, sympathetic and sexy characters. Clare currently has several novels sulking at that tricky chapter 3 stage and plenty of other projects in mind…she just has to find out where she left them in that frenetic, testosterone-fuelled family home.
All the details and free fiction are available at her website. Visit her today at her web site and say hello!
Here's a little on Clare's newest release. I think you'll enjoy it.
A GOOD NEIGHBOR
by Clare London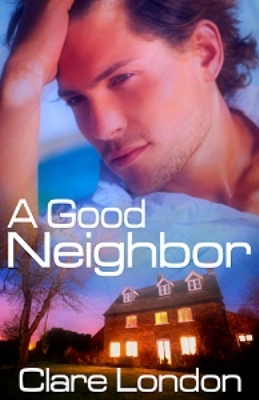 Amber Allure
ISBN-13: 978-1-60272-574-4 (Electronic)
Genres: Gay / Contemporary / Romantic Comedy
Heat Level: 3
Length: Extended Amber Kiss (15k words)
BLURB:
Dylan admits it himself, he's a relentlessly single man in a small town, consoled only by being a good teacher and a devoted nephew to his Great-Aunts.
When the Aunts take a hand in matchmaking him with Josie, the girl down the street, Dylan doesn't tell them what kind of soulmate he's really looking for—and the fact that he's already found the man in question, Josie's brother Neal. But a secret affair can't go on forever, can it?
Faced with a heart-wrenching decision when his chance at love seems to be moving even farther out of his reach, Dylan knows it's time for him to own up to what he wants…and what kind of man he really is…
EXCERPT:
…I walked up the drive to the Whitman house, the gravel crunching under my boots. There was no sign of life anywhere, either in the gardens or from inside the house. My heavy footsteps broke the silence, my presence a gauche human intervention in the cool calm of nature. Because the house was at the far end of the street, it had no neighbor on the other side and this allowed it far more grounds than any of the other properties. The front garden was bordered with flourishing, dark-green ornamental hedges. Between them and the high gate and wall, the house was sheltered from both the street and prying eyes. Or at least, I'd always thought it was.
I stopped a few feet away from the front steps and took a deep breath. The contrast between this and my own family home was very marked. I suspected the Whitmans were considerably stronger financially than I was, but I was also sure Josie was better at keeping on top of the repairs and maintenance. It was the same size house, but in far better condition. The brickwork was neat, the paint wasn't peeling, and the lawn was neatly trimmed at the edges of the path. My house aimed for faded charm. Theirs aimed obviously for elegance, and met it, too.
I knocked loudly at the front door, making my gestures very obvious. After all, I didn't want the Aunts to miss a second of my visiting routine, did I? Now I knew of their secret voyeurism, I could imagine Mitzi at the window of my top floor guestroom, from which she'd obviously found a view of the Whitman's home over the wall. I was pretty sure she had to stand on a chair and peer over the curtain rail, but that wouldn't have discouraged her. I worried she'd hurt herself, at the same time wondering how the hell she got up and down the stairs so easily and swiftly at her age. And I also knew that if I turned back now to look up at my house and caught her at that very window, she'd drop back into an innocent, languid pose as if yearning for a faraway suitor, rather than spying on her former ward.
I smiled to myself and clutched the overblown bunch of blooms Bess had insisted I take with me. I felt hot and awkward in my jacket and smart shirt. Hoping that Mitzi might have tired of staring at me, I ran a hand through my hastily combed hair, ruffling it back up.
Damned if I couldn't hear in my mind Bess's snort of disapproval at my slovenly behavior.
The door opened abruptly. For a few seconds, I just stared. My heart was hammering, fierce as anything. But the smile that greeted me was broad and mischievous and full of a welcoming love for life. It was also very familiar. Dark, strong features. With a mental nod to the Aunts, I stepped inside. My sight began to adjust to the change, the hallway furniture throwing elongated shadows across the pale, waning sunlight, and then the front door slammed behind me as if cutting me off from the life outside…
And I was plunged into another one.
I never had a chance to speak. The bouquet was snatched from my hands and flung onto the low table by the door. I was pushed back against the wall and a hard, flat chest pressed against mine, hot breath panting in my ear, broad hands reaching to push my jacket off my shoulders. Strong hands. Impatient.
"Fuck." The voice was harsh and masculine. A man's face brushed against mine, the jawline rough with a half-day's stubble, the eyes gazing hungrily at me. "You're early! I thought we said tomorrow."
I laughed aloud, partly from protest, partly from the sheer joy of the touch. He was a few inches taller than I was, his body stocky, his shoulders broad. As he opened his arms to wrap them around me, the faded fabric of his shirt stretched tight across his chest, accentuating the sinewy planes of his torso.
"The Aunts insisted I come over today. I didn't know when you were planning to arrive. If you were. Look, I can go…"
"Don't you fucking dare!" he snapped, but his eyes danced with pleasure, not anger. The hallway smelled of furniture polish and the lingering aroma of warm toast. Up close, I could also smell strong coffee on his breath, but then he always drank too much of it, a symptom of his commitment to ridiculously long hours of writing and traveling. His face nuzzled into my neck, his skin warm, his thick curls uncombed and brushing his shoulders, just the way I liked it. I ran my fingers into it, tangling tightly, tugging back his head. Hard, just the way he liked it…
I'll be back later this week. Until then…
Happy Writing!
Sloane Taylor
Sweet as Honey…Hotter than Hell