Once is Never Enough
January 15, 2010 | Friends
You all know I'm an avid reader and always searching for new books. My quest took me to Amazon. After scrolling through their thousands of books I came across one with a cover and blurb I had to have. My credit card was accepted and a sort time later I held my very own beautiful print copy of ENCORE PERFORMANCES in my hand.
It didn't take long to read this excellent book, since I couldn't put it down. Each page held me and swept me into the well written stories. The author is prolific and has a talent worth following. In fact, ENCORE PERFORMANCES is so good I bought another two copies for friends. My recommendation – BUY IT, LOVE IT!
ENCORE PERFORMANCES
Melissa Bradley
$12.50
Amber Quill Press – Amber Heat BUY LINK
Amazon BUY LINK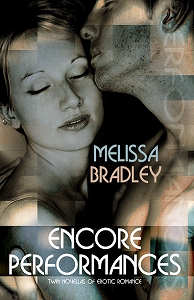 BLURB:
One night… a heated glance and a seductive smile ignites a firestorm of ecstasy. Nothing matters except the pulse-pounding passion, the red-hot desire. What happens when one night is not enough to quench the searing flames? For two couples, it was only the beginning…
Previously only available in electronic format, these steamy novellas of erotic romance have been combined in one paperback edition! Included are the tales…
DREAM ON
Nina Rozek has one big nightmare of a fortieth birthday. She's overslept, is late for work and manages to get herself pulled over by the hottest young cop she's ever laid eyes on. Alex Torres feels the heat deep in his gut as soon as he locks eyes with the sexy speedster. But as a police officer, he knows using her info to get a date is oh-so-illegal… When the two unexpectedly cross paths at a rock concert later that evening, the intense attraction between them boils over into a night of scorching passion straight out of their wildest fantasies. In spite of their many differences, Nina and Alex forge an unlikely relationship that quickly changes everything…
LOVE HAIGHT
It is 1967 and the Summer of Love has just begun to light up San Francisco's Haight-Ashbury. Lily Roberts, a Vietnam nurse, has come here to lose herself in the psychedelic scene and forget the horrors of war. For Joe Sullivan, a rocker on the rise, the vibrant atmosphere is the perfect place to launch his band to the heights of success. One searing night and they would go their separate ways, but those few heated hours change everything. Lily starts to feel emotions long buried and Joe can't get her out of his mind or his heart…
I'll be back next week. Until then…
Happy Reading!
Sloane Taylor
Sweet as Honey…Hotter than Hell
One Response to "Once is Never Enough"
Melissa Bradley Says:


Thank you so much, Sloane! Your wonderful words have made my week. Have a terrific weekend.

On January 15th, 2010 at 10:56 am