Get Turned On With
January 25, 2010 | Friends
by exciting new author MARIE TUHART. Her first novel, IN PLAIN SIGHT has just been released by Wild Rose Press. And we're talking thigh squeezer. It's a read you won't want to miss.
Allow me to introduce you to Marie!
ST: Hi Marie, thanks for coming out today and congratulations on your first release. Before we discuss IN PLAIN SIGHT, please tell us a little about yourself.
MT: Hi Sloane, thank you so much for having me. I began writing at the tender age of 19, and in 1994 decided to join RWA after years of going to college to get a degree in computers. A lover of romance books, there was nothing better than writing them. In the early 2000's I discovered erotic romance, and knew I'd found a home. In 2004 I took a class by Jan Springer on how to write erotic romances, and since then I've never looked back.
ST: Our readers are interested to learn more about Marie the person. It would be great if you'd fill us in on a few things. Such as what are your favorite hobbies or things in life?
MT: I love to read and play computer games. I'm always browsing my way around bookstores, both new and used.
ST: Is there anything you'd secretly like to do that you haven't?
MT: I'd love to take a hot air balloon ride, but that's a little hard because I'm afraid of heights.
ST: I can relate to that. 🙂 What's your routine on a normal day?
MT: Is there such a thing as a normal day (VBG). Because I have a day job, I get up at 4 a.m. and head off for the job which starts at 5:30 a.m. I write on my lunch hour, then head for home at 2 p.m. Most days I exercise from 3p-4p, then once I'm home, there's dinner to cook, dishes to clean up, lunch to get ready for the next day. I check email, go to other writer's blogs, comment on blogs, bills, etc. Around 9 p.m. I head for bed to start the cycle all over again the next day.
ST: Woman, you are one active person! Why do you write?
MT: Because I want to, I love to write stories. I've written stories since I was a teenager, so writing novels was an adventure for me, and it still is. Each book is different from the last.
ST: What's your favorite part of writing?
MT: Watching the story come together in ways I didn't even think about.
ST: What do you absolutely hate about writing?
MT: Re-writing. My first drafts are dialogue heavy so I have to go back and write in setting, emotion and other things to make the story fuller.
ST: What does the future hold for Marie Tuhart?
MT: Well, I hope lots of sales. 🙂 I'm currently working on two more erotic romances for The Wild Rose Press and waiting to hear on a contemporary romance.
ST: Thanks for taking the time and I wish you much success.
MT: Thank you and I hope you and your readers enjoy IN PLAIN SIGHT.
ST: To our readers, you can learn more about Marie and what the future holds for this talented author on her website and on her adult blog where Marie has a new post every Monday.
Here's an enticement to show you the caliber of this exiting author:
IN PLAIN SIGHT
Marie Tuhart
Wild Rose Press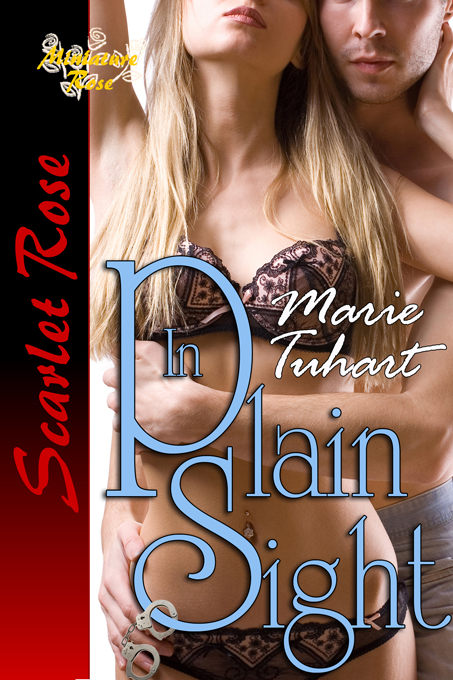 Blurb:
Bad boy businessman Joe Bradshaw has achieved almost everything he's wanted in life, but his strait-laced colleague Victoria Collins is proving an elusive challenge. A steamy encounter in the elevator begins a wild journey of sensual discovery. Joe's determined to break through Vicki's barriers to reveal the red-hot woman hiding inside. But Vicki is stalked by her past—her ex-fiancé will stop at nothing to get her back. Falling in love and keeping Vicki safe could be the biggest challenges of Joe's life.
Excerpt:
"You're too dangerous." The words slipped out before she was even aware of voicing them.
His eyes widened, and another of those sexy devilish grins spread across his lips. "I'm not dangerous. I'm a teddy bear."
Victoria gave a snort of laughter. He took another step into the room and suddenly her bedroom felt too small. Now the man invading her territory. "Grizzly bear is more like it," she muttered.
"A man," he said, taking two more steps. "A man who wants to get to know you better."
"If we get to know each other any better, we'll be arrested." Her gaze locked with his. He stood less than a foot length from her.
"I got things a little backwards last night."
"Backwards?" That was an odd word to use. She tilted her head to one side and stared at him.
"Yep, backwards." His arm rose, and he caressed her cheek. "Making love to you in the elevator was impulsive."
She opened her mouth.
"But," he continued before she could get a word out. "I don't regret one second of it."
I'll be back later this week. Until then…
Happy Writing!
Sloane Taylor
Sweet as Honey…Hotter than Hell
17 Responses to "Get Turned On With"