We Have Winners!
March 3, 2010 | Contests
My January newsletter "Members Only Contest" was easy as always. All the entrants had to do was email me with AUSTRIA in the subject line. There are two winners and the prize is a free download of LONNIE HEATS UP.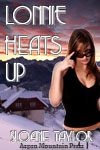 And the lucky readers are:
EVA
TRISH
Thank you all for playing. I'll be back next week. Until then…
Happy Writing!
Sloane Taylor
Sweet as Honey…Hotter than Hell