BITE ME
March 11, 2010 | Friends
Vampires were never my thing until Jan Springer told me about her soon to be released novel SWEET HEAT. After reading the excerpt and fantasizing over the cover, I'm hooked! I think you will be too.
Coming March 24, 2010
SWEET HEAT
Book One in the Vampira series
Jan Springer
Ellora's Cave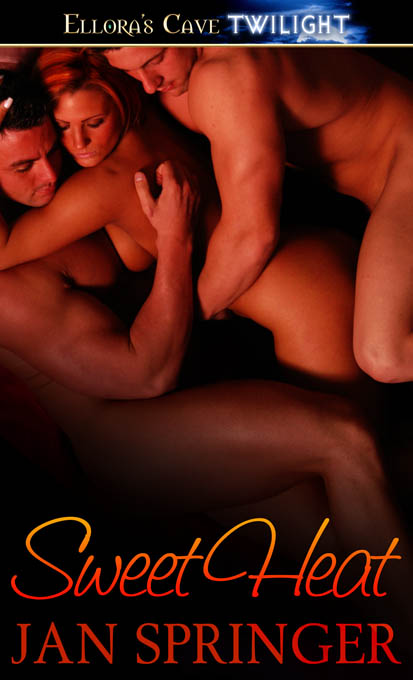 BLURB:
Running from an arranged marriage, Julia Sandalwood hides within Vampira, a secret clique of female vampires who live among humans and have sworn off sex with males.
Julia thought she was safe, that is, until scorching dreams leave her craving every hot pulsing inch of the twin vamps newly hired at the factory she owns. Every night they set her fangs on fire, sandwiching her between their strong naked bodies, whisking her into a world of forbidden ecstasy.
Caleb and Zander Davenport have always shared a magnificent brotherly bond, which includes the need to share their females. Lately, they've been hungering for Julia, and plan on seducing her out of her dreams and into their arms.
EXCERPT:
Leaning over, she slid the box in front of her and lifted the lid.
And froze.
Inside the box lay a life-sized chocolate cock, complete with an intricate weave of veins and plum shaped cockhead. It had to be at least ten inches long with a three inch girth. She certainly couldn't miss the two puncture wounds halfway up the shaft.
Vampire bites.
She drew in a deep steadying breath. Spicy musk scent poured off him and mingled with the dark chocolate, wrapping around her like a seductive glove. Her fangs throbbed with intense excitement. Her body tensed harder in raw awareness.
"What do you think, Julie?" he asked with a low growl lacing his otherwise soft voice.
"It's getting late," she found herself whispering, finding it quite difficult to keep her eyes off the giant cock.
She could barely breathe. Could barely keep herself under control.
"Perhaps you should try it? See what you think?"
Try it? Why did she think he meant more than just licking it and sucking it and taking it down her throat?
"I'm late for an appointment."
"A date?" Was that anger lacing his voice? Annoyance blazing in his eyes? Did he think he had a claim on her? Now that thought certainly made her pussy cream warmer.
A sheen of perspiration blossomed across her forehead. She needed to get away from him. Needed to collect her thoughts. Her composure.
Surely he could smell her arousal because she could.
He stared at her, knowing amusement flashing over his face.
Yep, she definitely needed to get away from him and stay away from these hot males.
With trembling hands she replaced the lid on the box, concealing the delectable contents.
He stood.
"Okay, I'll let you go." He paused and then said, "This time."

This time?
He headed for the door, all six feet three inches of jam-packed muscled vampire male.
Oh she wanted him. Wanted him so bad, she almost called out.
At the door he stopped and turned around.
She stopped breathing as he spoke.
"Let us know if that size works for you."
Sweet vampires!
Julie frowned as he closed the door behind him. Lifting the lid off the box, she gazed at the chocolate cock realizing what he meant by that remark.
I'll be back tomorrow with more on Jan Springer. Until then…
Happy Writing!
Sloane Taylor
Sweet as Honey…Hotter than Hell