The Private Side of Raine Delight
April 14, 2010 | Friends
There's more to intriguing paranormal author Raine Delight than "Scorching Hot Romance……Between the Covers!", although I must say that's a terrific part. Raine's seldom publicized talent is that she is an excellent cook with a cache of recipes to keep Studs happy every day of the year.
Here's one of Raine's quick recipes that's easy to do and cheap. 🙂
HAMBURGER GRAVY
2 lb. ground beef
1 onion chopped
1 green pepper chopped
2 cans (or 1 large jar) Beef Gravy (or to mix it up-Mushroom Gravy)
Frozen vegetables, any variety
Your favorite spices to season
Over medium-low/medium-high heat saute onions, green peppers and hamburger together until meat is browned and other ingredients are tender. Drain the fat and put back on stove.
Add frozen vegetables and gravy to hamburger mixture. Simmer on low until heated through and hot.
Serve over buttered hot noodles, mashed potatoes or rice with crusty bread and a salad.
For dessert-Angel food cake with strawberries.
While your tasty dinner is simmering, kick back with a glass of wine and dig into Raine's stand alone title:

FAIRY KISSES & MAGICAL DREAMS
Raine Delight
Paranormal Erotic Romance
Aspen Mountain Press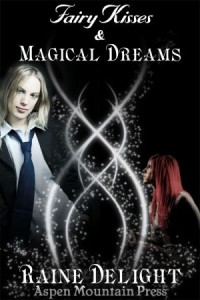 BLURB:
Can destiny lead a Fae Prince to the one woman who can complete him mind, body and soul?
Prince Aryan has searched his world for the one woman that is his destined mate but has just about given up when he is led to the human world. Even though it is forbidden to fall in love with a human, he finds Skye Andrews completely delectable and wonders if she is his chosen love.
Skye Andrews has had it with men. After another disastrous date, her aunt gives her a love potion to try. With a magic spell and a mysterious face haunting her waking days, will Skye find the love she is looking for?
EXCERPT (PG-13):
Skye puttered around the bedroom, listening to the music box in the egg. She tried to relax but it was as if her body knew something or someone was coming to claim her, body and soul. She tried to puzzle out how she knew someone important was coming. It was like when she'd seen the face in the window at her aunt's; she'd known he was her true love.
Silly woman. That was the stuff dreams and Disney movies were made of, not real life.
In a darkened corner of her room, a glowing light caught her attention. She watched as a stunning man magically appeared. Breathtakingly gorgeous, he exuded sex appeal to the core. Appreciation mingled with desire. He stood almost six feet tall, with a lean, whipcord body which made her feel faint with uncontrolled longing. His silvery blond hair was pulled back, and his eyes were the jade green of ancient oriental carvings. He was the most sensual man she'd ever beheld. High chiseled cheekbones, a strong chin with a dimple winking at her when he smiled. With a gasp, she recognized the face as the one she saw in her aunt's window. It couldn't be him. Was he her true love like the legend she was told by the shopkeeper?
When she finally allowed her gaze to move past the full lips which seemed to call to her, she drifted lower and saw strength in his muscular body. It was as if she'd watched a god come to life. She was a moth drawn to that ever dangerous flame; as her body couldn't resist him. Shimmering blue pants seemed to have molded themselves onto his muscular legs.
Her eyes widened when she saw the bulge in his trousers. A blush heated her cheeks and she found herself wondering what his ass would look like out of those pants. Quirking an appreciative smile, she continued to scrutinize him, moving her gaze back to his face.
~~~~~~~~~~~~~~~~~~~~~~~~~~~~~~
Hmm, time to tease Studs' with another delicious Raine Delight creation and a few excerpts from Fairy Kisses & Magical Dreams.
Join us tomorrow when we Gaze into the Crystal Ball. Until then…
Happy Writing!
Sloane Taylor
Sweet as Honey…Hotter than Hell