It's Live!
July 26, 2010 | New Releases
I'm so excited, Sultry In Sweden, Book Two of the Melt the Ice series, is now available through Amber Heat! Check out the gorgeous cover Trace Edward Zabar created. Isn't it terrific?
SULTRY IN SWEDEN
Sloane Taylor
ISBN 13: 978-1-60272-723-6
Amber Quill Press – Amber Heat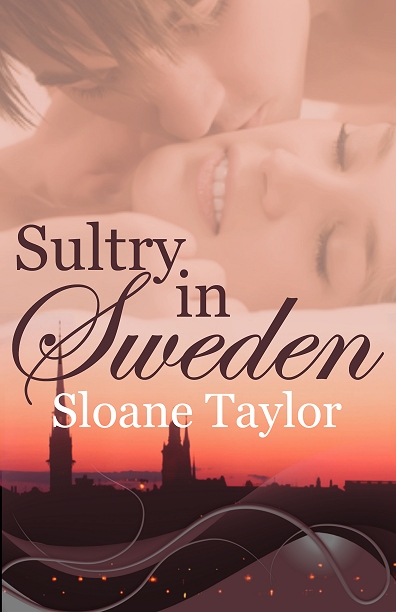 BLURB:
Battered hockey player Colt Coltrane arrives in Sweden with one thing on his mind–victory. A bad spill later, however, and he's at the tender mercies of the sexiest masseuse he's ever seen. From that point, all his good intentions go straight to hell when he strips for the Swedish iceberg.
Disa Ellstrom has had it with sports figures who always expect more from her than a massage. She can't believe her friend Carl sent the American goalie to her. Unable to ignore the man's pain, however, Disa takes on Colt and soon finds her heart melting faster than a spring thaw.
Combine a hot-blooded American and a Swedish spitfire and they're sure to set Stockholm ablaze…
EXCERPT:
Disa ran her fingers along Colt's deltoids, watching the strong muscles flex under her touch. His shyness had been endearing along with confusing. She wondered if his physical problem went farther than the normal aches and pains of a professional athlete. If so, she intended to help him overcome the situation. If not, then he was in for a satisfying surprise. She hoped.
A quick scramble across the sheet gave him more room, then she tugged on his shoulders so he would lay back against the pillow. He winced, but continued to draw his legs up onto the bed.
She combed her fingers through the crisp auburn hairs sprinkled across his broad chest, descending to his beautiful hard dick nestled in a curly, reddish tuft. She swallowed hard, fighting her desire to suck him until he came.
"You are a fine-looking man, Colt." She rose onto her knees, then traced a fingernail around his tight balls, her inner muscles clenching with desire.
He laid a hand on her calf and slowly eased it up toward her thigh, caressing her. His fingers climbed higher. A shudder ran through her from his gentle massage over her rear end up to the small of her back, then down, slipping a finger between her cheeks. Pressure built when he circled her sphincter, dipping his fingertip into the tight circle, out again, then back in.
She nipped at his balls, laving the tight sacs, savoring their salty taste. Her hand pumped his cock, starting slow and increasing the speed. His hips jerked, rocking with her rhythm, thrusting along her palm.
Deftly, Colt maneuvered out from under Disa and knelt facing her. He wrapped her in his arms and kissed her with a passion she had never known. She clung to him, loving his strength, savoring his taste. He pulled away, the skin pulled taut over his cheekbones.
"It's time to make you happy, baby. How about rolling over?" He tugged on her hip until she faced the brass headboard. "A little more to the center, so we can watch in the dresser mirror."
She scooted across the rumpled linen and glanced into the antique glass. Their eyes met in the reflection and breath caught in her throat.
"Spread your legs, Disa." He gently nudged her shoulders to the mattress. "I promise to go easy."
Kisses rained down her back as he mounted her. His thick cock played against her wet labia, the swollen head teasing into her. After a smooth thrust, he was inside, filling her. One firm palm kneaded her lower abdomen, while his long fingers curled through her pubic hair, covering her mons. He stretched a finger along her nether lips, separating the folds, and massaged her fiery clit.
Tingles shot through her, watching their wavy images across the room. His arm muscles bulged as he moved his hands to her hips, gripping them tight, guiding her to him.
He rocked into her, the strokes faster and faster, his balls slapping against her perineum. He clutched her hips, slamming into her, riding her hard. She reared back, keeping pace, clenching her muscles to hold him tight, straining to swallow him in deeper. She gritted her teeth, biting back the scream that tore through her. Her body pulsed with his touch, screaming for release from the magnificent torture that only he could provide. She clutched the sheets, wadding the warm material in her fists, and burrowed into them, inhaling his musky scent.
"Come for me, baby." His voice rasped against her back. "God, I need you…"
I'll be back later this week with two new releases from the fabulous Rick Reed. Until then…
Happy Writing!
Sloane Taylor
Sweet as Honey…Hotter than Hell
2 Responses to "It's Live!"
Clare London Says:


Many congratulations!!! It looks (as always ) FAB *hugs*

On July 27th, 2010 at 4:45 am
Sloane Says:


THANK YOU, my dear friend. 🙂

On July 27th, 2010 at 7:23 am