Ready to Travel Open Roads?
September 8, 2010 | Friends
Today we have KC Kendricks, the masterful author of contemporary gay romance. KC writes from the heart with a passion that submerges you into her stories.
KC is a 2008 Amber Heat Wave Winner, and a 2008 CAPA who celebrates love and hope for mature readers.
She lives in Maryland with her partner of almost twenty years. Weekdays are spent working as an Administrative Assistant to the Board, and as the Office Manager of a mid-size corporation.
KC has written more traditional romance under a pseudonym, with one contemporary title a #1 bestseller, several other top-ten list titles, and a few more recommended reads. She is established as a storyteller that delivers rich, satisfying romantic tales that feature strong themes of love, hope, and redemption with positive, upbeat endings.
Here's a little from her latest release I think you'll enjoy.
OPEN ROADS
KC Kendriks
ISBN-13: 978-1-60272-731-1 (Electronic)
Amber Quill – Amber Allure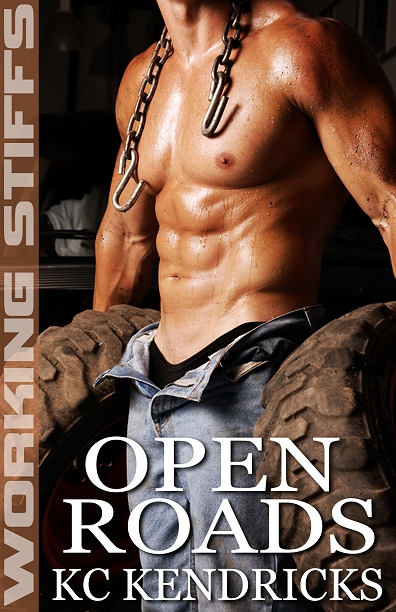 BLURB:
Tyler Phillips enjoys his small town life. He'll never get rich working the family business, but he knows there's more to a man than the size of his bank account. Easing into mid-life, Tyler's restless for something he can't find in the little borough of Easton – male companionship.
Noel Springs got caught up in the economic downturn. His job gone, and retirement a lot of years in the future, Noel decides to take a long drive and see some of the country before dedicating himself to finding new employment. The open road is just what he needs right now.
When his car overheats outside the little town of Easton, Noel discovers the local mechanic is hotter than his radiator, and just as eager to blow off some steam.
INTRO: (from Tyler's point of view)
"Nice car. How far back did the trouble start?"
He leaned inside and pulled the release lever. Little lines crinkled at the corners of his eyes as he smiled. "About forty-one years."
I grinned at him, already liking his sense of humor as I lifted the hood. A wave of steam engulfed us. I hastily closed my eyes and stepped back to keep the antifreeze-laden vapor from leaving a film on my contact lenses. "Come inside. We'll let that cool down so I can take a look at her."
"You're going to tell me it's the radiator, aren't you?" His clear tenor held just a trace of the west as he followed me into what passed as a reception area and office combined. I opened the soft drink case.
"What would you like, on the house? And don't panic yet." Based on the way the steam smelled, I suspected his radiator would be fine, but what was inside it was not.
"Too late. I panicked about five miles ago when the temperature gauge shot up.
You can't imagine how relieved I was to see your sign. I'll take coffee, if you have it."
I popped the cap and handed him a cola. "Sorry. It's a little late in the day for any to be left in the pot." I grinned at him. "And I hear that a lot about my strategically placed sign out there on the Interstate."
His grey gaze held my hazel one captive as I held out my hand to him. "Tyler Phillips, owner-operator."
Strong fingers closed around mine, holding my hand a moment too long for politeness. "Noel Springs, stranded motorist."
EXCERPT:
Our bodies brushed, hip against hip, as I leaned past him. I heard the sharp intake of breath as he jumped, and felt his heat when he seized the moment and pressed the long length of his muscled thigh to mine. My mouth went dry, but I didn't need to speak.
Hidden from public view by our bodies and the car, Noel's hand stroked across my ribs and came to a stop as his strong fingers gripped my waist. I had my hands full, carefully securing the pie for the ride home. His pelvis bumped my ass, a quick thrust that almost knocked my head against the doorframe. My cock hardened in a rush, straining within its denim prison.
"That's what you get for bending over in front of me, you little tease."
I wiggled my butt, and he smacked it, hard. I straightened and turned around, grinning at him.
I looked down. He looked down. Noel returned my grin. His grey eyes gleamed in the sunlight as his pink tongue licked his full, rosy lips.
"Seven-and-a-half, cut."
"Eight. Cut"
Noel narrowed his eyes. "Top or bottom?"
I grasped his hips, not caring if the whole town buzzed it up on the gossip chain by sundown. "You're too eager."
He glanced down at my bulging zipper a second time. "That's the pot calling the kettle black."
"You know, Noel, I don't want to get all stupid with you. I don't want you to think I'm taking advantage of your misfortune on the highway."
"I know, Tyler. And I don't want you to think I ever planned to abuse your hospitality. This is just one night. Maybe a little friendly companionship, provided…"
He moved to kiss me, and I jerked away. He looked surprised.
"Sorry, Noel." Kissing on Main Street might be a bit too much for the neighbors whose good will supported my standard of living. "I keep my private life low profile."
"Of course. I'm out, and I guess I thought you were, too."
"Hey, it's okay. I'm in sort of a limbo. I don't care if people know, but this is a small town. I don't flaunt it in public, but in truth, around here, neither do straight lovers."
"Got it. When in Rome." He backed away, his expression unreadable as he climbed into the car.
Maybe I'd tripped some trigger of his, or not, but I'd figure it out when we got to my place. Insides quivering with anticipation, I headed out of town.
Noel remained silent for the remainder of the drive to my home, at least until
I turned onto the long gravel lane that led to the two-story frame farmhouse. He shifted in his seat and fixed that clear grey gaze on me in an incredulous stare.
"Excuse me for asking, but what the hell is a good looking stud like you doing out here in bum-fuck middle America, working as a grease monkey, and living on a farm, for God's sake!"
The answer that filled my being came out of the still darkness of countless solitary nights.
Waiting for you.
To learn more about the talented KC Kendricks, visit her website and follow her on Twitter. Of course, she has MySpace and Facebook. KC also has a great personal blog. Be sure to join her mailing list for the latest information.
I'll be back Friday. Until then…
Happy Writing!
Sloane Taylor
Sweet as Honey…Hotter than Hell
One Response to "Ready to Travel Open Roads?"
Clare London Says:


This looks great – in fact I went and bought it :). I'd been meaning to, then the the moment passed…you know how it is. Then here it appaers again on Sloane's blog and reminded me! Happy weekend everyone! 🙂

On September 11th, 2010 at 6:18 am