Mystery, Murder and Men. Oh, Yes!
October 13, 2010 | Friends
KC Kendriks is here with her awesome book THE BACK STAIRS. It's a gay romance mystery with a paranormal twist and an ingenious plot. Defintiely a book you'll enjoy.
THE BACK STAIRS
KC Kendriks
ISBN 978-1-60272-690-1
Amber Quill – Amber Allure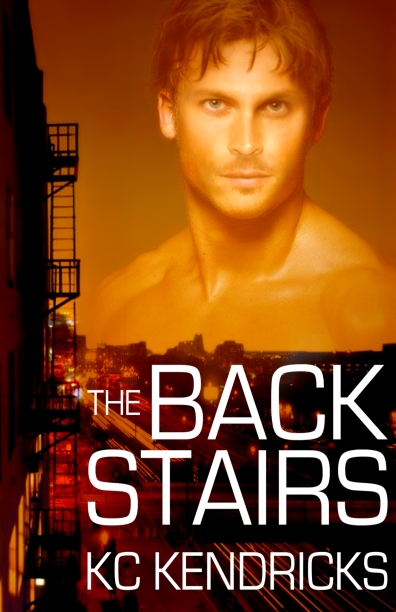 Fallon Roxbury has a nose for trouble, and the uncanny ability for landing in the middle of it the moment he finds it. While investigating the gruesome murder of a young male prostitute in the red-light district, Fallon gets a whiff of something very strange. Forensics has unidentified hairs. Very unidentified hairs, like nothing in any of the textbooks. Following a tip from a person of interest, Fallon meets Sundown, an apparent hustler who knows a lot more than he will admit.
Getting personally involved with Sundown breaks every rule in the police manual, and in Fallon's own personal code. Sundown is like a drug, and Fallon can't stop at just one hit. When Sundown is forced to reveal the truth, Fallon's world is turned upside down, and he's left with only two options: check himself in for psychiatric evaluation, or accept a new reality with a strange shift.
Shapeshifters, that is…
INTRO:
I took a breath to tell him I was leaving, and caught the aroma of fresh-brewed java beneath the scents of sandalwood and patchouli. I was tired of getting jerked around, even by a man so incredibly sexy. Put it on to brew, my ass.
"You're awfully sure of yourself, aren't you? I don't need pseudo intimate conversation any more than I need to flirt."
He shook his head. "You didn't listen very well, Fallon."
"Listen to what? I've a mind to haul your scrawny carcass down to the precinct house, and let someone else pick your brain for answers, but I don't have a legitimate reason to have you interrogated. Yet."
"Tough talk, but you don't mean any of it. Please, Fallon. Come. Sit at my table, and think of nothing but my very good coffee."
Would it be so bad to spend half an hour talking with this attractive young man? Heaven help me, he drew me, a tired moth to his steady flame. And he had my favorite coffee, already hot.
Words echoed in my memory. I tried to pull them in so I could hear them again. What had Muffin said? More importantly, it was what she hadn't said. She didn't actually say anyone here knew Michael Carlton.
"I'll sit at your table on one condition."
He tilted his head, a smile teasing his full lips. "Oh? What is that?"
"You tell me your name."
Was it victory I saw in his green eyes, or desire? I needed to know if they were the same. His chin lifted as his gaze locked to mine.
"You can call me Sundown."
I trembled as the girl's words resonated within me.
Take the back stairs. You'll find what you need there.
EXCERPT:
I was two steps beyond the third landing when a male voice called to me from below. My heart slammed against my ribs.
"Lieutenant Roxbury, wait up."
I paused and looked over my shoulder as Sundown took the steps, two at a time, to catch up. He stopped on the landing below me and met my gaze, his green eyes alight with amusement.
"I did not expect you to return so soon, Fallon."
I wasn't in the mood to waste time in small talk. He'd deliberately sidetracked me the other night and, as wonderful as the diversion had been, he needed to know I was aware of his tactics.
"The girl I spoke with at the crime scene is your sister, and you didn't tell me. Why?"
"Because she is not my sister. I wouldn't lie to you."
I hopped down the two steps to the landing. "Listen, Sundown, or whatever your name really is, I have photos of her, part of the formal record of the crime scene. She looks enough like you to be your twin. If I hadn't let my dick control me, I'd have put it together last night."
He glanced away, a quick darting of his gorgeous eyes, then he looked back.
"She is not my sister, but we share a bloodline. She is gone, Fallon."
"You're hindering my investigation by hiding her."
Sundown shook his head. "She didn't see Michael Carlton, dead or alive, or anyone else go in or out of the alley until your people showed up."
I clamped down on my anger. "That's good to know, but I need to hear it from her."
"Do you?" He cocked his head to the side. "You're out of luck, Fallon. She is gone from here, and it is beyond my ability to bring her back."
"Why'd she send me here, then?"
His green eyes flashed with his inner fire, anchoring me where I stood. "So I could give you want you needed, Fallon. What you need me to give you again."
"Don't be so damn sure of yourself. I don't need you." I lied, and he knew it, the knowledge reflected back at me in his level gaze.
"Come inside and tell me you do not need what I offer you."
I didn't think I could. My resolve to bully him into giving up Muffin's whereabouts waned with every pheromone-laden breath I took. I stood inside the ring of warmth and scent that surrounded him. My erection relentlessly swelled toward completion, and I couldn't stop it.
"I can't compromise my investigation further, Sundown. Carlton's parents are flying in to claim the body. I need to have answers for them."
His fingers grazed mine, the gentle touch heating my blood.
"I knew you were a good man. I trust you, Fallon. Will you trust me?"
"I trust you to be nothing but trouble."
There are several ways to keep up with KC Kendriks. Visit her website, follow her on Twitter , MySpace and facebook, too!
Be sure to join her mailing list and read her personal blog for more information.
I'll be back Monday. Until then…
Happy Writing!
Sloane Taylor
Sweet as Honey…Hotter than Hell
One Response to "Mystery, Murder and Men. Oh, Yes!"
KC Kendricks Says:


Thanks, Sloane. You rock!:) I can't wait to get a copy of Claire De Lune.

On October 13th, 2010 at 6:57 pm