A New Addition
October 20, 2010 | Friends
is coming soon to the Devon Falls family. Raine Delight has written another sizzler in this captivating series.
MOONLIGHT & MAGIC
Devon Falls Book 5
Raine Delight
Aspen Mountain Press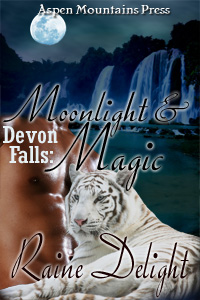 Tagline: Can a were-tiger convince one stubborn woman that she is his for all time and show her that falling in love is just as sinful as a chocolate kiss?
BLURB:
Dixie Sinclair has watched her cousins all fall in love and now she wants the same. Dared to go to the annual Masquerade ball, Dixie finds the one thing she desires: love…one problem…can she trust that it will last after that one night?
Michael Barnes is a rare white were-tiger who was thrown out of his pride long ago for a trumped up crime. Now, Michael roams the world searching for the one place to call home. Finding that peace in Devon Falls, he also finds the one woman who stirs him like no other. Can he convince Dixie she can trust in him forever?
EXCERPT:
Once outdoors, Dixie yanked on her jacket, annoyed at how Damien thought she needed a babysitter for a two block walk home. Men were idiots who thought women needed to be protected, she thought, as she enjoyed the quiet night and waited for Michael. The man who stirred her senses into over boiling.
Down girl. You're not going to jump the man's bones so get a grip. You have BOB at home to help with that.
Yet, she couldn't keep her eyes off him. He was a walking, talking sex bomb and she was itching to touch every inch of him.
With a shake of her head she tried to let go the sense of something changing inside her as he finally walked toward her. The look in his eyes had her panties damp and her blood beginning to simmer. It was like he was looking past the outer coverings into her soul or he was just stripping her naked, which wouldn't be bad. Smirking to herself, she continued to walk, trying to keep her hands inside her coat or she was going to do something very dangerous…like kiss the man to death.
"You know you don't have to walk me home. Damien is just being overprotective." Dixie didn't know what to do except make the best of it. It was only two blocks, surely she had enough will power to last that long. Yeah right……She was doomed as the scent of him, all male and spicy, teased her senses and had her swallowing hard.
Oh god, I am in deep trouble.
She felt rather than saw the man next to her look down and grin.
"Nah, it's ok. I was going to leave soon because my Sadie is home alone and I don't like leaving her long."
The deep voice sent shivers down her spine. He had a slight accent she couldn't place. Where had he come from, why was he here and what was he like when the clothes came off? Until the name Sadie come out. A terrible suspicion rose in her at the thought of this hot man having a lady waiting for him.
"Sadie?"
"She's my dog. I found her when I was in Europe tied up to a park bench with no collar and no water. It was like someone just dumped her off, but instead of letting her roam free or taking her to the pound, they tied her up and left her. It was terrible and once I found her, she saved me from a solitude and loneliness that I never knew I had."
Relief filled her even as she tried to tell herself that she shouldn't be jealous. She hardly knew this man. "Wow that sounds like a match made in heaven for you two. What kind is she?"
"She is a mutt-seems she is a little bit of everything or so the vet said."
Her heart turned over, watching the way his face lit up in the moonlight. The way he loved his pet called to her even as she tried to keep her distance. He was dangerous to her equilibrium, Dixie was certain of it. He kept her off center and it scared the hell out of her.
As her street loomed ahead of them, she stopped and stuck her hand out. "Thanks for the escort, but since I am almost home and nothing jumped out in front of me, I think I can handle it. My house is only two in."
"Nope, I am to escort you to the house, not the street, Dixie." The maddening man he looked at her.
Gritting her teeth, she tried to control her frustration, but damn it all, she was old enough to walk home. It wasn't like there was a crime wave in Devon Falls. Far from it. Miffed, she stomped forward and tried to not hit the lug behind her.
Of all the men in the world, I had to have one with a streak of chivalry.
When MOONLIGHT & MAGIC is released, I'll post it here along with the buy link. In the meantime, be sure to look at Raine's website where you can find all her Devon Falls books. There's also Raine's Book Nook Blog and her Author/Reader Loop where everyone has a good time.
I'll be back Friday. Until then…
Happy Writing!
Sloane Taylor
Sweet as Honey…Hotter than Hell
One Response to "A New Addition"
Melissa Bradley Says:


This is great! Congratulations, Raine. I'll definitely be getting a copy and I wish you tons of success with this.

On October 20th, 2010 at 9:33 am