BETWEEN A ROCK AND A HARD PLACE
October 22, 2010 | Friends
New from Clare London, author of the Amber Allure best-sellers A Good Neighbor and Upwardly Mobile…..
BETWEEN A ROCK AND A HARD PLACE
Clare London
ISBN-13: 978-1-60272-703-8
Genres: Gay / Contemporary
Amber Allure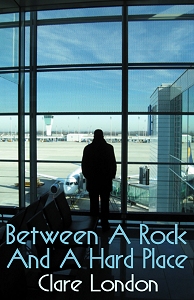 BLURB:
Garry's definitely at the end of his tether. He's waiting in an airport lounge to meet his friend Will, to go on holiday with mutual friends in a Scottish highlands hotel. Now there's a ten-hour delay to incoming flights, the seat in the lounge is more like an instrument of torture, and he's beyond tired of airport food.
What's worse, he's also dreading having to apologize for the pass he recently made at Will, under the influence of too many beers and a long-held crush. And the suddenly shocking realization that when Will accepts a new job offer on a continent thousands of miles away, it may be the end of their close friendship–let alone anything more.
To add to Garry's stress, he's treated to the company of Emily and Max, two young people who think he needs educating in the ways of the world–and his love life–whether he welcomes the interference or not. Struggling with their well-meaning help and the startling mess on his clothes from spilled ketchup and noxious-smelling sweets, he's encouraged to re-examine how he feels about Will and to decide what kind of journey he'd really like them to take together…
BLURB:
Garry must have dozed off. He woke with numbness in his left arm that made it feel the size of a Halloween pumpkin, and a pain in his scalp that meant his hair had got caught awkwardly on the wrong side of his parting. His head was stretched back over the back edge of the chair, and his legs were folded underneath it in a manner that would defy professional physiotherapy. Trying to move his limbs just made him groan aloud as the muscles cramped. It took him a depressingly long time to get himself upright again. Wincing, he made a mental note to renew his gym membership when he got back home after the trip.
He tried to smooth his hair back down in place. He'd snagged the shoulder-length ends into a short ponytail for traveling, but the tie had twisted at the back of his neck. When he tugged it back into shape, his fingers caught up in the tangles. It also seemed to have collected an interesting selection of dust particles and the remains of a catering-sized margarine wrapper. Maybe a couple of those blueberry droppings.
He squinted at the lounge clock and saw that a couple of the ten hours had passed.
The good thing was that the Sleeping Not-Beauty had left the seat beside him.
The not-so-good thing was that he had another neighbor and this one was a lot smaller. Probably only about seven. A round, plump-cheeked girl's face stared at him, her eyes sky blue, her hair pale blonde. She was delicately pretty and would have looked like some kind of picture book princess, except that she had a huge, suspiciously red stain on the front of her Hello Kitty T-shirt. Her legs were tightly pressed together to contain a pile of sweets in her lap and there was sugar frosting stuck all over her skirt and her fingers. Some of the sweets had obviously already been consumed—the frosting was on the end of her nose, and around her mouth, too—and she chewed thoughtfully as she looked at him.
Garry wrinkled his nose. There was a particularly violent and disturbing smell around the sweets, like a medicine he'd once been forced to take as a kid. A fair proportion of the sugar fallout seemed to have made its way on to his jeans, too. He examined his mood and doubted it was one to tolerate children just at the moment. The feeling was creeping back to his arm and it was damned painful. He wanted to swear—he had a good vocabulary, he'd been complimented on it more than once—but, of course, that was now out of the question. He knew that much about children.
"Hi," the girl said. "You're awake now."
He glared at her, groggy from his nap, and still aching. His stuffy brain wanted him to say "buzz off, kid," but his mouth opened and he said, "Hi." He didn't know what else to say to such a small person. He hadn't had a lot of practice with them. Allen used to talk about his large family and the new generation of nieces and nephews, but Garry admitted in his deepest, most honest heart, that he usually tuned all that information out.
"You want one?" She held out something that looked sticky and totally unappealing, vibrantly pink and green and in the shape of a heart. New sprinkles of sugar whispered off it on to their knees.
Garry pursed his lips. He had an irresistible, immediate urge to brush off the white crystals as if they'd rot like poison through his jeans. "No thanks. I…already ate."
"When?"
He stared at her. Who did she think she was, his mother? "When I got here."
"You'll need more than that," she said, bluntly. "The Delay is twelve hours now." Her tone dignified it with capital letters, like it was some kind of alien monster, some Harbinger of Armageddon, some Premonition of Global Doom.
Now she had him doing it, even in his private thoughts. For a second, he thought he might still be asleep and dreaming he was in a late night version of The Twilight Zone. But his back and his toes still hurt…so it looked like he was awake. Mournfully so.
"You should be with your parents," he said, just as bluntly.
But she didn't seem disturbed by him. She put a red and yellow heart into her mouth and wiped her sticky fingers down her T-shirt. It proved that at least the red stain wasn't blood. Garry wondered at what point he'd even considered that might be the case.
"You're grumpy," she said. "Just like Mum."
"Huh?" One thing Garry did know about kids was that if you encouraged them, they stuck like glue. Or like particularly revolting sweets. All he had to do was stifle any conversation, and then in a minute, she'd get bored of him and wander off again.
"I'll stay here for a while," she said, patting her lap with determination…
Learn more about Clare London and her bestsellers at website.
I'll be back Monday. Until then…
Happy Writing!
Sloane Taylor
Sweet as Honey…Hotter than Hell