Buono Mangiare!
October 26, 2010 | Cooking
As you all know, it's rare for me to post a restaurant review. Today, I have to.
Studs and I had the pleasure of dining at Merlo La Salumeria, which translates to The Delicatessen, on Chicago's north side. The restaurant was new to us, but it was Italian so we knew it had to be good. Good didn't begin to cover it.
The smiling staff welcomed us the moment we walked into the intimate dining room with modern Italian décor of pale, warm colors and subdued lighting, creating an instant sensation of coming home. Crisp white tablecloths and napkins and a menu to die for made us want to nestle in and never leave.
Our server arrived and introduced herself. Being the pro that she is, Jacqueline had extensive knowledge about the menu and wine card. She offered suggestions to create a dinner we'll long remember. With her friendly manner, Jacqueline turned a good evening into a perfect night.
With Jacqueline's guidance our first plates were handmade tortelloni filled with ricotta di pecora in Bolognese ragu and handmade ravioli filled with ricotta di pecora, and parsley, tossed with a lighly spiced beef, pork and chicken ragu then topped with pecorino di pienza. The pasta melted in our mouths.
The main course was organic pork tenderloin medallions pan seared with white wine, pink and green pepper, and served with glazed Granny Smith apples. The flavorful meat was fork-tender, nothing like I'd ever had before.
We also shared a plate of asparagus with extra virgin olive oil, salt and pepper which were scrumptious.
The desserts were tempting, but we decided cappucinos would be best after a superb meal.
Besides awesome food, another bonus to this topnotch eatery are the pleasant, helpful servers and crew who never slack. Without being intrusive, they work hard with a minimal amount of noise. It's noticeable and much appreciated.
What good is a review without pictures? It's not. I freely admit "borrowing" these from the Merlo La Salumeria website. Below are two pastas to set your mouth watering.


Luisa Silvia, the Executive Chef and owner, is a marvel. Each day fresh pastas, sauces and ragus are prepared under her talented guidance.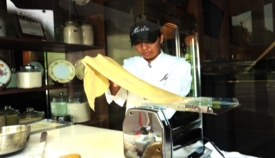 The tastes are amazing. Believe me – you'll never want another boxed noodle or jarred sauce in your life.
Open for dinner, the Salumeria offers a huge variety of recipes including salads, pastas, meats and fish entrees along with carryout. Next time you're in Chicago, be sure to share a meal at this wonderful establishment.
When you go, be sure to ask for Jacqueline – the lady is a treasure.
Merlo La Salumeria
2638 N Lincoln Avenue, Chicago
Phone: (773) 529-0747
I'll be back tomorrow. Until then…
Happy Writing!
Sloane Taylor
Sweet as Honey…Hotter than Hell