CONGRATULATIONS, RICK R. REED
November 3, 2010 | Friends
for being an EPPIE Finalist! And to all the other amazing authors who worked hard to earn the privilege.
If you don't know, EPIC eBook Awards have been held annually since 2000, honoring distinctive works published in electronic format. The 2011 list is out and Rick R. Reed is there with two strong novels, The Blue Moon Cafe and Mute Witness. Today we feature Mute Witness with its engrossing plot and beautifully written emotions.
MUTE WITNESS
Rick R. Reed
ISBN 978-1-60820-108-2 print
ISBN 978-1-60820-109-9 ebook
MLR Press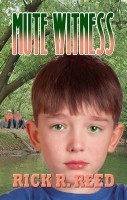 BUY LINKS:
MLR Press
Amazon
Kindle
BLURB:
Sean and Austin have the perfect life. Their new relationship is only made more joyous by weekend visits from Sean's eight-year-old son, Jason.
And then their perfect world shatters.
EXCERPT:
It was one of their rare lazy evenings. Summer, and the evening air was fresh and clean after an afternoon thunderstorm, with just a hint of a breeze. Normally, Sean and Austin were so busy that if they weren't trying to change something about the little Cape Cod on the Ohio River they had bought a year before—adding a deck, putting in a new kitchen, stripping away years of white paint from the woodwork downstairs—they were too tired to do anything but crawl into bed and pass out, usually before eleven o'clock. Lovemaking, since they had bought the money- and-time-sucking house, had become relegated to weekend afternoons and the occasional early morning.
But today, Thursday, had been an easy one. Austin had called into work and took a mental health day. Things had just been too damn busy lately and he needed the break. Waiting until Saturday was out of the question. Sunday seemed farther away than the next millennium.
Sean, a reporter for The Evening View, the local thrice-weekly compilation of ads sandwiched in with a little editorial, had had the day off. The couple had spent the day in Pittsburgh, at the Andy Warhol museum, then had an early dinner at The Grand Concourse and beat the brutal thunderstorm home, made love (acrobatically, in the kitchen, atop a Butcher's block), and now the two were curled up in front of the TV.
Sean looked over at his younger boyfriend and thought how lucky he was to have found Austin, especially in a town the size of Summitville, where the population hovered just above ten thousand. Even better, Austin was his fantasy man, with a broad, beefy body that his mother and her friends would have called strapping, sandy blond hair, and the bluest eyes he had ever seen. When Sean had first met him, he thought Austin's eyes had to be fake: enhanced by those tinted contacts that never looked real. But he found quickly that the young man was simply blessed with arresting eyes to go along with his broad shoulders, dimpled chin, and infectious smile.
It was what they both would have agreed was a perfect day. Well, Sean might have had one more item to add to the "perfection" list. Having his son, Jason, around for at least part of the time would have been all it would have taken to make the day ideal, but these days, Jason was for the weekends only.
In any case, this was close enough to nirvana. He closed his eyes and let his head loll back on Austin's shoulder.
Sean was just thinking about slowly undressing Austin and then leading him into the bedroom for round two when the phone rang. Its chirp startled both of them out of the cocoon of warmth that had surrounded them, a cocoon built from good sex, supreme relaxation, and good Jamaican weed.
Austin: sleepily from under Sean's arm, "Don't get it. Just let the machine pick up. I don't want to talk to anyone. And I don't want you to." Sean eyed the little answering machine next to the cordless, wondering when they would enter the 21st century and use voice mail like everyone else. But, unlike voice mail, the machine did allow them to screen calls and for two men who appreciated their privacy, this feature had voice mail beat all to hell.
Sean let the phone ring its customary four rings, although his tendency would have been to answer it. But if this would make Austin happy, then he was willing to do it. Especially since he had things in mind for Austin that did not involve the telephone. Things that would erase their fatigue and perhaps keep them up the better part of the night. Sean grinned.
On the fourth ring, Sean pressed the pause button on the remote control and sat up straighter to listen.
"Whatever it is, it can wait," Austin whispered in Sean's ear, flicking his earlobe with his tongue and giving his crotch a playful squeeze.
And then the moment shattered.
Shelley's voice, almost unfamiliar under the veneer of tension that made it higher, quicker, came through. Shelley and Sean had been married once upon a time and their union had produced Jason, the best little boy in the world. As soon as Sean heard Shelley's voice he thought of his son, who shared his dark hair, green eyes, wiry frame, and his fascination with stories.
"Sean? Sean, I hope you're there. This is important. Please pick up." There was a slight pause. "It's about Jason. He…"
Before she could say anything else, Sean sprinted for the phone in the entryway. "Shelley? Sorry, I was…"
"Jason is missing."
"What?"
And then Sean heard her sob and the relaxation in all of his muscles vanished, replaced by a tightness that felt like steel bands snapping taut across his muscles. Blood rushed in his ears; his heart began to pound. A queasy nausea rose up in his gut.
"Jason never came home tonight," Shelley sobbed. "I don't know where he is. Please say he's with you."
Sean collapsed into the oak chair in front of the desk. "Shelley, I'm sorry, but he's not here. Don't you think I would have called if he had come here? How long's he been gone?" Sean rubbed the back of his neck, his mouth dry. He glanced out the window at complete darkness.
"I went to work at six and he wasn't home yet." She blew out a sigh. "But, you know, we just thought he was horsing around in the woods or something and lost track of time. Then I called Paul and…"
"Wait a minute, Shelley. It's a quarter 'til eleven."
"I know. I know."
"Why didn't you call sooner? You mean to tell me you're just starting to look? Christ, he's eight years old."
"I thought he would've come home while I was on my shift. Paul was here and he fell asleep and…"
"Paul. Great." Sean rubbed his sweaty palms against his thighs.
"Please Sean, it's not the time. I fucked up. Okay? Now that we've got that out of the way, I need some help finding our son."
She was right. In spite of the thoughts running through his head, most of them centering around how he and Austin would have been better parents, but the courts couldn't see that, all they could see was a little boy growing up under the wings of two queers, Sean knew she was right.
This was an emergency.
He looked over at his partner, sitting alert on the couch, concern making his fair features somehow darker, eyebrows pulling together, mouth open as if to say something. Austin mouthed, "What's wrong?"
"Just a minute, Shelley." Sean covered the receiver with his hand. "Jason has disappeared. They haven't seen him since this afternoon." Sean closed his eyes to try and center himself; this was unreal, like a nightmare come to life. The room shifted, like he was drunk. He wished away any high the Jamaican he had smoked earlier brought on, but it wasn't that easy. A feeling of giddy dread pulsed through his veins, electric.
This is how it feels, he thought, to be totally helpless.
Austin got up and began rubbing the cords in Sean's neck, which had tightened into iron.
Sean swallowed, trying to summon up some spit. "You haven't seen him all day?"
"That's right and I don't need the accusations. You know how it is around here in the summertime. Kids play outside until it starts getting dark. It was like that for you. It was like that for me."
"I'm sorry. Listen, we'll be right over."
"'Kay." There was a pause. "Sean? Would you mind just coming alone? Paul…"
"For Christ's sake, Shelley." Sean hung the phone up.
"I'm going over there. See what I can do to help."
"Let me throw something on." Austin stood, his blue eyes alive with concern and sympathy.
"No." Sean practically winced at the look of surprise on his lover's face. He bit his lower lip and added, "I mean, maybe you should stay here in case anyone calls."
Austin frowned.
"Like Jason." Sean groped in a desk drawer and pulled out his cell. "I'll have this on me so you can reach me. Okay?"
BUY LINKS:
MLR Press
Amazon
Kindle
Learn more about Rick R. Reed and his talented writings on his website and blog.
I'll be back Friday. Until then…
Happy Writing!
Sloane Taylor
Sweet as Honey…Hotter than Hell