Tuesday Teaser
January 25, 2011 | Tuesday Teasers
Here's a little teaser to help warm up your cold winter day. 🙂
TEDDI TURNS ON
Sloane Taylor
ISBN 978-1-60168-115-7
Aspen Mountain Press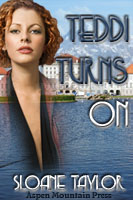 BLURB:
No one's going to take advantage of Teddi Howard again, including the Munich tour operator who screwed her over when he reneged on their contract. Her only option is to face the little weasel.
Nothing stands in the way of the prominent, German businessman David Stiefle, especially a woman. No way is he ever getting involved, even if she is the sensual Mrs. Howard.
EXCERPT:
David Stiefel's eyes kept track of the copper-haired female while he rolled up the sleeves of his striped shirt. The woman was oblivious to the stir she created as she strolled through the crowded O'Hare Airport Business Class Lounge. He stroked an index finger over his lips and studied her sleek figure in form fitting slacks. The appealing rear view was too good to miss. The pleasure of not seeing a panty line forced him to shift in his chair to adjust for the sudden pull in his jeans.
She bent over, hung her jacket across the chair back, and glanced over her shoulder at him. Their gaze held as a smile tweaked the corner of his mouth. He crumpled the wrappings from his beef sandwich and knew he'd just been offered dessert. Now all he had to do was make his move.
As his good luck would have it, right there on the floor, just a few meters away was an airline ticket dropped by some unsuspecting person. Ha, unsuspecting, his Aunt Hilda. He knew that delicious looking woman had done it as a ploy to meet him.
He stood and paced off the few steps, never taking his eyes from her. He stooped, scooped up the packet, and walked the few extra feet before he glanced at the name printed in bold marker across the front. When he held it toward her she fumbled with her purse and carry-on as if she didn't know she'd lost such an important set of documents. Very cool.
Standing in front of her, he leaned down just enough to catch her scent. Shalimar. His favorite.
"Bitte, Frau, are you missing something?" He liked the way her eyes widened as if she were surprised. She was good.
"Thank you." She reached out a slender hand. Thank God there wasn't any of that garish nail art so many women seemed to prefer.
I'll be back tomorrow with my good friend Dorien Grey. Until then…
Happy Reading!
Sloane Taylor
Sweet as Honey…Hotter than Hell