Scotland with a Bite
February 4, 2011 | Author Friend New Releases
If you like vampires, along with hot males in kilts, you're going to love SEDUCING SCOTS, the latest release from multi-published Marie Treanor.
Here's a little to warm you on this cold February day.
SEDUCING SCOTS
Marie Treanor
ISBN: 9781419962363
Ellora's Cave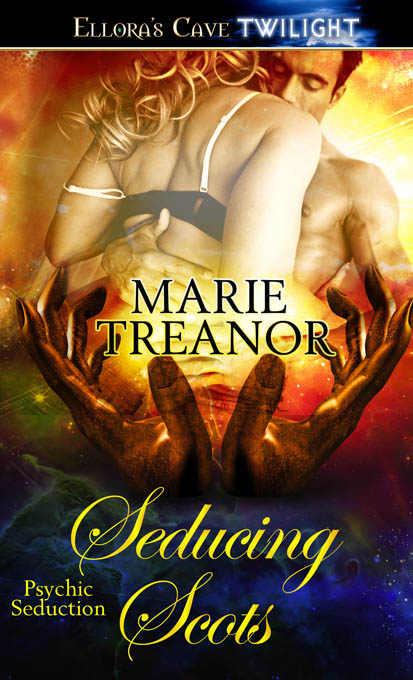 BLURB:
You're not meant to fall for the bad guy, are you? Not the vampire, nor the possessed, nor the ex-con…
Reluctant Scottish psychic Jenny discovers her true talent is hunting vampires. Yet when that vampire is the evil, sexy gorgeous Karoly, in his quite inappropriate antique kilt, will she be able to fulfill her potential?
Ellie is a strong psychic with a messy personal life. When she decides to clean up the latter, the last person she needs to encounter is carefree Scottish busker Chris, the best ever one night stand from her naughty past. Especially when something evil within him threatens them both.
When the vampiress Draguta, Karoly's ex, comes to the Scottish Highlands with a social mission, she's distracted by local pub landlord, Al MacNab – a large, sexy man with a dubious past, a lot of secrets, and some alluring bondage gadgetry in his cellar.
EXCERPT:
"Well? What do you eat, little vampire hunter?"
Vampire hunter? Who did he think I was? Buffy? Right now I would have given much for just one of the Slayer's powerful kicks. Even the ability to shuffle one foot would have been good. Still, at least I managed to gather my wildly confused wits enough to demand, "Did you hurt Maggie?"
"Who is Maggie?" he asked without much interest. His gaze had fallen to my throat again. One thin, pale hand lifted, two long, finely tapering fingers brushed the skin of my neck. I gasped. Though neither warm nor cold, they didn't feel remotely neutral. Electricity sparked, tingling through me, and more worrying than anything, it wasn't even unpleasant. The opposite, in fact.
"The bride!" I gasped. "She just left."
"Poultry and cheap red wine," he said disparagingly, without looking up from my neck. His fingers stroked my skin and those sparks were getting worse, shooting right through my whole body, creating some half-understood but overwhelming desire that was only mostly to do with sex.
"You did bite her!" I accused, trying to distract him before I became totally lost in what he was doing to my throat.
"Of course I did," he chided. "I'm a vampire."
His fingers slid around to the back of my neck and closed. I gasped again, involuntarily twisting my head. I prayed he would mistake my reaction for fear, but the truth was his touch gave me some fearful pleasure I had never encountered before, triggering new desires that were almost scarier than him.
Suddenly, every inch of me was aware of his tall, strong body. Backed into the table as I was, I couldn't have moved if I'd tried and now I didn't want to. I wanted him to touch me more. And the knowledge that it was wicked and forbidden and dangerous only added to the excitement. He hadn't killed Maggie or Davie, after all, and he must have known that even if I recognized him for what he was, I was no threat. I wondered, with trembling anticipation, what his bite would feel like.
His fingers caressed the back of my neck. Without warning, his body came to rest against mine. This time there was warmth—or perhaps it was just my own flushed body heating his—and something hard, his sporran, pushed sweetly against my crotch. I realized I was moist down there, growing wetter and hotter by the instant. A small sound like a moan escaped my lips. My nipples felt painfully tight and hard against his chest and I wished very badly that I'd been laid in the last few months so that I didn't disintegrate so quickly into this gibbering glob of desire for someone—something—so evil that even I had felt it across a crowded room.
But the truth was, I wished vampires fucked and I wished very badly that this one would fuck me quickly, here and now.
Involuntarily, my hips pressed forward into his and I saw him smile as he bent his head. Something flashed in his eyes just as they passed out of my view. His fingers gripped my nape more firmly, his other arm suddenly swept around my back to hold me to him and I closed my eyes, letting the wild sensations of pleasure and desire wash over me, fill me.
I felt his lips on my neck, silky smooth. My head fell back against his arm, my mouth opened with a soundless cry of want and anticipation. My hands clutched his biceps, clinging to the hard, muscled flesh for support. His lips felt so good, teasing, sensuously sucking, that I wanted them everywhere on me. His tongue flickered across my skin, tasting, and it was so wonderful, sending such delicious shivers of pleasure through my whole body that I would happily have died just to feel it again. But I wanted more, I wanted his teeth, which I would surely feel, any moment. I wondered if it would hurt, what sort of weird, perverse joy it would give my suddenly depraved body…
But his lips were still. I could hear my heart pounding. My fingers gripped convulsively on his arms, waiting. But he didn't move. Then, slowly, he lifted his head. His eyes were so dark they looked black, almost opaque save for those flashing flecks of gold as they stared down into mine. Bewildered, stupid with unsatisfied hunger, I stared back.
He said, "Do you know, I drank from a homeless man when I first came here and I was out cold for three nights?"
I drew in my breath, hearing it shudder.
"What is it with me?" I demanded. "Why do men only want to talk?"
Remember, you can find out more about Marie Treanor and her engrossing books on her website. Catch all her latest news on Facebook or subscribe to her Newsletter. Be sure to join the party on her new blog: Marie Treanor's Romantic Theme Party.
I'll be back Monday with a review on the awesome hit musical Million Dollar Quartet. Until then…
Happy Reading!
Sloane Taylor
Sweet as Honey…Hotter than Hell
2 Responses to "Scotland with a Bite"
Lizzie Says:


Great excerpt, Marie. Thanks for sharing!!!

On February 4th, 2011 at 11:02 am
Marie Treanor Says:


You're welcome, Lizzie – glad you enjoyed it 🙂

Marie

On February 4th, 2011 at 5:51 pm