TURKISH DELIGHT
March 11, 2011 | Author Friend New Releases
Melissa Bradley, an exceptional author in any genre she writes, has a new dynamite book her many fans will love. Byzantine Provocateur is a contemporary heat level 3 story that has it all. From light BDSM and exhibitionism in public places to marvelous, yet brief, descriptions of Turkey, we travel through a modern day love story of money and power. It's a satisfaction guaranteed read and sure to capture many news devotees to the delightful talents of Ms. Bradley.
BYZANTINE PROVOCATEUR
Melissa Bradley
ISBN-13: 978-1-61124-072-6
Amber Quill Press – Amber Heat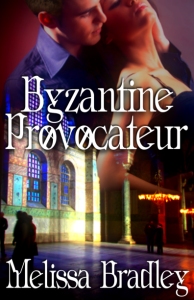 BLURB:
An ancient city sparks forbidden desire…
Thalia Burton arrives in Istanbul to relax and enjoy the company of her old friend. Hoping to forget the boring rut her life had become, she never imagines one encounter with Fadi's brother re-igniting the dim flame of passion inside her. Captivated by the heat in his golden eyes, Thalia finds herself tempted beyond reason…
Murat Bahar had only intended to meet Thalia as a courtesy to his family. One look at the lovely American incinerates his intentions. She is an exquisite morsel he longs to taste, a taboo treat enthralling him like a siren of myth. Perhaps just one night…
Once is not enough. Thalia and Murat embark on a fiery, secret affair that could burn them both, costing them friends and family.
EXCERPT:
Murat slid a finger along her jaw, her neck, tracing a tingly path to her décolleté. He stared at the pendant nestled in the hollow of her throat, like he was trying to figure out exactly what to say.
She held her breath, the butterfly touch sending tiny thrills rushing along her nerves. This was crazy. If she were smart she'd turn around right now and find her way back up to the ballroom.
"Once was not enough, tatlim," he said hoarsely.
"What?" Thalia wheezed, unable to get a deep breath.
His hands slid down, grasping her arms and drawing them around his neck, pulling her into the shelter of his body. The spice of him surrounded her, blending perfectly with the scents of garden and sea, a hypnotic perfume that drugged her senses.
"I think you understood," he whispered, his palms gliding up to caress her back. His heat through the delicate silk radiated along her skin.
She glanced up, eyes widening at the intense emotions she found reflected in his glittery gaze.
"I have hungered for you these last days and nights."
Desire rolled through her like a gathering thunderstorm.
Dear, Jesus, please, please don't let me wake up.
She wanted to kiss him, to wrap herself around him like a vine and never let go, but… Her darned conscience nosed its way into her fun.
"You said all those things," she managed in a surprisingly steady voice. "How can you just turn all that off? And what about Fadi, your parents?"
His arms tightened as he nuzzled his lips into her throat. He whispered to her in Turkish, as though he were too overcome to form the right words in English. The exotic syllables fell hotly against her sensitized skin and her breath caught at the tiny electric thrills.
He drew back, the moonlight rendering his golden eyes silver. The torment there matched her own.
"This is a quandary, I know, but you are a rare breath of sweet fresh air, Thalia. My world has become too narrow, too constricted. Always doing what others expect. I need to be with you, if only for a little while."
Keep up with Melissa Bradley on Myspace and follow her exciting blog Melissa's Imaginarium.
Have a great weekend. I'll be back Tuesday with a new teaser. Until then…
Happy Reading!
Sloane Taylor
Sweet as Honey…Hotter than Hell
6 Responses to "TURKISH DELIGHT"