Make Mother's Day Extra Special
May 3, 2021 | Author Friend Promo, Gardening
from Emma Lane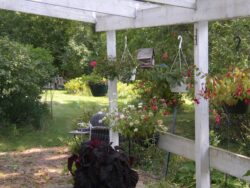 My son brings me a gigantic fuchsia plant every year for Mother's Day. I love it. I confess, it's for my favorite small bird, the Hummingbird. She shows up right around Mother's Day every year and it's a perfect gift for my deck. The female nests close by and some years bring her off spring to the flowers. So darling, so sweet, so tiny, as they cling to the perch, all wobbly and delicate. You watch and wonder how she managed to raise three babes in a demitasse nest. They love to sip from fuchsia blooms of this plant and I skip artificial feeders for that reason. Some years a second plant joins the first. I am honored on Mother's Day. My son understands me well. No roses, no candy. Feed my birds.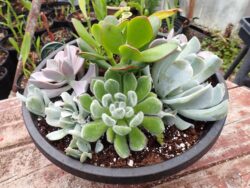 In the greenhouse, I'm creating a Succulent Bowl. These collections of various, and there are many, varieties of succulents live peacefully together in one container. They are perfectly suited to indoor dwelling in a sunny window. These plants require very low maintenance, water once a week, if that; and they tolerate well the dry indoor air. Caution: do not over water!  My good friend swears fairies live amongst hers. I place meaningful messages on small decorative rocks. It's easy to add your own favorite sayings. Another friend creates a fairy garden complete with toadstools and small winged fairies. It's fascinating to find small lovelies hiding between the different succulents. Enjoy! These bowls are a perfect Mother's Day gift for a busy Mom with their easy-care maintenance.
My last suggestion for your Mom's special day is a gift certificate to her favorite plant nursery. Even for a novice gardener, a visit to the plant world is an "upper" for these still dreary Covid days that are still hanging around. The visit is outside in the fresh air and, by the first week in May, many perennials and annuals are already in bloom. Stick to the locals who will give individual attention to their customers that the 'big boxes' can't. Honor your Mom on her special day and she will keep this event warm in her heart for a long, long time. I know I do.
Another good gift is my latest Cozy Adventure/ Mystery, Whispers of Danger and Love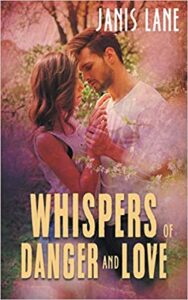 The heroine is a landscape architect who speaks gardening. She struggles with a client who demands a cutting garden mid summer, (and a hunky detective who seems bound to destroy her plants.) I enjoyed relaxing in her garden even as I created it from my own imaginings. It was also fun to watch the sparks fly between a couple who knew each other as children but must readjust their thinking as adults.
Emma Lane is a gifted author who writes cozy mysteries as Janis Lane, Regency as Emma Lane, and spice as Sunny Lane.
She lives in Western New York where winter is snowy, spring arrives with rave reviews, summer days are long and velvet, and fall leaves are riotous in color. At long last she enjoys the perfect bow window for her desk where she is treated to a year-round panoramic view of nature. Her computer opens up a fourth fascinating window to the world. Her patient husband is always available to help with a plot twist and encourage Emma to never quit. Her day job is working with flowers at Herbtique and Plant Nursery, the nursery she and her son own.
Look for information about writing and plants on Emma's new website. Leave a comment or a gardening question and put a smile on Emma's face.
Stay connected to Emma on Facebook and Twitter. Be sure to check out the things that make Emma smile on Pinterest.