For a Happy Life, Feed Your Man
May 26, 2021 | Author Friend Promo, Cooking
from C.D. Hersh
They say the way to a man's heart is through his stomach.
At age 18, I (Catherine, the C of C.D. Hersh) decided to cook a dinner for my then boyfriend to show off my homemaking abilities. It was something you did way back then. I planned a four-course dinner to cover all the basics of a meal. I served him two sets of appetizers: shrimp cocktail with homemade cocktail sauce and bacon wrapped hot dogs. A big salad, an entrée and two vegetables, and poached pears drizzled with chocolate sauce for dessert rounded out the meal.
I've long since forgotten exactly what I served for the middle portions of the meal because the beginning of the dinner was so spectacular that it is burned in both our memories. The shrimp cocktail was a huge success. I lined the pedestaled dessert cup with lettuce leaves, piled a generous amount of the homemade cocktail sauce in the center and carefully laid the curved shrimps around the edge of the dish. The presentation was exquisite. He was all smiles as he ate my offering.
The next appetizer up was the bacon wrapped hot dogs (recipe below). You could use little smokies or sausages, but hot dogs were the choice that day. I carefully wrapped each hot dog in a strip of bacon, cut them into bite-sized pieces (because a savvy hostess would never serve an entire hot dog as an appetizer), and laid them on a baking rack. The bacon kept falling off. So I hunted for something to skewer the strips of meat to the hot dogs. I finally found a box of toothpicks, or rather a few toothpicks, in the pantry. I counted the number of hot dog pieces I had and then how many toothpicks I had. I was woefully short on toothpicks. So, like any frugal cook, I broke the toothpicks into the number of pieces I needed and carefully stuck them into the hot dogs, making a mental note to remove the skewers before serving. I popped the hors d'oeuvres in the oven and went back to work preparing the rest of the meal.
Then the oven timer rang, I removed the appetizer from the oven, put the next course in to finish cooking, checked that none of the pots were boiling over, plated the hot dogs and proudly presented them to my boyfriend who was in the living room watching television.
"Yumm," he said. "This looks good."
Pleased that I hadn't burned them and that they looked appetizing, I picked up the empty shrimp cocktail dish—which look like it had been licked clean—smiled, and returned to the kitchen. A bit later I returned to the living room to retrieve the hotdog platter. My boyfriend had eaten every single hors d'oeuvre.
As I looked down at the platter my stomach dropped to the floor. "Where are the toothpicks?" I asked anxiously.
"Toothpicks?" he said. "You had toothpicks in them?"
"Yes, to hold on the bacon." By now my heart was racing. "Did you throw them into an ashtray or the waste basket?" I glanced at the ever-present ashtray sitting beside the sofa. It was empty. So was the wastebasket.
He put his hand to his throat and massaged it. "I thought they were a bit crunchy."
"You ate them?" I asked in terror.
"You didn't take them out?" he responded.  "Why weren't they sticking out of the hot dogs?"
I looked at him in dismay. "I didn't have enough to put in all the hors d'oeuvres, so I broke them into smaller pieces. I must have forgotten to remove them. Oh. My. Gosh! I fed you toothpicks! What if they rip up your stomach or intestines? I may have killed you! I'm soooo sorry."
He took my accidental murder attempt with great aplomb. "Don't worry," he assured me. "I chewed them up real good."
His assurance didn't make me feel much better. "Do you want the rest of the meal, or should we go to the emergency room?"
"What are you serving me?"
I told him the menu, and then added, "With no toothpicks in sight. I've used them all up on the appetizer."
"I'll eat," he replied. Then we both broke out in gales of laughter. But I kept a real close eye on him for a few days just to be sure.
That boyfriend was Donald (the D of C.D. Hersh), the same man I married a few years later. He didn't die. I wasn't indicted for murder, and we've lived happily-ever-after for half a century. Occasionally, I serve him a burnt offering, which we laugh about, but I never, never, never break a toothpick for use in meal prep. I can't even pick one up without remembering that first meal I cooked for him.
I learned an important lesson that day—for a happy life, don't kill your future spouse.
For your eating pleasure here's a version of the hotdog hors d'oeuvres, using whole toothpicks.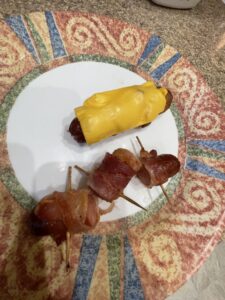 Bacon Wrapped Hotdog Hors d'oeuvres
4 hotdogs
4 slices lean (center cut) bacon, thin slices
2 slices American cheese (optional)
Toothpicks (WHOLE)
Preheat oven to 400° F.
Cover a rimmed baking sheet with foil and lay a cookie rack over it.
Wrap one slice of bacon around each hotdog. Secure with WHOLE toothpicks at ends and middle. Place hot dogs on cookie rack.
Bake for 10-15 minutes, turn hotdogs. Bake another 10-15 minutes or until bacon has cooked and crisped.
If using cheese, cut each slice in half and lay a half slice over hot dog and leave in oven until cheese begins to melt.
Remove from oven and cut hotdogs into bite-sized pieces.
REMOVE TOOTHPICKS.
Tip: Cooking the hotdog whole means you won't need as many toothpicks and will help ensure you don't puncture your beloved's intestines when he accidently eats them because you forgot to remove the tiny wooden skewers. ☺
Please allow us to introduce you to our paranormal suspense series The Turning Stone Chronicles.
The Promised One (The Turning Stone Chronicles Book 1)
Blood Brothers (The Turning Stone Chronicles Book 2)
Son of the Moonless Night (The Turning Stone Chronicles Book 3)

The Mercenary and the Shifters (The Turning Stone Chronicles Book 4)

C.D. Hersh–Two hearts creating everlasting love stories.
Putting words and stories on paper is second nature to co-authors C.D. Hersh. They've written separately since they were teenagers and discovered their unique, collaborative abilities in the mid-90s. As high school sweethearts and husband and wife, Catherine and Donald believe in true love and happily ever after.
They have a short Christmas story, Kissing Santa, in a Christmas anthology titled Sizzle in the Snow: Soul Mate Christmas Collection, with seven other authors.
They are looking forward to many years of co-authoring and book sales, and a lifetime of happily-ever-after endings on the page and in real life.
Social Media Info: