Practice Wu Wei for a Better Life
August 1, 2022 | Author Friend Promo
From Sharon Ledwith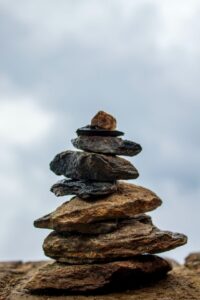 I have to be honest. I haven't been writing fresh content for my blog lately. I can blame Covid-19. I can blame not feeling like it. I can blame laziness. Truth is, after the world closed up for a few months in 2020, I found that I was burned out. Disenchanted with my publishing career came a close second (a.k.a. overworked and underpaid). So I knew it was time for a reevaluation. This put everything into perspective for me and has taught me how to relax and be calm. One major lesson I learned during the pandemic was to embrace the concept of Wu Wei. In its purest meaning, Wu Wei reminds us to align with the present, and accept the flow and course of nature. Simply put, 'go with the flow.' Easy said. Not so easy done.
Wu Wei means—in Chinese—non-doing or 'doing nothing'. It sounds like a pleasant invitation to relax or worse, fall into laziness or apathy. Yet this concept is key to the noblest kind of action according to the philosophy of Daoism—and is at the heart of what it means to follow Dao or The Way. According to the central text of Daoism, the Dao De Jing: 'The Way never acts yet nothing is left undone'. Huh? How's that possible when it comes to writing your magnum opus? Or even your mini opus? This is the paradox of Wu Wei. It doesn't mean not acting, it means 'effortless action' or 'actionless action.' It means being at peace while engaged in the most frenetic tasks (insert anything creative here) so that one can carry these out with maximum skill and efficiency. Ever heard of being 'in the zone'? That's Wu Wei. Being at one with what we are doing, in a state of profound concentration and flow. Got it?
The hustle and bustle of the pre-Covid-19 world was getting to me. Too scheduled (my fault). Too many plans and not enough time to enforce them (also my fault). Too much pressure to be the perfect author/writer (more of a wake-up call). Too much 'keeping up with the Joneses' So when the world stopped in March 2020, so did I. What a breath of fresh air! No commitments. No obligations. Just a pause, a break, a respite. That's when I found that Wu Wei was the prescription that I (and I believe the world) needed so desperately.
You can find evidence of Wu Wei everywhere in nature: in the tree that bends in the wind, then adjusts itself back into its original shape, and in a flowing stream—submissive and weak—until the water has gradually eroded the rocks to cut a path. Wu Wei involves letting go of ideals that we may otherwise try to force too violently onto things (or ourselves) and invites us instead to respond to the true demands of situations, which tend only to be noticed when we put our own ego-driven plans aside. What can follow is a loss of self-consciousness, a new unity between the self and its environment, which releases an energy that is normally held back by an aggressive, willful style of thinking. Try writing when anxiety is knocking at the door or you're pushing against deadlines or the demands of the day. Doesn't work, does it?
A good life could not be attained by Wu Wei alone—but this Daoist concept captures a distinctive wisdom we may be in desperate need of, especially in these post pandemic times. We are in danger of damaging ourselves through old patterns and belief systems that do not serve us anymore. Change is happening at a fast rate, and writers need to adapt if they want to survive in the publishing world. So the next time you find yourself staring at a blank page or screen, get up and go for a walk or make some tea. That way you'll be swimming with the current of creativity, instead of wallowing in a pool of despair.
Have you heard of Wu Wei? If so, do you mindfully practice it? If not, are you willing to give it a try? Trust me, this concept will change your life. Either way, I'd love you to share your comments. Cheers, and thanks so much for flowing by!
Here's a glimpse of the premises of both my young adult series:
The Last Timekeepers Time Travel Adventures…
Chosen by an Atlantean Magus to be Timekeepers—legendary time travelers sworn to keep history safe from the evil Belial—five classmates are sent into the past to restore balance, and bring order back into the world, one mission at a time.
Children are the keys to our future. And now, children are the only hope for our past.
Mysterious Tales from Fairy Falls Teen Psychic Mysteries…
Imagine a teenager possessing a psychic ability and struggling to cope with its freakish power. There's no hope for a normal life, and no one who understands. Now, imagine being uprooted and forced to live in a small tourist town where nothing much ever happens. It's bores-ville from the get-go. Until mysterious things start to happen.
Welcome to Fairy Falls. Expect the unexpected.
The Last Timekeepers Time Travel Adventure Series:
The Last Timekeepers and the Noble Slave, Book #3
MIRROR WORLD PUBLISHING ׀ AMAZON ׀ BARNES & NOBLE
The Last Timekeepers and the Dark Secret, Book #2
MIRROR WORLD PUBLISHING ׀ AMAZON ׀ BARNES & NOBLE
The Last Timekeepers and the Arch of Atlantis, Book #1
MIRROR WORLD PUBLISHING ׀ AMAZON ׀ BARNES & NOBLE
Legend of the Timekeepers, prequel
MIRROR WORLD PUBLISHING ׀ AMAZON ׀ BARNES & NOBLE
Mysterious Tales from Fairy Falls Teen Psychic Mystery Series:
Lost and Found, Book One
MIRROR WORLD PUBLISHING ׀ AMAZON ׀ BARNES & NOBLE
Blackflies and Blueberries, Book Two
MIRROR WORLD PUBLISHING ׀ AMAZON ׀ BARNES & NOBLE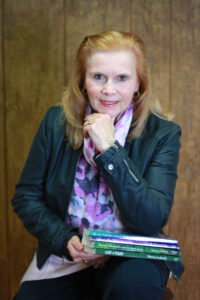 Sharon Ledwith is the author of the middle-grade/young adult time travel adventure series, THE LAST TIMEKEEPERS, and the award-winning teen psychic mystery series, MYSTERIOUS TALES FROM FAIRY FALLS. When not writing, researching, or revising, she enjoys reading, exercising, anything arcane, and an occasional dram of scotch. Sharon lives a serene, yet busy life in a southern tourist region of Ontario, Canada, with her spoiled hubby, and a moody calico cat.
Learn more about Sharon Ledwith on her WEBSITE and BLOG. Look up her AMAZON AUTHOR page for a list of current books. Stay connected on FACEBOOK, TWITTER, PINTEREST, LINKEDIN, INSTAGRAM, and GOODREADS.
BONUS: Download the free PDF short story The Terrible, Mighty Crystal HERE