NEW RELEASE for ERIS PERESE
August 23, 2022 | Author Friend New Releases
An historical romance novel written with sensitivity and passion from multi-published Eris Perese is now available. Did I mention this wonderful story is set in exotic locations? 😊 Here's a little from this must-read book to pique your interest.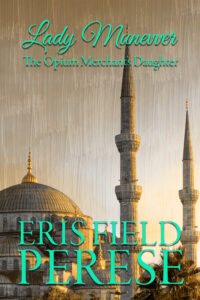 Russia's 1853 invasion of Crimea results in four Empires declaring war and a disastrous marriage for Lady Munevver.
In Surrey, England, the merchant father of beautiful but handicapped Munevver is obsessed with gaining acceptance by the ton. Refusing Munevver's plea to marry her childhood love, William of Yorkshire, he arranges a marriage with James, the dissolute son of an impoverished, hard-handed Duke.
When England is drawn into the Crimean War, James joins the Light Brigade and sails to the Ottoman Empire to fight the invading Russians. After learning her husband has died in Scutari Hospital, Munevver, terrified at what her father-in-law might do, flees England. Her destination: Aleppo where she hopes her uncle will protect her.
Her escape ends in Constantinople when the Sultan, irate at Queen Victoria's command that he return the widow of one of her Lords, arranges a marriage for Munevver with Ari, a member of his court. Banished to Ankara, the young couple struggles to survive political intrigue, intense cold, and lack of medical care. After Ari dies of tuberculosis, Munevver is desperate to return to Yorkshire but how? Dare she accept the quid pro quo arrangement offered by the Sultan's mother?
Available in e-book and paperback.
Eris Field was born in the Green Mountains of Vermont—Jericho, Vermont to be precise—close by the home of Wilson Bentley (aka Snowflake Bentley), the first person in the world to photograph snowflakes. She learned from her Vermont neighbors that pursuit of one's dream is a worthwhile life goal.
As a seventeen-year-old student nurse at Albany Hospital, Eris met a Turkish surgical intern who told her fascinating stories about the history of Turkey, the loss of the Ottoman Empire, and forced population exchanges. After they married and moved to Buffalo, Eris worked as a nurse at Children's Hospital and at Roswell Park Cancer Institute.
After taking time off to raise five children and amassing rejection letters for her short stories, Eris earned her master's degree in Psychiatric Nursing at the University at Buffalo. Later, she taught psychiatric nursing at the University and wrote a textbook for psychiatric nurse practitioners—a wonderful rewarding but never to be repeated experience.
Eris now writes novels, usually international, contemporary romances. Her interest in history and her experience in psychiatry often play a part in her stories. She is a member of the Romance Writers of America and the Western New York Romance Writers. In addition to writing, Eris's interests include Prevention of Psychiatric Disorders; Eradicating Honor Killings, supporting the Crossroads Springs Orphanage in Kenya for children orphaned by AIDS, and learning more about Turkey, Cyprus, and Kurdistan.
Learn more about Eris Field on her website. Stay connected on Facebook.