QUICK AND EASY EASTER DINNER
March 22, 2023 | Author Friend Promo, Cooking
 from Emma Lane
My goal is to serve food with as little fuss as possible while still producing an attractive, delicious, and healthy meal for my family and guests. Hopefully this plan will give me more time to enjoy everyone.  I encourage you to add your own favorites.
MENU
Baked Ham
Raisin Sauce
Candied Carrots
Ambrosia
Dinner Rolls
Peaches al la Mode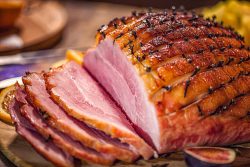 Ham
Hams are already cooked you merely want to warm it through. Follow the package directions so as not to dry out the meat.
Raisin Sauce
1 ½ cups water
¾ cup raisins
⅓ cup packed brown sugar
1 pinch salt
1 tsp. cornstarch
Bring water to a boil in a saucepan. Stir in raisins, then boil until raisins are very tender, 5 minutes.
Whisk in brown sugar and salt, then gradually whisk in cornstarch to avoid lumps forming. Simmer over low heat until glaze has thickened, 10 minutes.
Serve in a gravy boat for your family and friends to spoon onto their ham.
Candied Carrots
Are always a favorite. This recipe works great in your microwave.
5 – 8 baby or mini carrots per person
2 tbsp. butter
2 tbsp. brown sugar
Dash of maple syrup ¼ cup water
Parsley for garnish, optional
Cut carrots in half or thirds into long pieces.
Mix remaining ingredients in a microwave safe bowl. Stir in carrots. Nuke until carrots are fork tender. Careful not to overcook. Spoon sauce over carrots before serving.
Ambrosia
I have mentioned before I am originally from the south of the U.S. Oranges and coconut mixed together is Ambrosia in South Georgia. Use a pretty glass bowl if you have one. I use my mother's cranberry bowl and love the contrast of the bright orange colors. This is a messy recipe to prep as you must remove the orange membrane. Do prepare the dish the day before and refrigerate to really blend the flavors.
1 orange per person if small, ½ if large
1 cup shredded sweetened coconut
¼ cup orange juice
1 small can crushed pineapple
Stir all ingredients together then scoop into a serving bowl.
Canned biscuits or Crescent Rolls
Follow the recipe on the package.
Peaches a la Mode
1 can sliced peaches in light syrup
Vanilla ice cream
Granola, optional
Maraschino cherries
Cherry juice
Spoon 3 – 5 peach slices in individual dessert dishes. Add a generous double scoop of vanilla ice cream. Top with a maraschino cherry and a sprinkling of granola. Drizzle sparingly with cherry juice.
Other fruits are also tasty prepared this way.
Here is a brief intro to the cozy mystery series Emma writes as Janis Lane.
MURDER in the JUNKYARD sees the demise of a man no one likes, a romance, and plans for a wedding as Detective Fowler and his friends keep their small-town America free from danger.
Detective Kevin Fowler is furious that low life has targeted his town where people live in blissful safety. Brenda Bryant is out junkn' for good things when she stumbles over the grotesque body of a man beloved by no one. Suspense heats up when large sums of money are found in two different places. Drug money is suspected, and Brenda targeted by someone who wants the money returned. Detective Fowler faces surprise after surprise as he peels back the surface of Hubbard, New York and deals with its shocking underbelly. Meanwhile romance infiltrates the group of friends with a wedding in the making.
Emma Lane is a gifted author who writes cozy mysteries as Janis Lane, Regency as Emma Lane, and spice as Sunny Lane.
She lives in Western New York where winter is snowy, spring arrives with rave reviews, summer days are long and velvet, and fall leaves are riotous in color. At long last she enjoys the perfect bow window for her desk where she is treated to a year-round panoramic view of nature. Her computer opens up a fourth fascinating window to the world. Her patient husband is always available to help with a plot twist and encourage Emma to never quit. Her day job is working with flowers at Herbtique and Plant Nursery, the nursery she and her son own.
Look for information about writing and plants on Emma's new website. Leave a comment or a gardening question and put a smile on Emma's face.
Stay connected to Emma on Facebook and Twitter. Be sure to check out the things that make Emma smile on Pinterest.

Leave a Reply