Reap What You Sow
April 3, 2023 | Author Friend Promo
in Life and in Writing
From Sharon Ledwith
Have you ever stripped a piece of furniture to give it a new life and a fresh purpose? Recently, I finished a project that I've been dragging my feet on and found the process actually refreshing and satisfying. I inherited my late brother's trunk, which he in turn inherited from our late father. It was sooo dated that it would have made a great prop for a pirate movie. Yet, there was so much history and character to this trunk, I wanted it for a personal challenge, as well as to have a keepsake from my brother and father. So, after being 'stuck' as my hubby called it, in the garage since February, I began to seriously work on my trunk at the end of the August.
Honestly, I really, really hate the stripping process. It's kind of like editing the first draft of your book. You know you have to grin and bear it to remove the gunk and get to the bones of the story. So you do it. My elbows and hands are still screaming at me! Slowly, but surely, the old red and gold paint peeled off to reveal the trunk's original color. The poor thing appeared so naked, so exposed, like a newborn baby with bits of after-birth stuck to it. Sorry for the visual, but it's true.
Next came choosing the new paint color. I wanted to go with a dark brown—mostly to hide all the flaws in the trunk's body caused by my scraper. Perhaps I used little too much elbow grease. Hubby helped me with this part, carefully spraying the sides, allowing the trunk time to dry, then giving it another coat. Covering the flaws reminded me of the care a writer takes in creating characters. Like the gouges and grooves in my trunk, your characters NEED flaws because readers must feel some sort of connection with them. Readers WANT to cheer on those flawed underdogs, see them scream, watch them change and grow. And when that connection happens, they wholeheartedly invest in your characters and the hell authors drag them through.
Once the paint was completely dry, it was on to varnishing the trunk. Boo-yah! This was a painstakingly long process, done by hand. But there was no turning back now! I did two coats and allowed the varnish time to dry and hardened. Like revising and polishing your book
before submitting for publication (self or traditional), the varnishing step protects and gives a glossy finish to the trunk to give it life. This process reflects something every writer needs to do in order to get the best quality book in the hands of their readers.
Finally came the finishing, the piece de resistance. I wanted the trunk to be cedar lined. Call me anal (hubby did), I don't care. I wanted to be able to use the trunk to store bedding for guests, as well as double as a coffee table. I'd already invested quite a lot of time and money into this project—think how much time writers invest in their books, and you'll understand me completely. So I went all in and did it the way I visualized the trunk that I wanted. This was hubby's job, as he's a skilled woodworker and finisher. And he didn't disappoint. The trunk smelled of cedar (love the smell) and had a fresher, cleaner look to it. Truly an improvement my brother and father would have been proud of!
Speaking of improvements, Book 2 of the Last Timekeepers time travel series,
The Last Timekeepers and the Dark Secret
was originally written in 2001. 
There's been so many revisions and rewrites to this novel that fifteen years later, I'm so proud of the final product. I do hope you get a chance to check it out.
So grab your spy gear and suit up, the Timekeepers are going undercover in their next time travel adventure! 
Here's a glimpse of the premises of both my young adult series.
The Last Timekeepers Time Travel Adventures
Chosen by an Atlantean Magus to be Timekeepers—legendary time travelers sworn to keep history safe from the evil Belial—five classmates are sent into the past to restore balance, and bring order back into the world, one mission at a time.
Children are the keys to our future. And now, children are the only hope for our past.
Mysterious Tales from Fairy Falls Teen Psychic Mysteries
Imagine a teenager possessing a psychic ability and struggling to cope with its freakish power. There's no hope for a normal life, and no one who understands. Now, imagine being uprooted and forced to live in a small tourist town where nothing much ever happens. It's bores-ville from the get-go. Until mysterious things start to happen.
Welcome to Fairy Falls. Expect the unexpected.
The Last Timekeepers Time Travel Adventure Series:
The Last Timekeepers and the Noble Slave, Book #3
MIRROR WORLD PUBLISHING ׀ AMAZON ׀ BARNES & NOBLE ׀
The Last Timekeepers and the Dark Secret, Book #2 Buy Links:
MIRROR WORLD PUBLISHING ׀ AMAZON ׀ BARNES & NOBLE ׀
The Last Timekeepers and the Arch of Atlantis, Book #1 Buy Links:
MIRROR WORLD PUBLISHING ׀ AMAZON ׀ BARNES & NOBLE ׀
Legend of the Timekeepers, prequel Buy Links:
MIRROR WORLD PUBLISHING ׀ AMAZON ׀ BARNES & NOBLE ׀
Mysterious Tales from Fairy Falls Teen Psychic Mystery Series:
Lost and Found, Book One Buy Links:
MIRROR WORLD PUBLISHING ׀ AMAZON ׀ BARNES & NOBLE ׀
Blackflies and Blueberries, Book Two Buy Links:
MIRROR WORLD PUBLISHING ׀ AMAZON ׀ BARNES & NOBLE ׀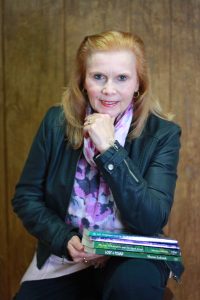 Sharon Ledwith is the author of the middle-grade/young adult time travel adventure series, THE LAST TIMEKEEPERS, and the award-winning teen psychic mystery series, MYSTERIOUS TALES FROM FAIRY FALLS. When not writing, reading, researching, or revising, she enjoys anything arcane, ancient mysteries, and single malt scotch. Sharon lives a serene, yet busy life in a southern tourist region of Ontario, Canada, with her spoiled hubby, and a moody calico cat.
Learn more about Sharon Ledwith on her WEBSITE and BLOG. Look up her AMAZON AUTHOR page for a list of current books. Stay connected on FACEBOOK, TWITTER, PINTEREST, LINKEDIN, INSTAGRAM, and GOODREADS.
BONUS: Download the free PDF short story The Terrible, Mighty Crystal HERE
Leave a Reply