Some Teens Struggle with Career Goals
May 1, 2023 | Author Friend Promo
and should try a gap year.
from Anne Montgomery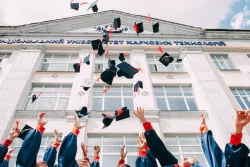 Young people need to have an idea of what they want to do in the future before going to college.
It's almost time for the graduation season, and, in that regard, I want to mention an idea with which I wholeheartedly agree. And yet, just a few years ago I would have been completely against the idea.
In Abby Fawk's USA Today Article "College can wait, but finding your life purpose can't," Fawk opines that American teens facing that jump to a postsecondary education are often unsure what they want their future to look like, so heading straight to college is a mistake.
As a former high school teacher of 20 years, I know Fawk is correct. I have faced hundreds of children across my desk, and when I asked what they thought their lives might look like in ten years, I was—more often than not— faced with blank stares. I would then go into my, What do you want to be when you grow up? spiel. I'd ask: What do you like to do? What are you good at? What will someone pay you to do? And again, I often received no reply.
Then the children graduated, most without any idea regarding what might make them happy in their business lives. We teachers have hammered into them that the next stop must be college. (Note that when I say college, I'm referring to any form of post-high school education.  Wanting to be a carpenter, an electrician, or an airplane mechanic are equally fine choices as wanting to be a doctor or a neurophysicist.)
What isn't fine is having no idea what you want to study and then plowing ahead to your college of choice.
That college education is expensive, so before you go, have a plan.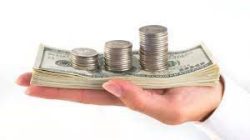 "College is the single biggest investment we can make in a young person's life," Hawk said. "Four years at a flagship state school can now cost $100,000 and private college can run three to four times that figure. Yet the vast majority of students arrive unprepared to make the most of the experience."
Fawk believes that it's time for students to revisit the idea of a gap year. As I said earlier, I did my best to dissuade kids who wanted to take a year off before getting additional education, because statistics showed that once young people start earning money, they are less likely to give up that cash flow and return to school.
But Fawk explained that a gap year, if done right, is not about losing forward momentum and can be a rewarding launch pad to a bright future.
"It's to gather experiences and insights that inform everything that comes next," she said.
Fawk is the founder and CEO of Global Citizen Year, a program devoted to giving young people the chance to immerse themselves in other cultures, to stretch their comfort zones, and to forge relationships with people who are different than they are. If this sounds a bit like the Peace Corps, it is. The idea is to take the year following high school graduation and expand one's horizons. To learn more about yourself by living alongside others in a completely different environment.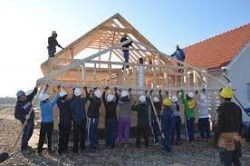 A gap year can include volunteer activities like working with Habitat for Humanity.
But the GCY project is not the only way students can accomplish these goals. A stint in the military, the Peace Corps, or volunteering can also help young people find out who they are and what they want in life.
Studies show that American teens are growing up more slowly than the generations that proceeded them. Young people struggle with basic skills like time management, problem-solving, and navigating relationships. Why then do we shoehorn them into making decisions that will impact the rest of their lives when many are clearly not ready?
The idea is to give new high school graduates a little breathing room before they make that leap. A well-thought-out gap year just might be the answer.
Please allow me to offer you a glimpse at my latest women's fiction novel for you reading pleasure.
The past and present collide when a tenacious reporter seeks information on an eleventh century magician…and uncovers more than she bargained for.
In 1939, archaeologists uncovered a tomb at the Northern Arizona site called Ridge Ruin. The man, bedecked in fine turquoise jewelry and intricate beadwork, was surrounded by wooden swords with handles carved into animal hooves and human hands. The Hopi workers stepped back from the grave, knowing what the Moochiwimi sticks meant. This man, buried nine-hundred years earlier, was a magician.
Former television journalist Kate Butler hangs on to her investigative reporting career by writing freelance magazine articles. Her research on The Magician shows he bore some European facial characteristics and physical qualities that made him different from the people who buried him. Her quest to discover The Magician's origin carries her back to a time when the high desert world was shattered by the birth of a volcano and into the present-day dangers of archaeological looting where black market sales of antiquities can lead to murder.
Anne Montgomery has worked as a television sportscaster, newspaper and magazine writer, teacher, amateur baseball umpire, and high school football referee. She worked at WRBL‐TV in Columbus, Georgia, WROC‐TV in Rochester, New York, KTSP‐TV in Phoenix, Arizona, ESPN in Bristol, Connecticut, where she anchored the Emmy and ACE award‐winning SportsCenter, and ASPN-TV as the studio host for the NBA's Phoenix Suns. Montgomery has been a freelance and staff writer for six publications, writing sports, features, movie reviews, and archeological pieces.
When she can, Anne indulges in her passions: rock collecting, scuba diving, football refereeing, and playing her guitar.
Learn more about Anne Montgomery on her website and Wikipedia. Stay connected on Facebook, Linkedin, and Twitter.