KATRINA – SHAPESHIFTER HEROINE
June 26, 2023 | Uncategorized
from C.D. Hersh
Here is a little about The Turning Stone Chronicles, our paranormal romance, shapeshifter series that will be five books with four already out on Amazon.
One of the fun things about creating characters is coming up with quirks, personality traits, and interesting tidbits about their personal background. Katrina Romanovski is one of our reader's favorite characters. We've already been asked if she is going to appear in another book. Much to the reader's dismay, we wouldn't reveal the answer.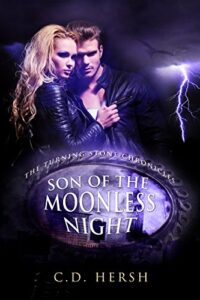 Here are ten interesting facts about Katrina Romanovski, the heroine from our new book, Son of the Moonless Night-The Turning Stone Chronicles, book three.
She is from Transylvania but not Romania. We do solve this mystery in the book.
She hunts paranormals. Hates vampires. And swears by Count Dracula.
She wears a huge Celtic cross as a talisman against vampires.
She not only hunts paranormals, but she's had her share of paranormal boyfriends. No zombies please, they're just too creepy.
She is a blonde version of NCIS's forensic scientist Abby but with a medical degree.
She decided to leave her father's paranormal hunting business because she was looking for normalcy in her life. Instead she found Owen, the hero of Son of the Moonless Night, a shape shifter.
She is part gypsy, on her father's side. Her mother is British. Prim-and-proper breeding war with Katrina's gypsy walk-on-the-wild side. The gypsy usually wins.
She has traveled the USA as an FBI agent but now likes Cleveland, the mistake by the lake.
She loves Italian food but has trouble cooking it, especially when Owen is around.
She spends a lot of time in alleys.
Here is a little more about Katrina from the book:
A crash in the alley stopped Katrina Romanovski mid-stride. Like the October mist swirling in off the lake, her gypsy blood stirred sending her intuition into high gear. Something unnatural was happening.
Go see what's wrong. She heard her father's voice as clearly as if he stood next to her.
On the heels of his words came her mother's pragmatic warning in clipped British tones. You know what curiosity killed. Katrina pushed the ever-present warning aside. Mom never approved of Dad's supernatural hunts and even less of his drawing her into them.
Pulling the oversized cross she always wore out from under her shirt, Kat looked around for a weapon. Please, not a vampire. I hate vampires! A piece of wood sticking out of the trashcan at the front of the alley caught her eye.
Grabbing it, she broke the end off into a sharp point. The mist-filled air filtered the light from the single bulb over one of the alley doorways. The wind swirled the loose trash around making a quiet approach difficult. Sidestepping the paper, with the stake in one hand and holding the gun she took from her purse in the other hand, she crept into the alley.
A roar echoed against the buildings, the sound nearly sending her running. That roar wasn't a vampire. It sounded more like an animal. Kat inched closer. In the yellow pool of light from the back door of the building, a black bear, over seven feet tall, reared on its back legs and swung its paw at the man standing at the edge of the light. He crashed to the ground, shirt torn open from the slashing claws. Blood covered the fabric, and he clasped his left hand over his shoulder to stem the flow. The bear bent toward him, teeth bared in a smile. A wicked smile.
Kat aimed her gun, but before she could pull the trigger, a shot rang out. The flash of gunpowder lit the face of the injured man. The blast reverberated against the buildings. With an enraged bellow, the bear staggered backward against the wall. Shaking his head, the animal dropped to all four paws. Weaving like a drunk, he lumbered toward his attacker. The man took aim again, shooting the animal between the eyes. Animal and human collapsed on the dirty, littered pavement.
As she started to move forward, Kat's gypsy senses crawled over her skin like angry red ants. As she slipped back into the shadows, the bear shed fur. Changing size. Then, finally, turning into a man.
Shape shifters. Her stake wasn't any good against them, and her bullets weren't silver. This one appeared dead anyway. Had the wounded man seen the shift? Tossing the stake aside, she paused by the shifter and quickly moved to the wounded man. Out cold. Still human.
When she touched him, his eyelids fluttered open. "Did I get it?"
"What?"
"The bear."
If this piques your interest, then settle into a comfy chair and check out our books on our Amazon Author Page
Here is a little about The Turning Stone Chronicles, our paranormal romance, shapeshifter series, that is to be five books with the first four already out on Amazon.
Three ancient Celtic families. A magical Bloodstone that enables the wearers to shape shift. A charge to use the stone's power to benefit mankind, and a battle, that is going on even today, to control the world. Can the Secret Society of shape shifters called the Turning Stone Society heal itself and bring peace to our world?
Find out in The Series The Turning Stone Chronicles
Book one of the chronicles titled "The Promised One" available on Amazon

In the wrong hands, the Turning Stone ring is a powerful weapon for evil. So, when homicide detective Alexi Jordan discovers her secret society mentor has been murdered and his magic ring stolen, she is forced to use her shape-shifting powers to catch the killer. By doing so, she risks the two most important things in her life—her badge and the man she loves.
Rhys Temple always knew his fiery cop partner and would-be-girlfriend, Alexi Jordan, had a few secrets. He considers that part of her charm. But when she changes into a man, he doesn't find that as charming. He'll keep her secret to keep her safe, but he's not certain he can keep up a relationship—professional or personal.
Danny Shaw needs cash for the elaborate wedding his fiancée has planned, so he goes on a mugging spree. But when he kills a member of the secret society of Turning Stones and steals a magic ring that gives him the power to shape shift, Shaw gets more than he bargained for.
Book two of The Turning Stone Chronicles titled "Blood Brothers" available on Amazon.

When Delaney Ramsey is enlisted to help train two of the most powerful shape shifters the Turning Stone Society has seen in thousands of years, she suspects one of them is responsible for the disappearance of her daughter. To complicate matters, the man has a secret that could destroy them all. Bound by honor to protect the suspect, Delaney must prove his guilt without losing her life to his terrible powers or revealing to the police captain she's falling for that she's a shape shifter with more than one agenda.
The minute Captain Williams lays eyes on Delaney Ramsey, he knows she's trouble. Uncooperative, secretive, and sexy, he can't get her out of his mind. When he discovers she has a personal agenda for sifting through all the criminal records in his precinct, and secretly investigating his best detective, he can't let her out of his sight. He must find out what she's looking for before she does something illegal. If she steps over the line, he's not certain he can look the other way for the sake of love.
Book three of The Turning Stone Chronicles titled "Son of the Moonless Night" currently available on Amazon.

Owen Todd Jordan Riley has a secret. He's a shape shifter who has been hunting and killing his own kind. To him the only good shifter is a dead shifter. Revenge for the death of a friend motivates him, and nothing stands in his way . . . except Katrina Romanovski, the woman he is falling in love with.
Deputy coroner Katrina Romanovski has a secret, too. She hunts and kills paranormal beings like Owen. At least she did. When she rescues Owen from an attack by a werebear she is thrust back into the world she thought she'd left. Determined to find out what Owen knows about the bear, she begins a relationship meant to collect information. What she gets is something quite different love with a man she suspects of murder. Can she reconcile his deception and murderous revenge spree and find a way to redeem him? Or will she condemn him for the same things she has done and walk away from love?
Book four of The Turning Stone Chronicles titled "The Mercenary & the Shifters" available on Amazon.

A desperate call from an ex-military buddy lands a mercenary soldier in the middle of a double kidnapping, caught in an ancient shape shifter war, and ensnared between two female shape shifters after the same thing … him.
Putting words and stories on paper is second nature to the husband and wife co-authors whose pen name is C.D. Hersh. They've written separately since they were teenagers and discovered their unique, collaborative abilities in the mid-90s while co-authoring a number of dramas, six which have been produced in Ohio, where they live. Their interactive Christmas production had five seasonal runs in their hometown and has been sold in Virginia, California, and Ohio. As high school sweethearts, Catherine and Donald believe in true love and happily ever after. Which is why they write it!
The first four books of their paranormal romance series entitled
The Turning Stone Chronicles Series page are available on Amazon. Their standalone novella, Can't Stop The Music, is in the Soul Mate Tree collection with twelve other authors from various genres.
When they aren't collaborating on a book, they enjoy reading; singing; theatre and drama; traveling; remodeling houses (Donald has remodeled something in every home they've owned); and antiquing. Catherine, who loves gardening, has recently drawn Donald into her world as a day laborer. Catherine is an award-winning gardener — you can see some of her garden on their website.
They are looking forward to many years of co-authoring and book sales, and a lifetime of happily-ever-after endings on the page and in real life.
You can see excerpts of their books, connect with, and follow C.D. Hersh at: