YOU SAY TOMATO, I SAY TOMAHTO
July 26, 2023 | Author Friend Promo, Cooking
from Linda Lee Greene, Author/Artist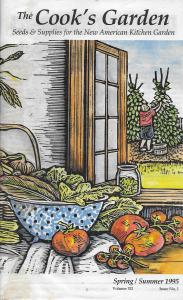 I didn't plant tomatoes this season, but at summer's end, little bundles of them in paper or plastic bags will show up at my back gate, the largesse of my sweet neighbors and friends. I am prepared for the bounty better than in previous years, because I came across an intriguing and simple recipe to preserve them found in the Spring/Summer 1995 issue of "The Cook's Garden" catalog that has been tucked away and forgotten among my cookbooks all this time. Sadly, at least from my perspective, the "Cook's Garden," the mail-order and seed supply house of Londonderry, Vermont has since been assimilated into the W. Atlee Burpee Company. I am therefore, so happy to still have in my possession this edition of the catalog as a memento of the innovative and famous organic growers' enterprise.
Founder of the "Cook's Garden" and author of the catalog Shepherd Ogden writes that this recipe for oven-dried tomatoes promises to be as good as anything found in a store. A further benefit is that it is so easy to prepare. Once properly dried, the tomatoes will keep in the refrigerator for several months, to be used as the base for tomato sauce, tomato-based soups, topping on pizza, tomato powder, tomato chips, and tomato pesto. Rehydrate the tomatoes by marinating in a bit of salad dressing and then enjoy them in salads or on sandwiches.
These dehydrated wonders are good to have on hand to perk up your dishes throughout the year, even during winter.
OVEN-DRIED TOMATOES

4 pints of Principe Borghese or San Marzano tomatoes or other Roma heirloom varieties
1 tbsp. sea salt
2 cups fresh basil leaves
1 cup olive oil
2 sterilized jars (pint-sized canning jars with lids and seals, or canning jars with self-sealing lids)
Preheat oven to 150° F
Slice tomatoes in half lengthwise. Scoop out seeds. Place on cookie sheets, flat side up. Sprinkle lightly with sea salt.
Set in a warm oven. When tomatoes are completely dry (12 to 24 hours), pack in pint jars, alternating with a layer of basil leaves. Continue to build layers of tomatoes and basil leaves, and at the top of the jars, drizzle in olive oil until all contents are coated. Place in the refrigerator where the tomatoes will stay fresh for several months.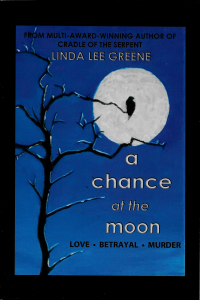 Rich and spoiled-rotten Olivia Montoyo Simms wouldn't know how to cook up a meal even if she was so hungry that "her belly was gnawing on her backbone," to borrow an old-timey expression. But Olivia has no match in the ways of wooing a man to her risky schemes. A gorgeous stranger at Caesars Palace in Las Vegas has all the goods to satisfy any girl's appetite, but unknown to Olivia, he just might be the one guy who also has what it takes to wangle her comeuppance.
Was it chance or destiny's hand behind the movie-star and gambler's curious encounter at Caesars Palace in Las Vegas? The cards fold, their hearts open, and a match strikes, flames that sizzle their hearts and souls. Can they have the moon and the stars, too? Or is she too dangerous? Is he? Can their love withstand betrayal? Can it endure murder?
While the cards at Caesar's Palace in Las Vegas fail to distract them from their troubled pasts, on the side, the actress and the gambler play a game of 'will they won't they' romance. Meanwhile, an otherworldly hand also has a big stake in the game. Unexpected secrets unfold brimming with dangerous consequences, and finally, a strange brand of salvation.
Multi-award-winning author and artist Linda Lee Greene describes her life as a telescope that when trained on her past reveals how each piece of it, whether good or bad or in-between, was necessary in the unfoldment of her fine art and literary paths.
Greene moved from farm-girl to city-girl; dance instructor to wife, mother, and homemaker; divorcee to single-working-mom and adult-college-student; and interior designer to multi-award-winning artist and author, essayist, and blogger. It was decades of challenging life experiences and debilitating, chronic illness that gave birth to her dormant flair for art and writing. Greene was three days shy of her fifty-seventh birthday when her creative spirit took a hold of her.
She found her way to her lonely easel soon thereafter. Since then Greene has accepted commissions and displayed her artwork in shows and galleries in and around the USA. She is also a member of artist and writer associations.
Visit Linda on her blog and join her on Facebook.
Leave a Reply